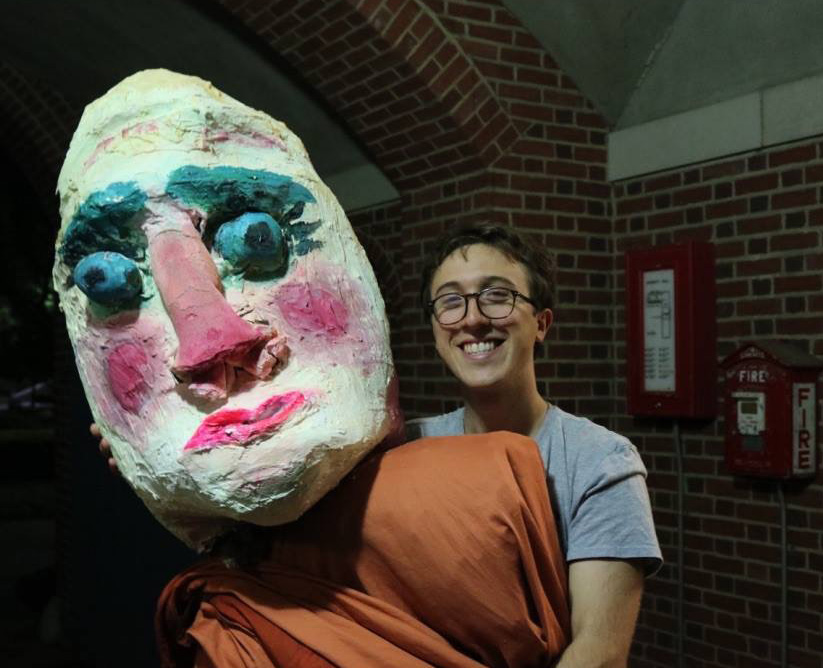 Samuel Hickson '17 is passionate about both teaching English as a second language and performance arts.
The alumnus plans to do both as a Fulbright Scholar in Brazil—where he will serve as an English teaching assistant to undergraduate university students and volunteer with performance artists.
"Working as an English teaching assistant in Brazil is an exciting prospect that will bring together my interest in teaching and my enthusiasm for language learning and cultural immersion," Hickson said. "When not working with my students inside and outside the classroom, I will also experience Brazilian culture as a volunteer within its street performance culture."
As a double major in Hispanic Studies and Theatre and Dance Studies at Wheaton, Hickson has honed his abilities in language learning and performance arts.
In the classroom, he developed his competency in Spanish—from grammar classes to more specialized courses in Latin and South America history and literature. His senior year, he took the course "Voyages, Navigations and Shipwrecks" with Domingo Ledezma, associate professor of Hispanic studies, in which he learned the history of the Amazon through primary texts, explorer logs and the use of virtual reality software.
"It's cool to say that I will now be making my way to Brazil and may end up in an area that I have already seen through Google Virtual Reality in that class," Hickson said.
In addition, he studied abroad in Granada, Spain, and spent one summer volunteering as a classroom assistant in Guatemala as a Davis International Fellow.
In the realm of performance arts, Hickson performed with the Wheaton improv group The Dimple Divers, and was an active member of the theater department, acting in plays including "The Servant of Two Masters" in spring 2016.
He noted similarities between mastering a new language and his onstage antics.
"My experience in improvisational comedy at Wheaton is a direct parallel to language learning. You can learn so much about what kind of person you are when you throw yourself into situations that force you to relinquish control," he said. "What I have learned both in theater and in language learning is my best tool is to look my partner in the eye. Whether it's a scene partner or someone I'm speaking to at the grocery store, I will feel and understand them more fully if I make eye contact."
Following his Fulbright—which spans from February to November 2018—Hickson plans to teach English to English language learners in the Boston area. He notes that Boston has a high concentration of Brazilian immigrants, thus learning Portuguese in Brazil would better prepare him to connect more personally with this population.
"The opportunity to gain experience as an ESL teacher, while building upon my own language skills, is invaluable to me and will build the foundation for future work with Spanish and Portuguese-speaking immigrant communities," Hickson said.