No two productions of The Servant of Two Masters are the same.
That's because in the 18th century play, written by Italian playwright Carlo Goldoni, actors improvise their way through scenarios—like the traveling comedy troupes of bygone times.
Thanks to distinctive student talent both onstage and behind the scenes, interdisciplinary coursework and a high degree of collaboration—the Wheaton Department of Theatre and Dance Studies will present The Servant on April 7–9 and 14–16 in Weber Theatre.
The Servant "is a highly-specialized kind of theater called commedia dell'arte," said David Fox, professor of theater and play director. "The script is scaffolding that you build with invented improvising. It's loose. It's a kind of theater that I've always wanted to do, but didn't feel at any given point that we had the right mix of people to do it."
Wheaton's production is the culmination of nine weeks of work in spring courses—"Ensemble Experiments" (a senior seminar); "Introduction to Lighting Design"; "Stagecraft"; and "Costume Construction." It reflects Wheaton students' skills in set construction, improvisation, circus arts and rubber chickens (more on that later).
Setting the stage
When choosing the mainstage production, faculty sat down together to think about what they wanted to accomplish with their current group of students. "We always want the productions to represent as many genres as we possibly can," Fox said.
Every show is chosen primarily as a teaching tool, said Clinton O'Dell, associate professor of theater and costume design. In the case of The Servant, he said, "This was a chance to teach improv and comedy and the history of commedia."
While all shows ultimately are collaborative art forms, The Servant takes it to a whole new level. The tight collaboration among students across the four courses, and the special skills of professors and students, are unprecedented for the department, Fox said.
"I don't think I can remember a show where collaboration is being spotlighted as much. Because of the nature of the material, a lot of teamwork is required," he said.
Onstage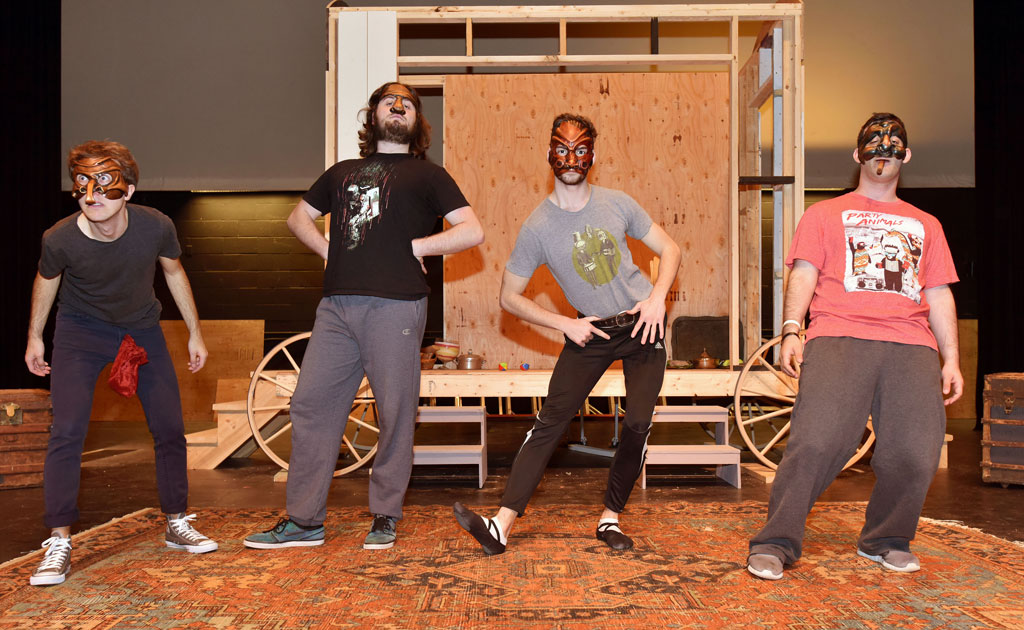 On a recent Friday afternoon, this collaboration was displayed in full force. Both floors of Watson Fine Arts Center teemed with students working on all aspects of the production—from stage construction to rehearsal.
Upstairs, in the Weber Theatre auditorium, a gregarious group of students in the senior seminar course, taught by Fox, navigated the special challenges of commedia—in which actors learn stock characters amplified with the help of masks.
Improvisation, miming and modern comedy, including the works of Marx brothers, Buster Keaton and Charlie Chaplin, all can be traced back to commedia, according to Chris Truini '16. In addition to serving as co-director of the show, he plays leading character Truffaldino, the quirky, comical servant answering to two masters.
This year, the production benefits from the improvisational talent of the Dimple Divers, Wheaton's award-winning improv comedy team—which includes many students majoring in theater. This is helpful, as the production "is extremely physical and improvisational, and it's difficult," Fox said.
Students also gain knowledge from Truini, who recently participated in a study abroad program in physical theater at the Accademia dell'Arte in Arezzo, Italy.
"Commedia is a whole different kettle of fish. It's neck-down acting. To portray sadness or to portray anger, I can't use my face because it's fixed in one expression," said Truini, who not only wears a traditional mask but also juggles and wears stilts during parts of the production.
Some actors take on additional roles offstage.
Anastasia Tammen '16 plays Smeraldina, a strong-willed maid who is the love interest of Truffaldino. She also is the show's makeup artist. Makeup art is a longtime passion of hers (her mother is a professional makeup artist). Tammen observed the actors in their roles carefully before designing their look, she said.
Meghan Dorian '16, who plays Clarice, also lent her talents in creating sound effects as well as composing the play's short songs—with the help of toy instruments, slide whistles, a melodica and a guitar.
To make sound effects, the actors experimented with many props (yes, including rubber chickens), a playful side of rehearsal when much laughter was had.
Also, on the music side, she gained her first experience composing. "The songs, which are like commercial jingles, complement the verses in the script. That makes setting them to music easier," Dorian said. "The challenge is to select songs that still match each verse's mood and intent."
Fox said the ensemble work fosters collaboration. "Every rehearsal, when everyone in on stage, there is a sense of everyone being part of a team," he said.
Backstage
A side door on the Weber Theatre stage led to the scene shop, where students were busy building the set.
Meanwhile, downstairs, tucked directly under the stage in a windowless room (where you can hear the pitter-patter of the actors above), a focused group of students sewed on buttons, stitched cloth and carefully crafted costumes using the designs provided.
Samuel Hickson '17, who portrays money-obsessed Pantalone, is a student in the "Costume Construction" and "Stagecraft" classes.
The actor has been involved in theater since freshman year, but this is his first time working offstage. With this production, "I've gained more respect for what happens behind the scenes," he said.
In "Stagecraft" and "Introduction to Lighting Design," Professor Colin McNamee teaches students set construction and lighting. Like every production, the tableau is set anew, and it was his job to lead students in creating a scene that gives the sense of a traveling troupe.
In "Costume Construction," taught by O'Dell, students with varied experience worked alongside each other, crafting accessories, wigs and Italian Renaissance attire.
The students also help made the four commedia masks worn by the main players. They used a technique similar to the traditional commedia troupe approach, in which they mold leather and sculpt it into a shape while it's wet. "While it dries, it sort of holds that shape forever," said O'Dell. "It's a kind of sculpture."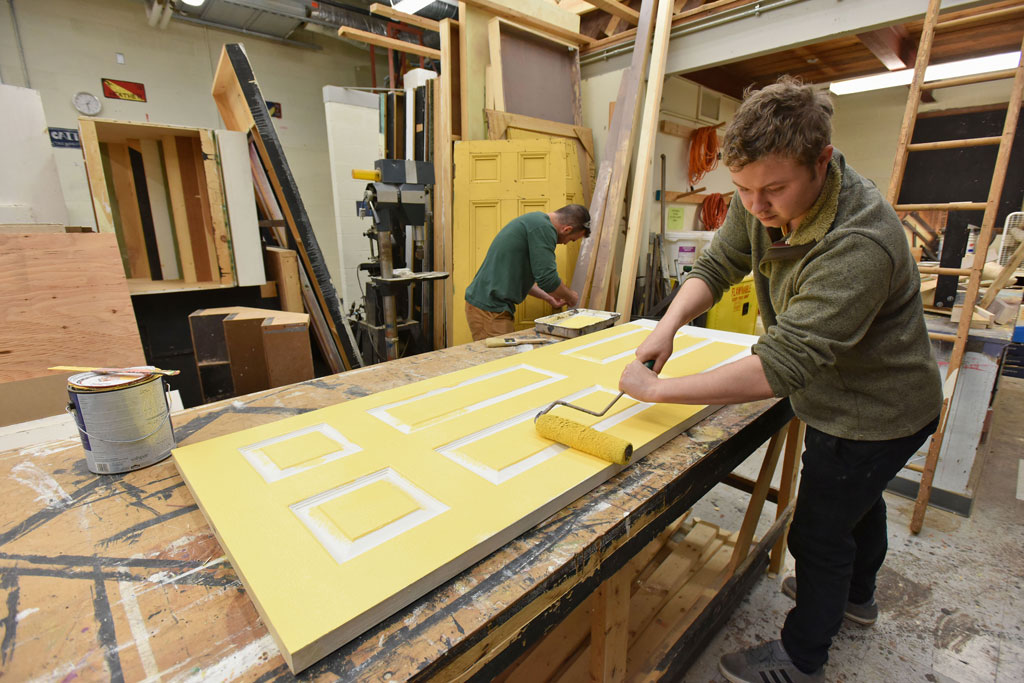 Galen Robinson '16, an art and art history major who is an aspiring photographer, said learning to sew costumes is useful if he ever needs to create a scene. "It's cool to have a class that relates to a project, and see what you work on become part of a real performance."
Working with so many is a challenge, but everyone involved has grown closer through the process.
"We've all become like friends and family," said Josh Hong '16, a double economics and theater major who is playing the role of Silvio.
Ticket Information
The production is taking place as part of Wheaton's 25th Academic Festival. To purchase tickets, contact the Watson Box Office at 508-286-3575.