Breaking barriers in Guatemala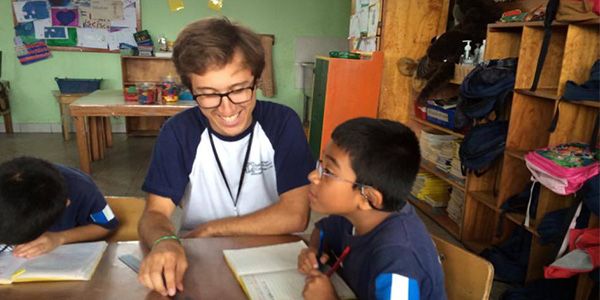 A good sign that you're mastering a new language? The ability to tell a funny joke, according to Samuel Hickson '17.
The Davis International Fellow—who spent six weeks this past summer in a classroom in Guatemala City—knew he was making headway in his Spanish proficiency when he elicited some chuckles from second graders.
"There were many children I could not understand at the very beginning of the trip, but after six weeks of being with them, I adjusted to the Guatemalan accent and slang and was finally able to make jokes that they laughed at," says Hickson, who is majoring in Hispanic studies and theater at Wheaton. "I now feel much more confident in my Spanish speaking ability and comfortable with making mistakes in the process."
Hickson worked in the classroom through the Guatemalan nonprofit Safe Passage/Camino Seguro, which aims to empower the poorest, at-risk children of families in the community of the Guatemala City Garbage Dump through a variety of educational programs. The program serves about 500 children and young adults, ranging in age from 2 to 21 years old, as well as 100 mothers from the community.
This fellowship abroad was not Hickson's first exposure to teaching children. In Norton, Mass., he volunteers with a Head Start preschool on a weekly basis. "Both Head Start and Camino Seguro provide stepping-stones and opportunities that, when taken full advantage of, can bring children and their families out of poverty," he said.
At Wheaton, Hickson also demonstrates leadership (and a sense of humor) as a residential advisor. Brendon Soltis, area coordinator of YMC Quad Office of Residential Life, said Hickson's "quirky humor" and dedication allow him to build strong relationships and provide support for his residents. "Sam always shows up with amazing energy to his job," he said.
This energy helped Hickson during his fellowship when learning a critical lesson on mastering a language: adaptation. "In college, the topics are laid out for you. You have time to respond as the teacher asks questions, and a chance to formulate and write down responses," he said. "When you are surrounded by second graders, the idea of a planned set of activities only goes so far. These kids are human beings who are living their lives day-by-day and the topics of conversation have an extremely broad range."
Adaptation requires an ability to listen well, Hickson said. And through the process of hearing his students' stories, he gained a profound respect and admiration for the children—who live in and around a literal wasteland.
"What I saw on school grounds was not what I expected. These children want to learn. Many of the older kids come in every day on the weekend for tutoring of all subjects, including English, to make a better life for themselves," he said.
Hickson says his experience at Camino Seguro positions him well for a career in education. He plans to apply for a Fulbright scholarship in order to teach in a Latin American country following graduation.