Two soon-to-be Wheaton graduates will spend their first year after college traveling around the world, learning about how different cultures approach two distinct concepts: caretaking and the development and use of "maker spaces."
Kelvin Kweku Ampem-Darko '17 and Liam Grace-Flood '17 each have received a Thomas J. Watson Fellowship, which awards $30,000 to graduating college seniors to pursue a self-designed global research project. More than 15 Wheaton students have received the award since 2000.
The culture of care
Though he has already been accepted to medical school, Kelvin Kweku Ampem-Darko '17 will defer enrollment for one year in order to gain a better understanding of what it means to be a caregiver, and which approaches to medical care might be most beneficial.
He will begin his journey this summer in Zimbabwe, at the Chidamoyo Health Clinic in Karoi, and also will travel to India and Bolivia during the year.
"At the core of my proposal is a simple question: Is there a right way to care for one another?" said Ampem-Darko, a neuroscience major. "What drew me to the fellowship was the unique opportunity it afforded me to answer that lifelong question. In a sense, I hope that I get a better idea of what kind of physician I am going to be. Maybe more important, I hope to figure out what kind of son, uncle and brother I am going to be for the rest of my life."
Ampem-Darko was introduced to the concept of caretaking, and inspired to pursue a career as a physician, as a young boy growing up in Ghana. At 11 years old, his father told him he would be taking on some of the responsibilities of caring for his older brother, who had contracted cerebral malaria at a young age and was reliant on family members for many basic activities, like brushing his teeth.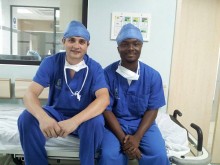 "In retrospect, I realize that this was an initiation into my familial responsibility of caregiving," Ampem-Darko wrote in his Watson proposal. "Until then, I had never considered the magnitude of such a responsibility, and the very idea of it scared me. But that day, this duty became ever-present in my life."
At age 17, he immigrated to the United States, joining his mother, who worked as a nurse in New York City. He chose a high school that focused on health sciences, volunteered at a rehabilitation center to meet the school's service requirement, and came to Wheaton as a Posse Scholar knowing medical school was in his future.
As a sophomore, he received early admission to Icahn School of Medicine at Mount Sinai, and he has spent his time at Wheaton choosing experiences that broaden his perspective on life and will help make him a better physician.
His campus involvement includes serving as a peer mentor, career peer advisor and tutor in biology and psychology, and roles on his class council, the President's Council on Inclusion and Diversity and the Wheaton Intercultural Board. He also has worked for three years as a Media Services technician.
His sophomore year, Ampem-Darko received a Davis International Fellowship to volunteer with Child and Family Health International in Quito, Ecuador—an experience he found exciting as well as terrifying, as he adapted to language barriers, altitude sickness and other challenges. But he also experienced an approach to medicine that mirrored his own values.
"My experiences in Quito taught me that being part of a community and placing the individual at the center of care truly mattered," he said. "These are the characteristics I saw in the Icahn School of Medicine, which prompted me to apply there months before. … These are values I hold, values that shape me as a caregiver."
Associate Professor of Psychology Peony Fhagen has been his Posse mentor for four years and said she believes the Watson year will help Ampem-Darko have an impactful career.
"I think this experience might help guide Kelvin to a path of great influence on how we think about and deliver care globally," she said in her recommendation.
Maker spaces around the world
From a young age, Liam Grace-Flood '17 has taken a non-traditional approach to his education, preferring to learn by doing and to combine disciplines rather than follow a set curriculum composed of separate subjects. This path led him to Wheaton, where he is majoring in mathematics and studio art, with minors in physics and computer science, while pursuing a dual degree in engineering through Wheaton's partnership with Dartmouth College.
And it is inspiring his Watson project, in which he will explore "maker" culture in the United Kingdom, China, Brazil, Tanzania and Austria.
"I firmly believe that future progress won't come from prolonged, increasingly niche study but from the confluence of ideas developed by a maximal cross-section of different places and people," he wrote in his Watson proposal. "In a world where the pace of discovery and change is increasing exponentially, we need to be prepared to move between fields and continuously update ourselves to stay relevant. Maker culture demands this kind of pan-disciplinary thought."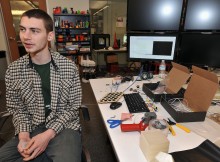 Maker spaces—also called hackspaces, fablabs, innovation centers and other terms—are workshops where people of varying backgrounds and skill levels can come to collaborate, share ideas and access tools and materials to bring their concepts to life.
Grace-Flood has made great use of emerging maker spaces at both Wheaton and Dartmouth. As a sophomore, he worked with another student and faculty members to develop Wheaton's recording studio and created a new instrument, dubbed "Hexba," that features clusters of hexagonal keys. He also is a student assistant for Lab 213, Wheaton's newest maker "hub," and has received three project grants through the InterMedia Arts Group Innovation Network (IMAGINE).
His internships, too, have reflected a passion for making. With support from Wheaton's Winternship funding, he spent winter breaks working at Luckey Climbers, where he designed unique playscapes, and at Night Shift Bikes, where he built a fully electric motorcycle in one month.
Grace-Flood is engaged in a number of activities on campus: he has served on the May Fellows advisory board, as policy coordinator and vice president of Wheaton's chapter of the Roosevelt Institute, and as general manager and senior advisor to the college radio station. He works as a calculus and statistics tutor for the Filene Center and also has worked all four years with the Wheaton Permanent Collection, first as a collections assistant and then as the graphic and web designer.
Grace-Flood's passion for making also was inspired by his early experiences at the Eli Whitney Museum and Workshop in Hamden, Conn., where from the age of eight he took classes in topics such as flight physics and later worked as an apprentice, designing new projects, exhibitions and experiments for other young makers.
When asked what he plans to do after college, Grace-Flood said "a little bit of everything." He has been accepted to an MFA program at the School of the Art Institute of Chicago and to a PhD program at Dartmouth's Thayer School of Engineering and also has applied to graduate programs at Harvard and Yale. Above all, he said, he is motivated by a desire to make things.
"I'm still chasing the same thing as when crafting those model planes [at the Eli Whitney Museum]: making tools to explore the invisible stuff that surrounds us, that makes the world work, that keeps us alive," he said.
As a Watson Fellow, Grace-Flood will immerse himself in a variety of maker communities around the globe—attending the bustling Maker Faire in Vienna, exploring a state-sponsored maker network in China and seeing how innovation centers in cities such as Sao Paulo can serve communities with limited resources.
He plans to collect information along the way that will form a conceptual "maker space blueprint," helping to improve the reach and efficacy of such spaces.
"My goal is not to create a one-size-fits-all recommendation but a set of drawings and notes that can serve as a guide to makers trying to create spaces that reflect and uplift their communities," he said.
2017 Watson Fellows