Working through winter break
Interns explore careers, expand knowledge
Winter break is traditionally a time for students to go home and visit family and friends or pick up a part-time job to cover college expenses. But last December and January, 26 Wheaton students spent their breaks learning new skills, engaging in creative endeavors, and exploring postgraduate opportunities.
In its second year, the Winternship initiative at Wheaton provides $500 stipends for students who want opportunities to be productive during winter break, says Lisa Gavigan, director of career services at the Filene Center for Academic Advising and Career Services.
Funding for the initiative comes from several different sources, including the Nancy Lyon Porter '43 Community Service Fellowship program, the Blakely Fetridge Bundy '66 Work and Learning Fellowship, and the Talanian Family Work & Learning Fellowship.
"With the stipends, students can have an enriching experience that connects to their academics and earn money," says Ben Chalot, associate director of career services at the Filene Center.
Here are seven of the winter interns:
Zhaoyi "Lily" Lu '16, business and management major, philosophy and math minor
Winternship: My Boston Condo, Boston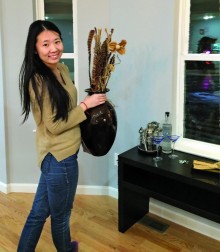 As a high school student in her native China, Lily Lu heard that it is almost impossible for Chinese students to find internships through American colleges and universities because of language and cultural barriers.
"My experience at Wheaton showed me that this is absolutely not true," says Lu, who hopes for a career facilitating Chinese-American business relationships.
In fact, Lu's fluency in Chinese and knowledge of Chinese culture helped her land two internships that gave her hands-on experience in the business world. Last summer, she interned at TripAdvisor's headquarters in Newton, Mass. Collaborating with the travel planning website's product team in Beijing, she conducted research to develop web content geared toward Chinese users. She also used data analysis to help the company better understand the Chinese market.
"It was a great opportunity for me to practice being a business mediator," she says.
During her winter break, Lu was looking for a change of pace. "I didn't want to limit my experience to just large companies, and I wanted to explore other industries," she says.
She spent a month at My Boston Condo, a small real estate business that specializes in renting and selling condos. She helped the company target Chinese audiences, particularly through social media. She also served as a translator for prospective Chinese buyers (no one else at the company spoke Chinese), and even staged apartments for showing.
"I now have a better understanding of the American housing market," says Lu, the founding president of both the Student Business Association and the Chinese Students and Scholars Association at Wheaton.
The experience also helped improve her time-management skills. "It is inspiring how hard my co-workers at the company worked."
Liam Grace-Flood '17, mathematics and studio art double major
Winternship: Luckey Climbers, New Haven, Conn.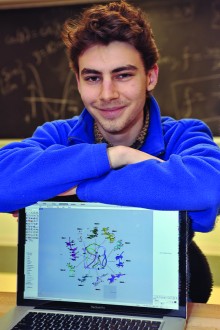 A creative thinker, problem solver and "pretty good carpenter," Liam Grace-Flood found the perfect match for his talents and interests with his winter internship at Luckey Climbers. The company designs and builds climbing structures for children-oriented institutions, but these aren't the kind of jungle gyms found on a typical playground.
"They're soaring and artful but also very technically impressive," says Grace-Flood. "It's impossible to decide whether they're feats of engineering or sculpture."
During his three-week internship, he designed hardware for the climbers using Rhinoceros (Rhino), a 3D computer-modeling program for designers and architects.
Back on campus, he's using these skills to design new structures for the renovation of Wheaton's recording studio and radio booth. "It's my personal project, an exercise in continuing to learn Rhino," says Grace-Flood, who is general manager of the college's radio station.
A self-described untraditional learner, he struggled in public school. "I didn't get why it was so segmented, why there were separate times for math or reading. It seemed unnatural."
High school, he says, "almost undid me." He's grateful that Wheaton saw his potential, and he appreciates the opportunities for creative problem solving and hands-on learning made possible by the newly established, grant-funded InterMedia Arts Group Innovation Network (IMAGINE), whichsupports the integration of arts and technology.
New equipment funded by the grant made possible Grace-Flood's independent study, "CAD and Creation." "The goal is to use CAD [computer-aided design] software and the laser cutter to design, rapidly prototype and create a piece of public sculpture for the campus."
Sara Maaiki '15, political science and Asian studies double major
Winternship: District Office of Congressman Joe Kennedy, Attleboro, Mass.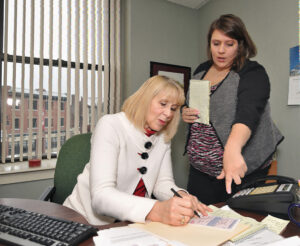 Sara Maaiki has a passion for conflict resolution and an ambitious life goal: "Someday, I'd like to help improve American policy in the Middle East."
At Wheaton, she carefully selected courses and experiences to prepare her for that challenge. In the classroom, she studied Islam, Middle Eastern politics and Arabic language. In her extracurricular life, she helped reinstate the college's first Middle East Club, dedicated to the celebration and study of the region.
Maaiki's interest in the Middle East runs deep. Born to Lebanese and American parents, she is fluent in English and Arabic, holds dual citizenship in Lebanon and the United States, and considers both Tripoli and Long Island her hometowns. Last spring, she spent a semester in Israel at the University of Haifa, taking honors level courses in peace and conflict studies and learning Hebrew.
Her winter internship with Congressman Joe Kennedy, who sits on the Middle East subcommittee of the House Committee on Foreign Affairs, was a natural fit. For three weeks in January, she assisted his Attleboro office with constituent casework, focusing on issues of immigration. Maaiki met constituents who immigrated from all over the world, including a man who lived near her family in Lebanon.
"Sara has excellent Arabic language skills, which were put to great use with some of our constituents," says Lisa Carlson Nelson '76, Congressman Kennedy's senior district representative, who handles his immigration casework.
Maaiki enjoyed the work so much that she continued in the office on Mondays through May.
Nicolas Sterner '16, music major
Winternship: Me2/Orchestra, Burlington, Vt.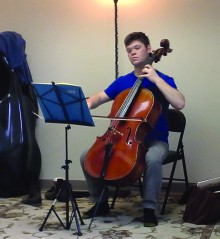 Nicolas Sterner's first rehearsal with Me2/Orchestra was transformative. "This group of musicians came together to play
with music, not to make music," he says.
Me2 is a classical ensemble for people with mental illness and those who support them. The organization has two orchestras, one at its headquarters in Burlington, Vt., and another in the Boston area.
Sterner found a home with Me2. Once the music starts, the members forget their personal difficulties, he says. "I have never played in a musical environment that is so liberating and free."
He also found a mentor in Me2's director, Ronald Braunstein, who studied under Herbert von Karajan, Seiji Ozawa and Leonard Bernstein, and has his own challenges with bipolar disorder.
With winter break looming, Sterner approached Braunstein and his wife, Caroline Whiddon, Me2's executive director, about an internship. The couple immediately said yes.
"It was clear from the beginning that Nick has strong leadership qualities," says Whiddon.
Sterner spent his winter break learning the inner workings of the orchestra. He also cataloged music in the Me2 library and even arranged to give a free solo concert at the Wellness Co-op in Burlington, a peer-run community center for people living with mental illnesses.
When Braunstein and Whiddon traveled for the holidays, Sterner made mail runs and deposited donations. "This was a hugely important task, as the end of the year is when nonprofits like Me2 receive an influx of donations," says Whiddon.
Sterner hopes to work in a field that allows him to advocate for the idea that "music offers much more than just entertainment.
Nana Asare '15, anthropology major, public health minor
Winternship: Office of Emergency Preparedness and Response (OEPR), New York City Department of Health and Mental Hygiene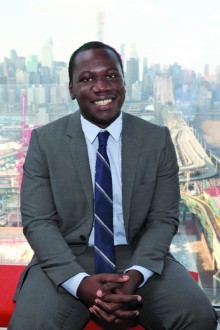 Imagine starting an internship with four days of intense training, the same training given to new hires, or being asked to research and create the first draft of an office mentorship program. These were situations Nana Asare encountered during his winter internship at the Office of Emergency Preparedness and Response (OEPR), part of New York City's Department of Health and Mental Hygiene.
Asare is pursuing a career in public health. "My passion is mitigating the difference between formulating health care policies and implementing them," he says.
Growing up in Ghana, he says he saw firsthand the human toll of inadequate health care. "This internship was a chance to learn about an aspect of public health I've never considered."
It also provided a mentor in Christopher Paquet '03, who is deputy director of the OEPR and a member of the Wheaton Board of Trustees.
The OEPR coordinates responses to all biological, natural and man-made disasters in the city. "When Nana first walked into my office, the Ebola incident was in full swing," notes Paquet.
It is important to Paquet that interns come away from their experience at the OEPR with a thorough understanding of emergency management, "how all the pieces—lab work, epidemiology, surveillance—fit together." And that's why he throws a lot at them.
Asare didn't mind. "It made me put in a lot of self-initiative into assimilating myself, and [the experience] will help me adapt quicker to new workplaces," he says.
This summer, Asare will complete his internship, delving deeper into emergency management and drafting a paper on how services provided by the OEPR impact individual New Yorkers.
Nuoya Pang '15, mathematics and economics double major
Winternship: MaxMara, San Francisco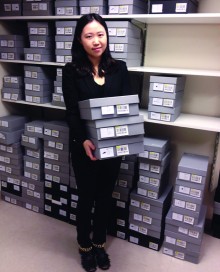 After her internship with MaxMara in San Francisco, Nuoya Pang looks at colors differently. That's because she spent her winter break dressing windows and mannequins, taking inventory, and assisting clients at designer clothing store MaxMara.
"I realize I have a talent for putting together outfits, for knowing what's in trend," she says.
Her supervisor, store assistant manager Priti Patel, agrees: "Nuoya was intuitive and creative."
The experience gave Pang clarity on her career goals. "I now know what I want," she says, "a career in fashion." A mathematics and economics major, Pang had found it challenging to combine all of her interests. When she approached John Gildea, professor of economics, for guidance, he suggested an internship as a place to start.
While previously interning at HolyCraft Brewery, a startup brewery in San Francisco created by Steve Seto '08, she connected with a friend who told her about a fashion internship at MaxMara.
Although a career in fashion may seem like a departure from a math and economics double major, it is not, Pang points out. "My studies at Wheaton have prepared me to communicate and solve problems. Those skills are important in any industry."
After graduation, she hopes to work in the fashion industry in New York City as an assistant buyer, "where my strong math skills will be an asset."
Joshua LeBlanc '18, undeclared major
Winternship: Norton Senior Center, Norton, Mass.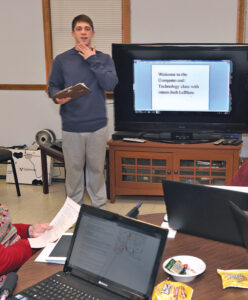 Joshua LeBlanc's winter internship at the Norton Senior Center forever changed his notion about the elderly and planted a seed for a possible career. Before the internship, he had little experience with older people. He also had some preconceived notions about senior citizens.
"You hear the stereotypes that they are grumpy and frail," he says.
His experience proved the opposite. "They were an incredibly energetic, funny and sweet group of people," says LeBlanc about the senior center's guests. He spent five weeks organizing activities, such as chair volleyball, bingo and a beanbag toss. He sat in on a ladies' crocheting circle —"One of the ladies made me a hat!"— and played games of cribbage with elderly gentlemen.
Service is an important part of the LeBlanc family ethic. (His father is Professor of Computer Science Mark LeBlanc.) When Joshua LeBlanc and his mother stopped in at the senior center to pick up a wheelchair for a homeless shelter last fall, he asked whether the center might need an intern over winter break.
"I thought it would be convenient, because the center is right down the street from my house," he admits.
It turns out that LeBlanc has a gift with the elderly, says Beth Rossi, the center's director and his supervisor. "His kind and outgoing demeanor endeared him to everyone he met."
One of the more challenging tasks he undertook was to plan and teach a class on computer and technology basics to the center's guests. He covered everything from how to turn on a computer to the fundamentals of Facebook. "Josh was very professional and patient, giving personal attention to all in attendance," says Rossi.