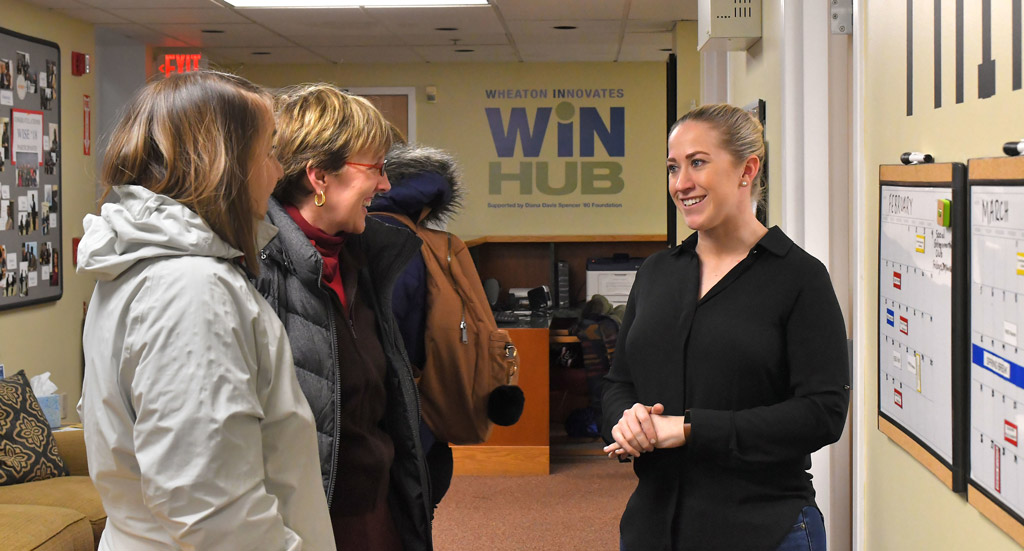 As Wheaton's social entrepreneur-in-residence, Courtney Wilson is working to infuse social entrepreneurship into all aspects of campus life.
Her focus: cultivating partnerships among faculty, students and staff to help them develop innovative and marketable solutions to society's most pressing challenges.
"My charge is to ingrain social entrepreneurship into the fabric of this institution, so it just doesn't go away with one position or person," said Wilson, who is located in the WiN Hub in the basement of the Doll's House.
The position is part of Wheaton's developing set of programs in social entrepreneurship. The college recently received a major boost of support for these initiatives from the Diana Davis Spencer Foundation, which made a $10 million commitment to establish an endowed professorship in social entrepreneurship and support a building renovation project to house the programs. An earlier gift from the Foundation supported the establishment of the position that Wilson now holds as well as the opening of the WiN Hub and programs run by the center.
Wilson, a former U.S. Army captain, is founder and CEO of the startup DropZone For Veterans—a digital platform connecting military families with personalized, high-impact resources and benefits. Dropzone For Veterans was named a finalist in the 2017 MassChallenge program and a semi-finalist in Institute for Veterans and Military Families at Syracuse University's VetSmallBiz Growth Challenge 2.0 in 2018.
Following Wilson's service (including a deployment in Afghanistan), she traveled the world for six months before receiving her M.B.A. from Babson College in Massachusetts.
She caught the eye of Josh Stenger, associate professor of film studies and English, when working with Wheaton students on DropZone For Veterans at MassChallenge in September 2017. Seeing her passion for social entrepreneurship and ability to work with college students, he recruited her for the social entrepreneur-in-residence position.
In her new role, Wilson is developing programs promoting social entrepreneurship on campus, including a formal mentorship program that will pair 10 students who are participating in the Wheaton Institute for Social Entrepreneurship Program (WISE) with Wheaton alumni.
"We're trying to make the best connections possible. If the alum works in a similar industry and they have something in common with the student, like a sport or organization, we are looking to match them," she said, adding that she is collaborating with Alumni Affairs on this effort.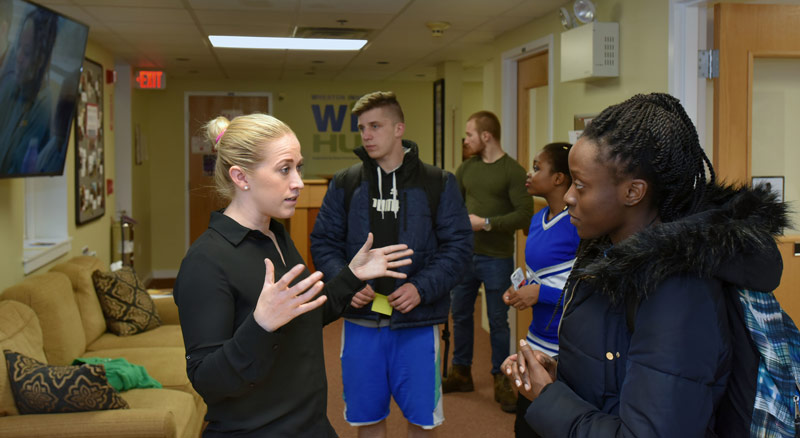 In January, the WISE students completed an 80-hour boot camp offered in collaboration with the Global Center for Social Entrepreneurship Network (GCSEN) to develop business ventures. Under Wilson's leadership, these students will pitch their ideas in a competition in March, and compete for $1,250 in cash prizes. A select number of students will showcase their businesses at the Presidents' Commission spring meeting in May.
"This gives the students an opportunity to showcase their businesses not only to the campus, but also to Wheaton's alumni and Trustees," she said.
Wilson also is planning panel sessions with an eye toward attracting campus speakers of diverse backgrounds.
"It's important for students to see people who look like them and have experiences like them," she said.
Wilson encourages students with ideas to reach out to her office.
"If you want to make things happen, I can help you with the steps you'll need to take," she said.