Building on green initiatives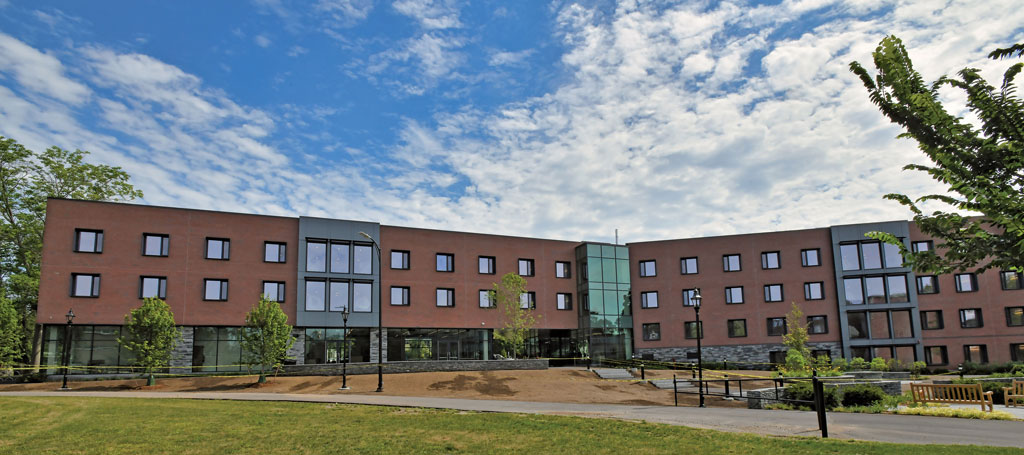 Designs, programs, leadership enhance sustainability
During the past six years, Wheaton has incorporated sustainability into as many projects and initiatives as possible, including the design of new buildings, the renovation of existing ones, the creation of a solar farm, the installation of filtered water stations throughout the campus and the encouragement and support of student theme-based residences that focus on conservation. Wheaton's efforts are ongoing, but giant steps have been made toward lowering the college's carbon footprint.
Pine Hall, Wheaton's newest residence hall, is the latest testament to the college's commitment to helping protect the environment and sustain the planet for future generations, as well as conserve resources.
The new 45,000-square-foot building, which has a 178-bed capacity, opened in fall 2019. Located near Pine Street, adjacent to the Meadows complex and Young, McIntire and Clark, the new residence was built to accommodate a growing student population as well as support the college's continuing efforts to create community on campus.
Pine Hall's Passive House design meets strict standards in energy efficiency, with features such as airtight, high-performance windows and balanced heat- and moisture-recovery ventilation. The residence hall is expected to be about 70 percent more energy efficient than buildings that meet the standard state code, resulting in significant cost savings over the life of the building. Pine Hall also serves as an inspiration for the students who live there—and those who attend programs and events—to be environmentally mindful.
Even the theme of the residence—wellness—underscores sustainability goals. To live in Pine Hall, students must apply and commit individually to strive for "wellness" in all areas of their lives. This includes environmental wellness, which encourages emotional, physical and mental health, with the understanding that all are necessary for students to make a positive impact on the quality of their surroundings, be it the residence hall or the planet.
Wheaton's other conservation efforts include:
LEED-certified buildings
Energy efficiency
Food, water and more
Inspiring and supporting student leadership