Support for a sustainable future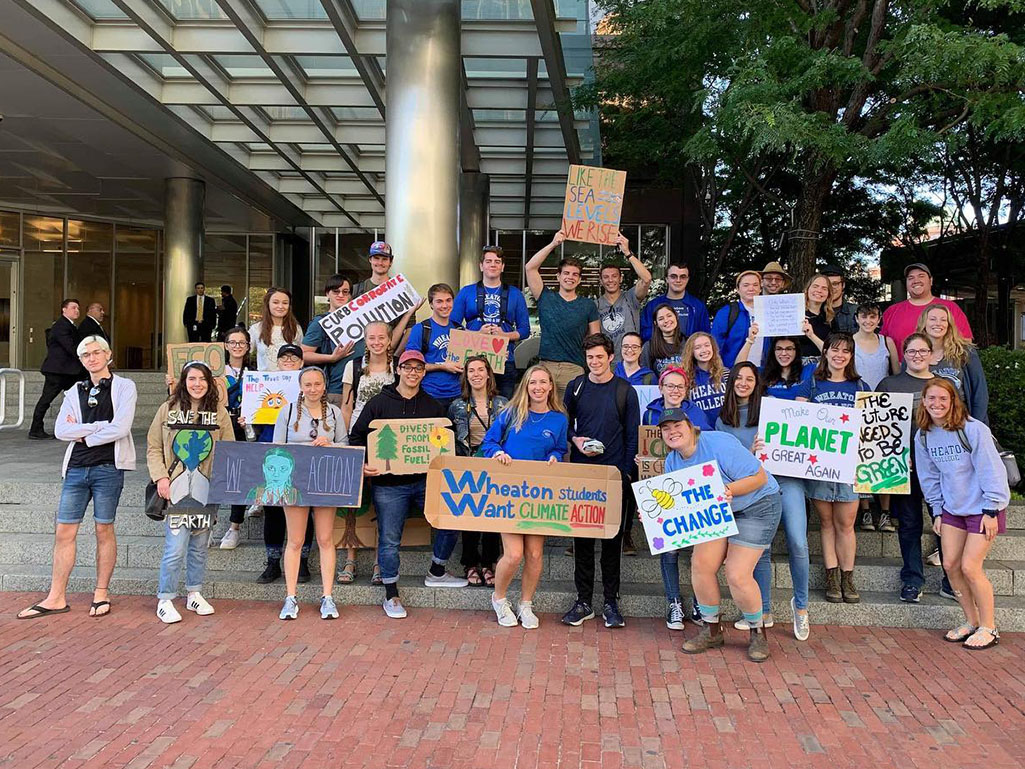 New SGA board helps organize trip to Boston climate strike, campus activism
About 50 Wheaton students took to the streets of Boston last Friday to demand action from government leaders as part of a global youth-led climate strike.
The trip was one of the first initiatives organized by the Student Government Association's (SGA) new Sustainability Board, which was created last spring to focus on environmental efforts on campus and encourage environmental advocacy. (The trip was co-led by Wheaton's Outdoors Club and Farm House.)
"Because the board was new, we thought it would be a great kick-off event, to bring together Wheaton students who were interested in going to the march, giving them a way to connect with other people on campus and to represent Wheaton," said Delia MacLaughlin '22, who serves as the SGA Sustainability Board Chair.
At the Boston event, thousands of people—largely students—marched from City Hall Plaza to the Massachusetts State House, carrying signs and listening to speeches.
"It was inspiring to be surrounded by young people that were so passionate, who were trying to encourage government leaders to make policy change," said MacLaughlin, a double major in environmental science and sociology. "It made me optimistic about what we're doing and about what we need to continue doing to make sure that these issues are addressed and hopefully solved."
Jennifer Loveland-Rose '20, who serves as senior advisor for the Sustainability Board, also attended the march and said some of the speeches brought her to tears.
"Hearing 18-year-olds talking about their passion for environmental justice and indigenous leaders talking about how land sovereignty and rights are so intrinsically tied into the debate over climate change was really powerful. There was an atmosphere of love and hope—active hope," said Loveland-Rose, a double major in environmental science and international relations.
Sustainability Board member Hannah Lord '22 also found the march inspiring.
"The turnout showed that we are not alone, and gave me hope for the future," she said.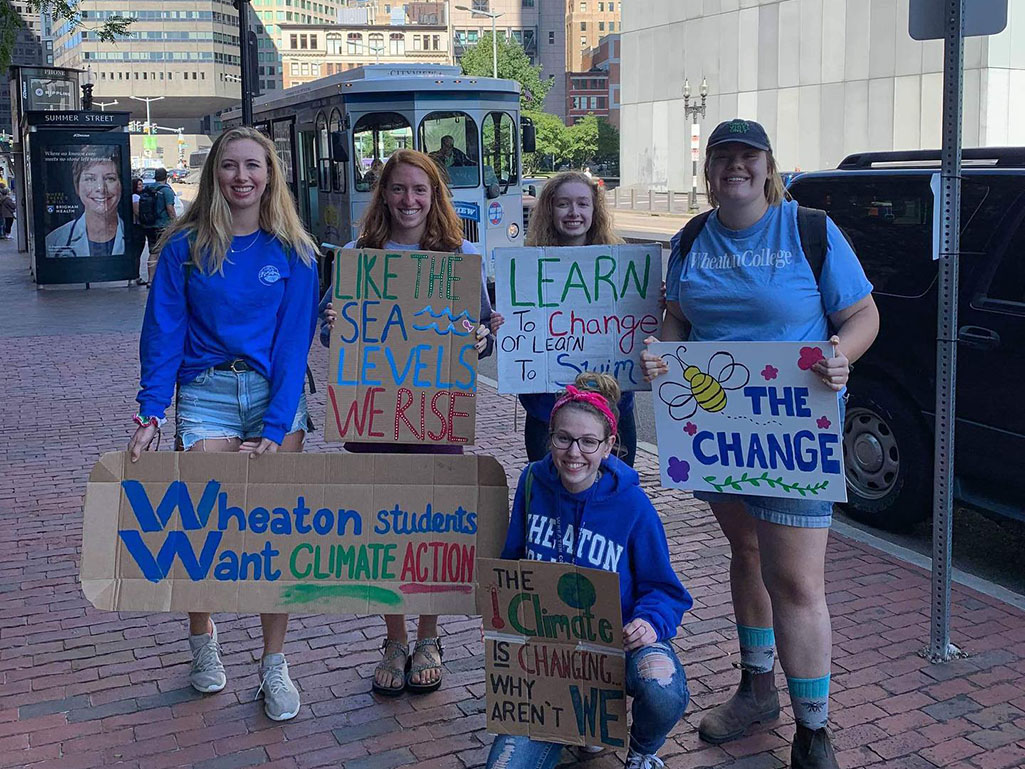 Lord served as Sustainability Board Provisional Liaison last spring, working with the SGA president to make the position a permanent seat. A double major in computer science and film and new media studies, Lord said that when she came to Wheaton last fall she was surprised there wasn't a group committed solely to improving Wheaton's environmental impact.
"When the application for the Sustainability Liaison was sent out in the beginning of 2019, I jumped at the opportunity," she said. "The establishment of this board shows that we, as a campus and a community, care about sustainability and promoting change."
The new Sustainability Board has about 15 members and meets weekly, with open sessions held every other week that all students are invited to attend, Loveland-Rose said. The group held its first post-march brainstorming session on Monday. Among the goals listed: to work with trustees to ensure the college's investments align with environmental values, and to continue to look at reducing college waste.
"While our obvious goal is to improve the community's impact on the environment, we also are aiming to grow a general awareness of current environmental issues," Lord said. "Being a branch of SGA, we have more direct contact with administration, meaning we can be a faster channel for change."
Current board membership includes representatives from environmentally-focused theme houses, including ECCO House, Farm House, Hungry Lyons and Outdoors House.
Farm House resident Kate Martin '20 serves as the Sustainability Board's communications chair and said the board expands on the work she and her housemates are already doing.
"At Farm House we strive to bring fresh food to the campus and community while educating people on the benefits of small-scale sustainable agriculture. Both the house and the board help the campus to understand how the decisions they make can impact the environment and how people can make small changes that have big impacts," said Martin, a philosophy major.
Along with fueling their passion for change, campus activism is helping Wheaton students to define their educational and career goals.
MacLaughlin said her environmental work helped lead her to a double major, as she became interested not just in environmental science but also in understanding human behavior.
"It's made me a lot more interdisciplinary. I enjoy not just being out in the field or doing lab work but also reading studies and looking at how the climate crisis will affect humans, getting into the environmental justice of how certain people are going to be disproportionately affected by climate change and understanding why and what we can do to combat that," she said.
Loveland-Rose, who also dances with Paraíso Latino and has served as president of the Middle East Club, sees how all her activities are preparing her for a career in environmental policy.
"What underlies it all is forming important community connections, because that's what you need to do this work, as well as other work, and to talk to people from different backgrounds," she said.