Guiding climate conversations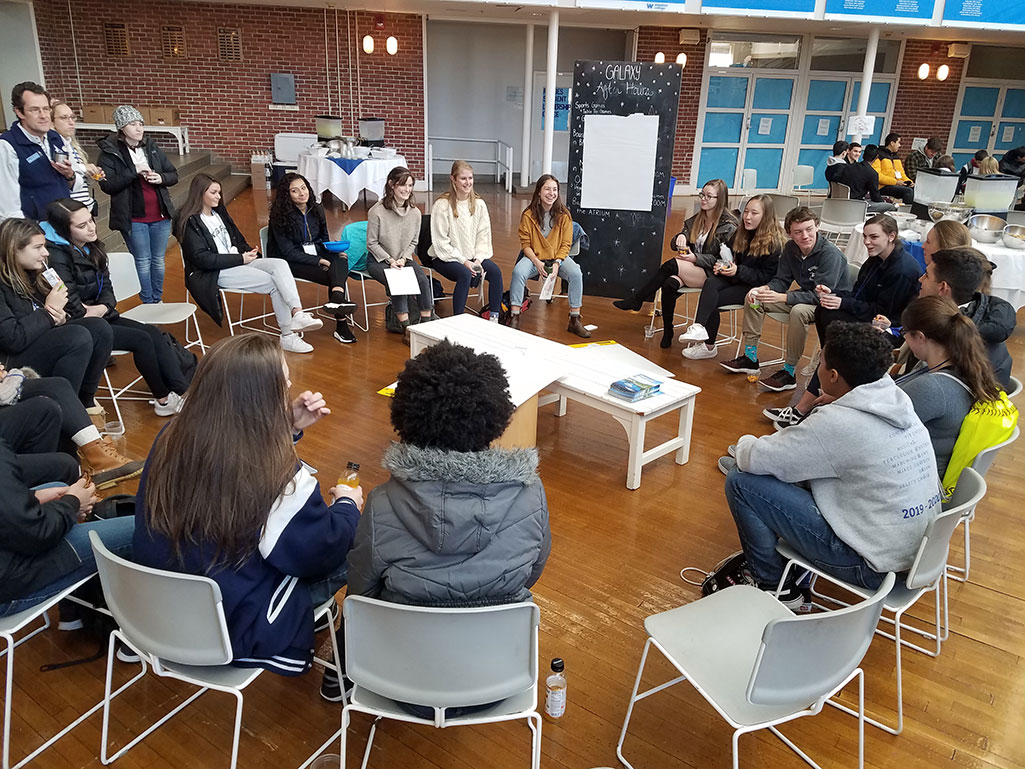 Wheaton, Mass Audubon host high school summit
From marching in climate strikes in Boston to leading letter writing campaigns on campus, Wheaton students have been vocal and active in working on issues around climate change. Last week, students took a central role in helping to run the college's first Youth Climate Action Summit, which brought together 120 students from three area high schools to discuss environmental issues and develop action plans for their schools.
The summit, held Wednesday, November 13 at Wheaton, was organized by Mass Audubon's Stony Brook (Norfolk), Moose Hill (Sharon) and Oak Knoll (Attleboro) wildlife sanctuaries, in partnership with Wheaton. Students from King Philip Regional High School in Wrentham, Sharon High School and Attleboro High School participated.
After a welcome by Provost Renée White and a keynote address by Youth Climate Coach Denali Kikuchi, the high school students divided into groups led by Wheaton students to discuss topics selected by the high schoolers through a survey. Conversations focused on involvement in local government and climate strikes, plastic pollution, vehicle technologies, recycling and waste management, habitat protection, and climate change and public health.
Assistant Professor of Biology Jessie Knowlton, who has worked closely with Stony Brook Director Doug Williams, helped organize the event and recruit and train Wheaton students.
"Young people are some of the most motivated to take action on climate change—and they are so smart and creative they can really make a difference," Knowlton said. "I also wanted to give my Wheaton students the chance to practice taking the lead on these discussions and to have the opportunity to motivate the younger students."
Rachel Crafford '20 led a discussion group with Meg Sharick '20 and Grace Sherman '20 that centered on recycling and waste management. Following the World Café discussion style, the Wheaton students invited the high schoolers to share their experiences, personal insights and frustrations about the topic. Crafford said she was impressed by students' willingness to speak up.
"This sort of program is important because it fosters a sense of community and even camaraderie between the young people who are often thought to be the ones who are faced with the challenge of combating climate change, said Crafford, a double major in anthropology and environmental science. "I think for this reason it was special for me to be able to talk to the high schoolers and kind of be re-motivated and re-inspired to continue my studies and work in conservation and environmental science. On the flip side, I think it was probably meaningful for the students to hear from us about how we got to where we are today, and also what work/opportunities are available for people interested in these issues."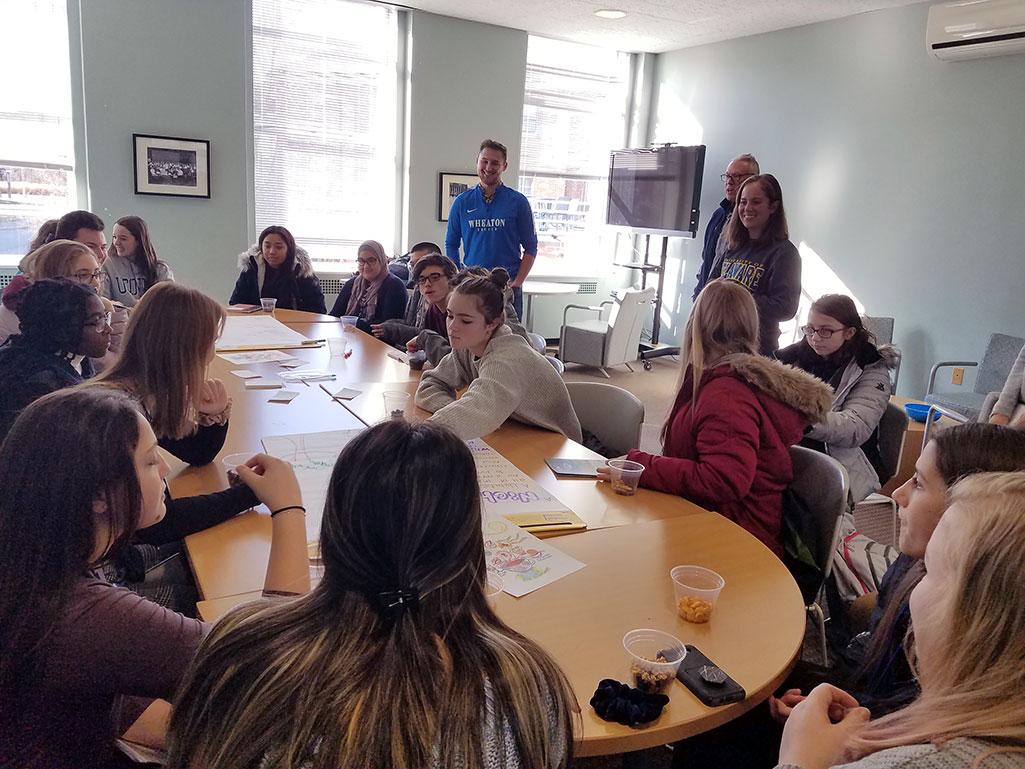 Bioinformatics major Francesca Sajedi '21 helped facilitate a discussion on vehicle technologies.
"They had the fire behind them to create change," she said. "This sort of program is important because it teaches the younger community how to communicate their opinions and goals to strangers of varying ages. It allows individuals to feel like they are not alone and that there are other people worried about the same topics and wanting to change the way the world perceives the environment."
Williams said Mass Audubon has conducted similar youth action summits around the state and that Wheaton seemed like "the perfect partner" for this program. He met Knowlton when she brought Wheaton students to Stony Brook as part of a class, and he has worked with several Wheaton students on research projects during the summer, such as conducting breeding bird surveys and examining the impacts of gypsy moths.
"One thing I was really impressed with was how skilled the Wheaton students were at facilitating these breakout sessions," he said. "The high school students were engaged, interested and willing to speak their minds, which led to a really cogent discussion."
Williams sat in on a conversation with a group of King Phillips students who wanted to focus on eliminating plastic water bottles in their school by ending the sale of bottles on campus and installing a hydration station. They discussed how to raise funds and developed a timeline.
Another group of students wanted to advocate for making environmental science mandatory for every student at their high school, Williams said. Along with discussing the issues, event leaders helped students strategize how to turn their plans into action, such as through partnerships with school administration.
"We thought it turned out really well in being able to bring these issues to the fore, with both high school and college students," Williams said of the summit. "We're very enthusiastic about doing it again."