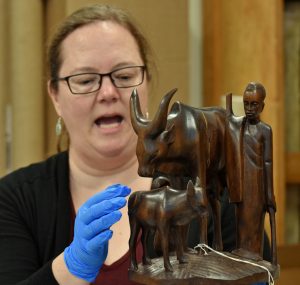 ON DECEMBER 16, 2020, members of the Mary Lyon Leadership Society and Founders Society joined Associate Professor of Museum Studies & Curator of the Permanent Collection, Leah Niederstadt, and her student research assistant, Sierra Proft '21 for a virtual "behind the scenes" look into Wheaton's Permanent Collection.
In addition to showcasing pieces from the Permanent Collection, Professor Niederstadt and Sierra also discussed their research on classical sculpture on campus, focusing on the history and traditions of our beloved statue, Hebe.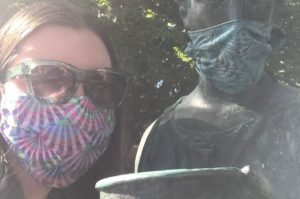 Read Sierra's blog post, Hanging Out with Hebe, about her summer research project with Professor Niederstadt, which focused on classical public sculpture on Wheaton's campus.
---
ON SEPTEMBER 24, 2019, nearly 100 members of the Mary Lyon Leadership Society gathered at the Boston Museum of Science for an evening of science fun and great food.
The event honored members of the Mary Lyon Leadership Society for their generous and loyal support of Wheaton. Guests toured the Hall of Human Life and enjoyed a priceless view of Boston and Cambridge from the Museum's Skyline Room, six stories above the Charles River.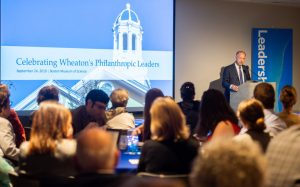 Janet Lindholm Lebovitz '72, Chair of the Board of Trustees, welcomed guests and spoke about the impact their philanthropy has on the institution. She provided an update on progress for the Creating Possibility fundraising initiative at Wheaton.She announced that new gifts and commitments currently total $36.8 million toward a three-year goal of $50 million by June 30, 2020.
Robert Morris, the William and Elsie Prentice Professor of Biology, presented a highly engaging talk entitled, Stem Cells and Students: The Challenge of Limitless Potential and Endless Youth. He reflected on his childhood interest in science and shared news of an interesting STEM cell classroom collaboration he's been working on with his students and Phil Manos '08, founder and president of EverCell Bio.
President Dennis Hanno closed the event with a few words on Wheaton's continued growth during challenging times; the college's commitment to innovation in its curriculum and experiential learning programs; and the institution's investment in its infrastructure, with the construction of Pine Hall and the upcoming $20 million renovation of the former Science Center.