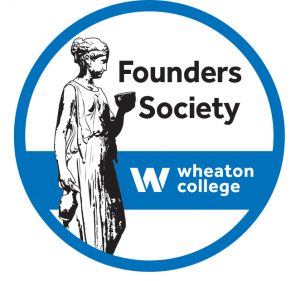 Eliza Baylies Chapin Wheaton, one of Wheaton's original founders and its first benefactor, gave the statue and fountain of Hebe to the Wheaton Seminary for its fiftieth anniversary in 1884. Today, Hebe has become the centerpiece for many campus traditions. Hebe, the "cupbearer to the gods" of the ancient Greek religions, also stands for the spirit of Wheaton: to be of service. Founders Society members exemplify that same spirit of service and philanthropy by making a planned or legacy gift to Wheaton, thereby helping keep Wheaton strong and vibrant for generations to come.
Founders all are we.
By telling the college that you have Wheaton in your will or estate plan, or by establishing a life-income gift with the college, you help ensure that Eliza Baylies Wheaton's vision endures. We are honored to welcome new members of Founders Society, no matter the size of the gift.
Have you already included Wheaton in your estate plan, but just haven't told us? You can become a member of Founders Society by simply telling us about your gift. If you are already a member of the Wheaton Founders Society, we want to say thank you, again, because your legacy gifts make a real difference to our students.
For answers to your questions about membership in the Wheaton Founders Society, please contact:
Suzan Hurd Greenup
Associate Director of Major Gifts and Gift Planning
508-286-3393
greenup_suzan@wheatoncollege.edu
Enjoy a little bit of Wheaton wherever you go
The Founders Society thanks you for your contributions to Wheaton College. We offer this small gift as a way to enjoy Wheaton wherever you are. Below, you will find springtime images of our lovely campus that can be downloaded to your cell phone and used as your background or wallpaper.
The Founders Society honors those who have chosen to include the college in their financial plans. A planned gift of any size ensures that the time-honored tradition of a Wheaton College liberal arts education will flourish for generations to come.
If you have already included Wheaton in your financial or estate plans, we thank you. If you are considering including the college in your plans, we invite you to reach out and let us help you navigate your Wheaton legacy.
Thank you for your steadfast commitment to Wheaton College.
Download Instructions
Select your phone type below to install Wheaton summer wallpaper.
iPhone users:
Click the "Download" link for your favorite Wheaton summer scene below.
Save it to your phone.
Go to "Settings," tap "Wallpaper," and then tap "Choose a New Wallpaper."
Choose your selected image.
Move the image and choose a display option. Drag to move the image. Or pinch to zoom in and out so the image fits the screen.
Set the wallpaper and choose where you want it to show up. You can set the wallpaper as your home screen, lock screen, or both.
Android users:
Click the "Download" link for your favorite Wheaton summer scene below.
Save it to your phone.
Open your phone's Gallery app.
Find the saved photo you want to use and open it.
Tap the three dots in the top right and select, "Set as wallpaper."
You can choose to use the photo as wallpaper for your home screen, lock screen or both.