As parents, you invest a tremendous amount in your child's education. But you may be surprised to know that tuition does not cover the full cost of providing a Wheaton education.
Tuition, room and board constitute about 80 percent of the college's operating budget. Wheaton counts on the generosity of alumni, parents and friends to help make up the difference.
We invite every family to make an impact on their student's education with a gift to the Parents Fund.
Parents Fund
The Parents Fund is part of the Wheaton Fund, the college's annual giving program. Contributions to the Parents Fund go to work immediately to benefit your student and every Wheaton student–paying for faculty salaries, books and technology, athletics, student organizations, financial aid and all other aspects of a Wheaton education. Wheaton's first priority is our students – your children. Through parents' broad career and life experiences, they are often in a position to be very helpful to Wheaton.
Contributions may range from a few dollars to hundreds of thousands, but each gift is crucial: Every dollar supports the academic programs and campus activities your child depends on.
Parent Ambassadors
The Parent Ambassador program is a partnership between the school and parents to help promote the college, welcome new families, and generate new levels of leadership support. As a Parent Ambassador, you play an important role in strengthening both the college and the educational experience of our students.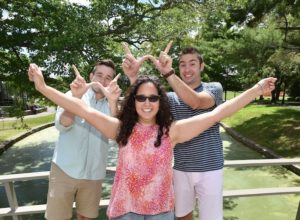 Parent Ambassadors
As a Parent Ambassador, you foster a strong relationship with Wheaton, as your son or daughter grows; exploring their interests, pursuing opportunities for research, internships, service work, and other experiential learning programs.
Wheaton Parent Ambassadors
Serve as informed representatives of the parent community, be a positive Wheaton College advocate, and promote parent involvement
Help contact parents of newly enrolled students to welcome them to the community
Attend Parent and Family Weekend each fall semester and special leadership events for Ambassadors
Attend or host regional events promoting the goals and mission of Wheaton College
Make Wheaton a philanthropic priority with a commitment at the leadership level to the Wheaton Fund (minimum of $5,000).
Your involvement as a Parent Ambassador provides Wheaton with the important resources to pursue initiatives this year and in the coming years. For information about our Ambassador Program, please email Jean McCutcheon or call (508) 286-3432.
Invest Today. Inspire Tomorrow.
That they may have life, and may have it abundantly.
Areas to Support
You can direct your Wheaton Fund gift to an area of interest to you.
Your Impact
Give Today
You will provide immediate resources to today's students with your Wheaton Fund gift.
Give Now
Donor Spotlight
You can learn more about the Wheaton Fund recognition societies.
Learn More