Exchange Students/J-1 Visa Overview
The Exchange Visitor Program was established by the U.S. Government to facilitate the visitors from other countries to come to the U.S. to participate in Educational and Cultural programs. The objective of the program is to increase mutual understanding between the citizens of the United States and the Exchange Visitors' countries. The visitors may participate in studies, research, teaching, or receive training. Universities, research institutes, and organizations can be recognized by the U.S. Department of State as Exchange Visitor Program Sponsors.
Exchange students are a vital part of Wheaton College's student population. They enrich our community in terms of knowledge, experience and diversity. In many ways they are the second part of our pledge to bring the world to Wheaton – by sharing their perspectives and insights, our entire campus benefits.
Wheaton College currently has exchange agreements with the Chinese University of Hong Kong (CUHK), Ashesi University College, The University of Regensburg, Ewha Womans University, Blanquerna – Universitat Ramon Llull, University College Cork, Ireland and Waseda University. If you do not attend one of these institutions but are interested in learning more, please email globaled@wheatoncollege.edu.
How To Apply
J-1 exchange students apply to Wheaton College through the Center for Global Education, and the Center makes the determination if Wheaton will accept the students for the term(s) that they wish to attend. As this process also involves your academic or program advisor at your home institution, the office asks that you work with your home institution to apply to come to Wheaton College.
The Center for Global Education will issue a DS-2019 form "Certificate of Eligibility for Exchange Visitor (J-1) Status" which the prospective visitor takes to a US Embassy/Consulate to apply for J-1 visa.
At the time of processing the DS-2019 form, the Exchange Visitor must present evidence of financial support for the duration of the period stated in the DS-2019 form.
Step 1: Fill out and submit the Exchange Student/FLTA Application (Google Form).
Step 2: Collect Required application documents.
Step 3: Students Only: Please fill out the New Student Housing Survey

Step 4: Health forms will be sent directly to you to fill out and you will need to upload them to the insurance website once you have access.

Step 5: Please collect all documents from steps 2 and 3 and submit to stevens_desnee@wheatoncollege.edu
Next Steps
Step 1: Once all documentation has been submitted, a DS-2019 form will be created and mailed to the address on the application.
Step 2: Please review the Visa Application Process.
Step 3: ALL Exchange Students (not FLTA's) are required to participate in a MANDATORY Zoom Session during the summer. A Zoom Session is an opportunity for a face-to-face conversation and for students to ask questions about classes, housing, campus life, billing, etc.
Step 4: Check your personal and Wheaton email periodically as you will receive a monthly summer pre-arrival newsletter from the Center for Global Education.
Step 5: You will receive an email during the summer to sign up for International Student Early Arrival Program. Please make sure you do this in a timely fashion.  
Mandatory Check-in and International Student Early Arrival Program
The arrival of a newly admitted Wheaton College J-1 student must be updated in Student & Exchange Visitor Information System (SEVIS). This process is called 'validation' and must be completed within 30 days of the starting date stated on Box #3 on the DS-2019 form. In order to do this, the Exchange Visitor is required to check-in with the Center for Global Education upon arrival to Wheaton College. Failure to validate one's arrival will result in automatic termination of their J-1 status in the SEVIS system. Exchange Visitors are required to bring the following documents:
Wheaton College issued initial DS-2019
Original Passport
Original Visa
All international students are required to attend the International Student Early Arrival Program. This program allows new students to meet each other prior to the start of the semester and acclimate to their new environment prior to everyone returning. As part of International Student Early Arrival Program, you will receive three pre-arrival newsletters with significant information connecting you to Wheaton College. Please make sure that you read these newsletters. Please visit the International Student Orientation page to view the handbook prior to arrival.
Center for Global Education
The Center for Global Education is responsible for securing your housing and will have your room key and Wheaton I.D. card when you arrive. Prior to arrival, you will be enrolled in the college insurance plan which is mandatory for all international students.
The Center for Global Education is here to help spread global awareness into the overall community. Everyone here has the opportunity to create an educational, cultural and/or a social program that is designed to improve and diversify our understanding of global issues and concerns regarding not just our international students but all of Wheaton. The Center for Global Education also provides exciting excursions throughout the school year to give international and domestic students an opportunity to come together for a taste of American culture. Click here to see examples of past events.
For more information, please contact globaled@wheatoncollege.edu
How to Register for Classes
Prior to arrival, you will be able to register for classes using the application form. Some classes have course requirements and you may have to request permission to get into those classes. If you are not able to get into certain classes that you want, you will be assisted upon arrival to Wheaton.
Students can view courses and schedules using the Course Catalog and College Catalog on Banner.
How to pay your bill
Students are billed electronically per term for all expenses. Fall charges are billed mid June, early July and due August 1; spring charges are billed in early December and are due January 1.
Please go to the Billing and Payment Policy Information page for how to pay your bill. Please make sure you take care of your bill during the appropriate time so you are not assessed a late fee.
Housing and Dining
As part of your application process, housing and dining will be selected for you. Most rooms are doubles or triples so you may have one roommate or two roommates.
During the Winter break (when classes are not in session), there is limited housing and dining options.
Here are some photos of typical dorm rooms and the main places for dining, Chase and Emerson.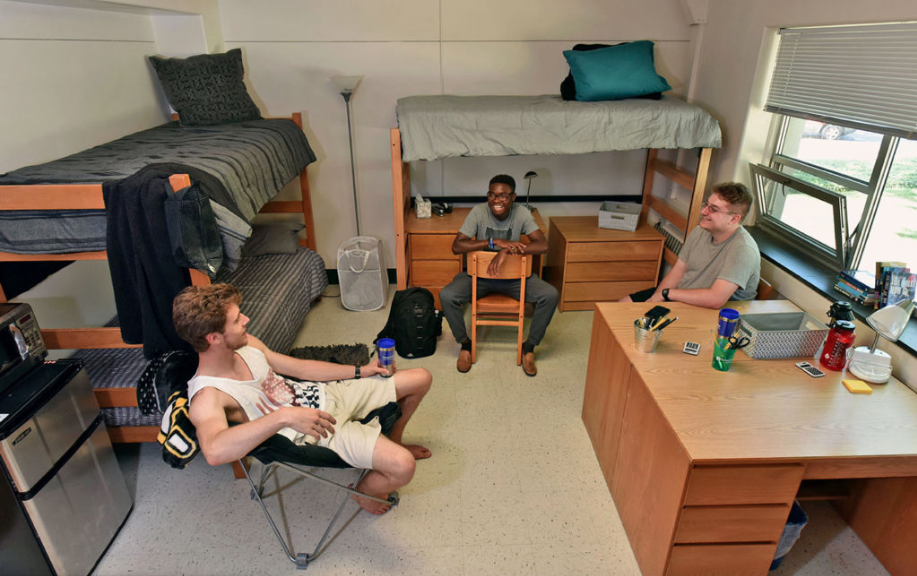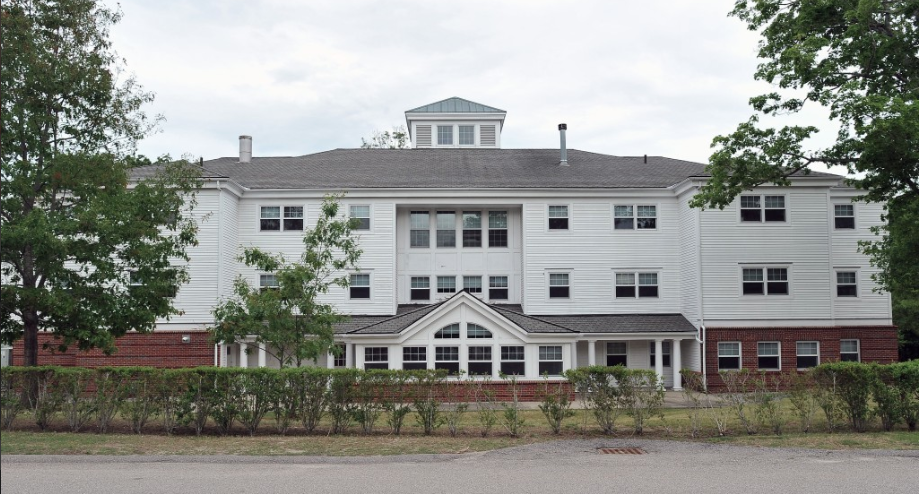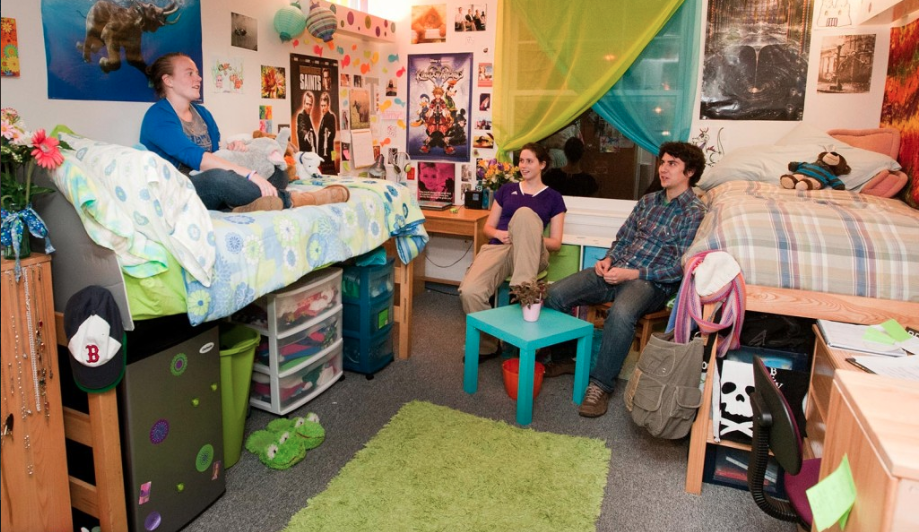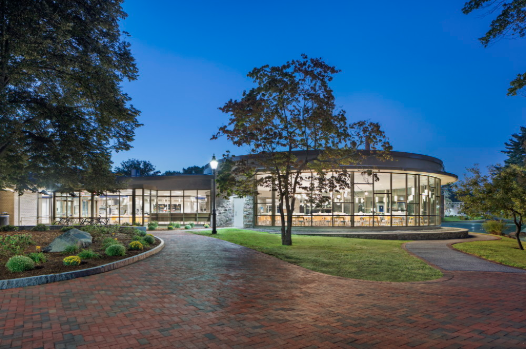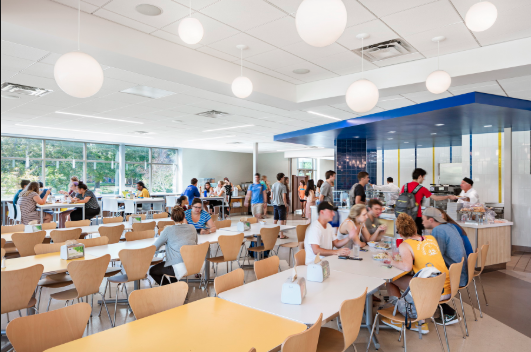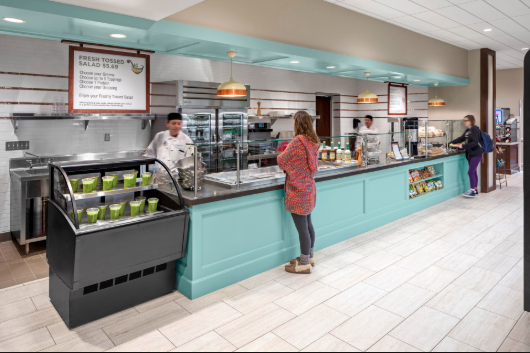 Special Student Status
Exchange students are considered special students and their application, room selection and summer communication process are not the same as fully admitted incoming students. During the summer, you will receive communication not only from your international advisor at Wheaton but also from various offices, which will tell you to do things or adhere to deadlines to which you are not subject. Your international advisor will communicate with you throughout the summer on what you will need to do. You will be able to disregard certain messages from the college. Please make sure that you follow the instructions of your international advisor.
As most exchange students do not pay tuition to Wheaton, there is no financial aid funding for exchange students from the college.
Many exchange students are concerned about health insurance. You will automatically be enrolled in the Wheaton health insurance program. You do not need to have health insurance from your country, but if you want to, that is your decision. You cannot waive the Wheaton Health Insurance Plan. Here is a link containing information about the health insurance but you do not need to enroll. The college will automatically enroll you into the plan.
Testimonials
"I enjoyed the diversity here at Wheaton and being able to get to know so many people from different backgrounds and countries. I appreciated how easy it was to integrate into the Wheaton community because of how welcoming and open everyone was. I appreciated how close the relationship between faculty and students here at Wheaton is and how it can be one of the benefits of a smaller college as compared to a large university like mine. "
– Hermann, University of Regensburg, Fall 2018
"Wheaton was the best place in terms that I can access to a large city easily and it has a good study environment."
– Naoki, Waseda University, Academic Year 2018-2019