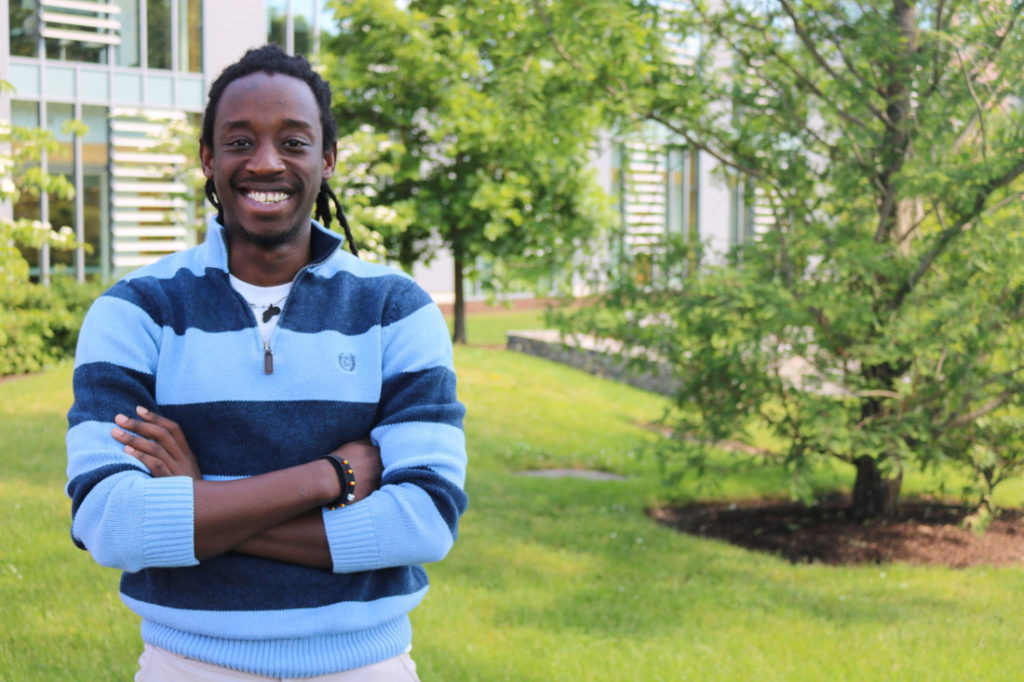 Wheaton senior finds challenge, joy in balancing three majors
Wheaton encourages students to figure out what they want and go for it. International student Ibrahim Nshimirimana '19 certainly has taken that to heart. He has not one, not two, but three majors and is enjoying every minute of the challenge.
Twenty-five percent of 2017 Wheaton graduates chose to pursue two majors, and like these students, Nshimirimana has mastered the art of balance while following his passions.
In addition to studying three subjects—international relations, economics and French studies—Nshimirimana is an Admission ambassador, Summer Orientation leader and peer mentor; is a member of the Global Leadership Development group; plays club soccer and dances with Paraiso Latino; has served as a student representative on the college's Budget and Planning Committee and as a resident advisor; and even starred in the French-language student film "Dance of the Outsiders."
He has had two internships as an undergraduate, with Explo summer camps at Wheaton and at École Militaire in Paris, France, where he studied abroad both semesters his junior year.
>> See Ibrahim's 6 Rules for Triple Majors
Originally from Buyenzi, a community in Burundi's capital city of Bujumbura, Nshimirimana attended Li Po Chun United World College in Hong Kong before coming to Wheaton.
Here, he discusses why he chose Wheaton—as well as each of his majors—what it takes to study three disciplines and how he plans to use his multifaceted education to build a career in diplomacy:
The small stuff. "I couldn't visit the campus while looking for colleges but the work of the Wheaton Admission Office won me over. It was the small things, like personalizing my acceptance letter with an encouraging message, or an admission member making time to visit me while I was in Hong Kong and personally delivering the admission folder. Wheaton has a close sense of community. Again, it's the small things: the smiles you exchange with people on the way to classes, the conversations you have with the dining staff."
Fitting it all together. "I took an 'Intro to Macroeconomics' course here at Wheaton and I liked it. It was different from the economics course I took in Hong Kong. I met the heads of each department several times. It was clear that economics and international relations were a good combination. There are a few classes that made me sure about my choice, like 'European Governments and Systems' by Professor Aubrey Westfall or 'Economic Development' by Professor Brenda Wyss. I chose French studies because my area of concentration is Europe, and I have always wanted to go to France. I might end up in diplomacy, so understanding languages and cultures is essential."
Great benefits. "There are many joys that come with choosing three majors, like the relationships you form with the professors across those subjects and everyone's support. You do not have a dull moment; you are up to something all the time, and that is fun. You feel mostly purposeful; most of the time you feel ready for life after college as you always repeat to yourself 'I can do this.' You also appreciate more your 'free time.' There is also the trust that people put in you; some people come to you for advice, and with that comes some sort of satisfaction."
Loving the challenge. "All in all, there are moments of doubts sometimes, mostly due to the uncertainty of finding employment. There are times when I ask myself, 'Do I really need all of this? I know that I want to do this, but what if I graduate and I don't find a job?' Most students don't escape that question no matter what major they choose. But the pressing challenge is the workload, especially with humanities and languages. You read and write a lot. And that is exactly where the satisfaction comes from. The joy is in knowing that you are pushing yourself. You stay active, you learn other skills—like you are forced to have some level of organization—you prioritize. It is like the joy of having the major you really like, but on steroids."
Career plans. "The world needs more mediators and negotiators; this is true especially for most African countries. But that is for later. As of now, I want to continue learning through traveling. I intend to apply for fellowships, and, hopefully, I will get my master's in international political economy, with a focus on economic development in Sub-Sahara Africa. These majors give me perspective and a solid understanding of the world as each one tries to analyze human interactions from different angles."