Wheaton students have turned a campus house into a professional film set this semester, shooting a short film in the style of 1960s French New Wave, with dialogue that is entirely in French.
The project is a collaboration between Assistant Professor of Filmmaking Patrick Johnson's Film Production II class and Professor of French Studies Kirk Anderson's translation class. Working from an original script written by film student Ellie Levine '18, Anderson's students translated English dialogue into French. The class will also lend their services after editing to create English subtitles for the film.
The film features two native French speakers—student actors Ibrahim Nshimirimana '19, from Burundi, and Clara Colas '19, from Paris, France.
"What I like about this project is it creates a bridge between what we do in the classroom and the real world," Anderson said. "The students can see that this is something they might put into action outside of the classroom."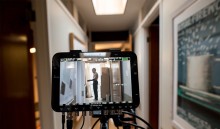 Playing various roles, from setting up lighting to organizing props to running the cameras, the eight Production II students filmed in Wheaton's Austin House during class time over two weeks this fall. Though they shot the film collaboratively, each student will create their own cuts of the film.
Johnson said he was trying to think of ways to "raise the stakes" with his latest production class and came up with the idea of shooting a foreign film while talking with Anderson last spring.
"In film students, there's this romanticism attached to that era and that type of filmmaking. There is an adventurous spirit of experimentation in French New Wave, and I think that's an element our students really respond to—that risk-taking, the idea that they can really do anything they want," Johnson said. "They can really defy conventions."
Two students proposed scripts for the project, with Levine's chosen for production.
"The challenge of writing and producing for the French New Wave style is that you have to constantly consider the visual style," said Levine, a film and new media studies major. "Most French New Wave films utilize handheld shots, which seems simpler than using extra equipment but in actuality is very hard to pull off."
Not speaking a word of French also created a challenge for Levine, who served as director on set.
"I had a script handy that had each line written in both English and French, but I found myself using this less and less as the scenes went on," she said. "After a while, I knew where we were in the dialogue based on gestures, blocking and facial expressions."
Patrick was curious to see how the language barrier would affect students' approach to filming.
"It's an interesting challenge because it takes away the tool that students most often rely on and forces them to watch for non-verbal cues—facial performances, body language and other things that I want them to focus on but oftentimes they don't because they're too focused on dialogue," he said.
The film, titled "Dance of the Outsiders" and set in 1960s France, features "two outsiders from different worlds, meeting through forces of nature," Levine said.
Film and new media studies major Jack Quigley '17 served as one of the film's cinematographers and said the process transported him to another time and place.
"I enjoy the escapism of the genre," he said. "It was really fun to go over to the Austin House, listen to French being spoken, listen to older music on a record player and feel like you were in the 1960s. It was a great respite from campus life."
Film and new media studies major Khalid Al-Sudairy '17 also operated one of the cameras during production and said the process gave him insight into on-set work flow.
"We functioned as a team. After the first day, everyone knew their role and everyone did their job," he said. "We worked very well together, and Patrick really pushed us to elevate the production value of this film."
Levine also appreciated the collaborative nature of the project.
"The biggest skill anyone can learn from a project like this is how to work with others on set efficiently and smoothly, and in a way so that one goal—one vision—is realized from the whole group working together," she said.
With plans to pursue a career in filmmaking—and hoping to one day write and direct her own films—Levine said she also learned how to direct through this class project.
"It's so difficult to communicate accurately with everyone on- and off-screen sometimes. No one can read your mind. I learned that I have to be direct and clear while also being kind and making sure actors and crew are relaxed and having fun," she said.
A final version of the film will be shown at an end-of-semester screening of curated student film work, on Tuesday, December 13, at 7 p.m. in Ellison Lecture Hall, Watson Fine Arts Center.