Senior learns coding, marketing and how to adapt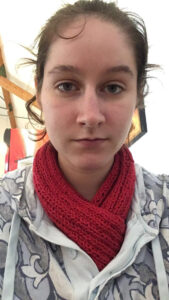 Senior Nellie Boling, a double major in mathematics and music, honed her marketing and coding chops during a 12-week remote internship at Dover Microsystems, a computer hardware designer based in Waltham, Mass.
Boling worked on various projects within Dover's hardware and marketing teams. In hardware, she learned Python and wrote Python code that parsed YAML (Yet Another Markup Language) files and generated System Verilog and C code based on the YAML. In marketing, she created posts for the company's social media accounts and conducted research on potential customers.
The biggest challenges of Boling's internship were learning how to code in Python and navigating a remote work environment.
"I found that there was a fairly big learning curve. On top of the projects I had to complete, I found myself having to learn as I worked. This is true for any job, but as I was remote due to COVID-19, there were fewer resources than there might have been had I been in an office environment. Luckily, I was able to work with my supervisors and research enough for me to be able to complete all the work I needed to accomplish," she said.
Coursework at Wheaton also helped her overcome these challenges, she said.
"I was able to use what I learned in my Wheaton courses to aid with the projects. My classes had prepared me for basic coding, understanding and creating algorithms, as well as more administrative roles and research positions," she said.
Boling discovered through the internship that she would enjoy working on a team tackling mathematically-based projects. She eventually would like to serve in a managerial capacity.
"Though I would love to be in a management job, I feel it is important I work multiple jobs in different positions. This will allow me to best prepare myself to manage different types of people and projects," Boling said.