Wheaton students, faculty, alumnae/i and staff turned out strong for the various Women's Marches held last weekend in 550 cities across the U.S. as well as dozens of communities around the globe. This is a selection of their photos and reflections on the experience:
"We attended the march because we value equal protection for all people—no matter their race, gender, religious faith, sexual orientation, country of origin, etc," said Gabrielle Maginn '17, who headed to Boston Common with Aliya Holland '17.
»»»
"I was especially heartened to see so many fierce Wheaton women in attendance—from alumnae/i to staff," said Alexandra Natale '16, who joined the throngs in Washington, D.C., with classmate Emily Bergmann '16. "While the march gave me hope, it is only the beginning of a much larger movement."
»»»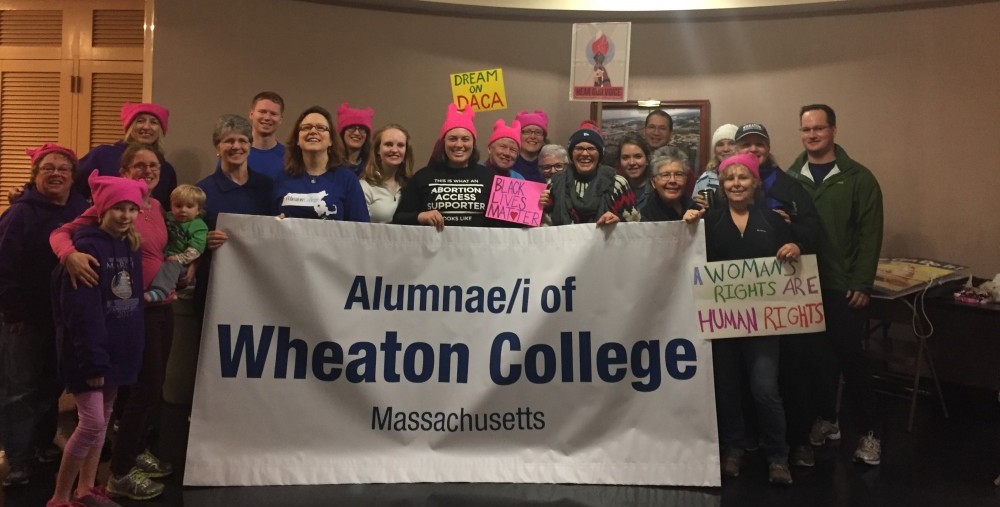 »»»
"Honestly, words cannot express the power of that day," said Jane Martin '74, president of the Wheaton College Alumnae/i Association and a member of the college's Board of Trustees. "It was calm, polite, supportive. There were long lines, and because the Park Service could not or would not give us the Mall, we were wedged into a very tiny area. No matter; like lava, it flowed outward. And people were kind. There were no strangers."
»»»
Professor of Education Vicki Bartolini sounded a similar note of optimism in recalling the event in Boston. "The day gave me back hope and inspiration to not back down, to promise myself that I won't be lulled into passivity. It felt like democracy again."
»»»
Wheaton's marchers also reflected on the sense of having participated in an historic event that ranks among the most well-attended. (Independent estimates of turnout place attendance somewhere between 3.3 and 4.8 million worldwide.)
"From the moment I heard about the march I really wanted to be a part of it. Just being able to say that I was a part of this moment in history," said Kaitlyn Meghathlin '20, who marched in Boston.
"Being a part of this made me feel as though I became a part of history," said Maia Hay '20, who marched with Megathlin and fellow students Emma Marcou '20 and Caroline Heistand '20, as well as friends and family. "In years to come, people will read about how we stood up, for what we believe in and showed support to others on a national scale."
»»»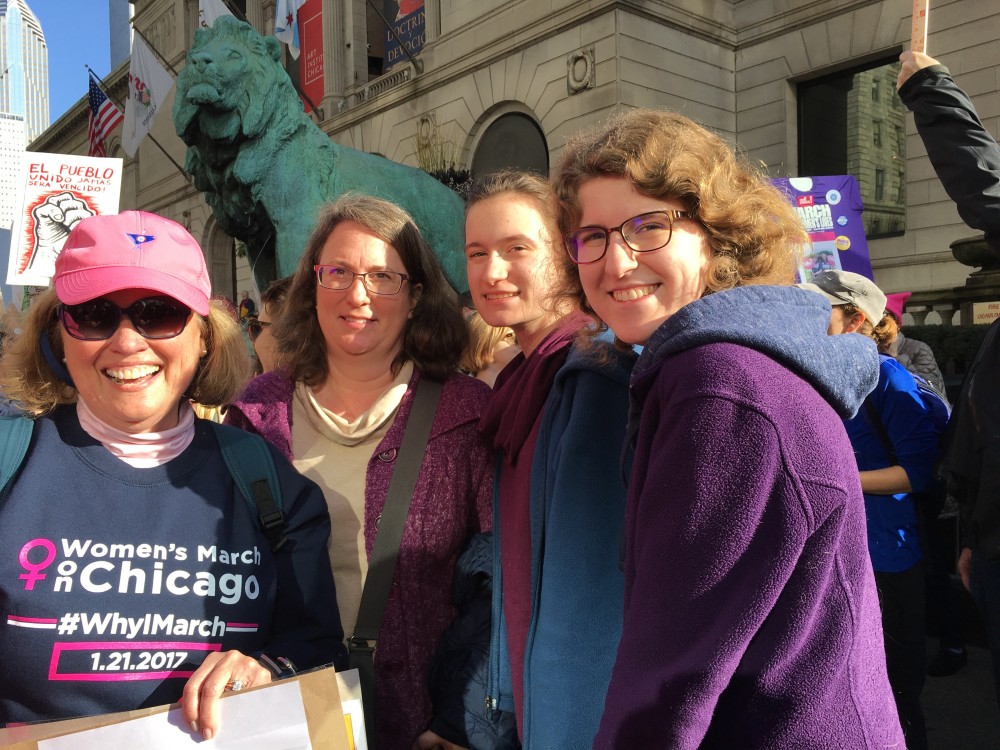 Marching in Chicago with her daughter-in-law and two grand-daughters, Blakely Bundy '66 also was thinking about the fact "that we were participating in an historic moment."
"The millions who marched in cities and towns across the country and in locations around the world were able to demonstrate our concerns in a very visible way, which hopefully will send a powerful message," she said.
»»»
"For me, participating in the march is a logical extension of my work as a faculty member at Wheaton College, because my research and teaching centers on women's political participation, and resistance, in the public sphere," said Kim Miller, associate professor of women's and gender studies and art history, who traveled to Washington, D.C., with her daughter Grace.
"And as both a parent and a professor, I am committed to showing young people how to engage in the political process, be it voting, campaigning, writing letters, speaking out on a range of social justice issues from racial and ethnic discrimination to gender bias, or protesting in a mass movement."
»»»
"To me, the most distinctive thing about the march was the visual manifestation of the bottom-up mobilization across social media platforms," said Assistant Professor of Political Science Aubrey Westfall. She noted that the gatherings had minimal organization, which showed in the racial, ethnic and gender diversity of the people who participated, their varied interests and their hand-lettered signs.
"And, yet, across the four million individuals in hundreds of locations, there was an incredible sense of community cohesiveness," she said. "The cohesion was best represented by pink hats, which were everywhere. But even then, each hat was a handmade variation on a common theme, reflecting the uniqueness of the individual who made it and of the person who wore it."
»»»
"Attending the march was extremely important to me, as a young white woman," said Galina Smith '16, who participated in the event in the nation's capital. "It's my job to amplify the marginalized groups and call other white women to action. This is why I chose to put 'white silence is violence' on my sign."
»»»
Marjorie Gelb Jones '62, like many who attended the marches, came away energized. "What a thrill to share this experience with my daughter (Suzannah Evans) as I am passionate about women's rights, and, as JFK said, I feel as if 'the torch has been passed to a new generation!'"
»»»
Indeed, many of the attendees took special note, and meaning, from the people who accompanied them. "I felt so fortunate that I could attend with my wife and baby daughter," said Visiting Assistant Professor of Political Science Nick Dorzweiler, who marched in Providence, R.I. "It gave me hope that we will witness an increased sense of democratic activity and commitment over the next four years, and beyond."
»»»
"I marched in Providence not to protest the results of the election—Trump did garner enough electoral votes to win—but to protest the promises and policies advanced by Trump and his administration," said Professor of Philosophy Nancy Kendrick, who attended with her friend and colleague Professor of Sociology Hyun Kim.
"The energy of the thousands gathered was exuberant, making me feel affirmed and encouraged," Kim added. "Smiling with my friend Nancy, listening to uplifting personal testimonies and beautiful singing, I felt hope, warmth and love in solidarity. For just a little while, I forgot about the hate and xenophobia of today's America."
»»»
Professor of English Charlotte Meehan said that good feeling turned strangers to friends, recalling two fellow protesters she met. "After I complimented their matching pink hats, these two lovely women gave us all their extras, as the friends of theirs who made the hats could not come to the march. We all agreed that we're in this together and we'll stay together to fight for what we believe in."