Mae Flibotte '22 leads efforts for first-gen students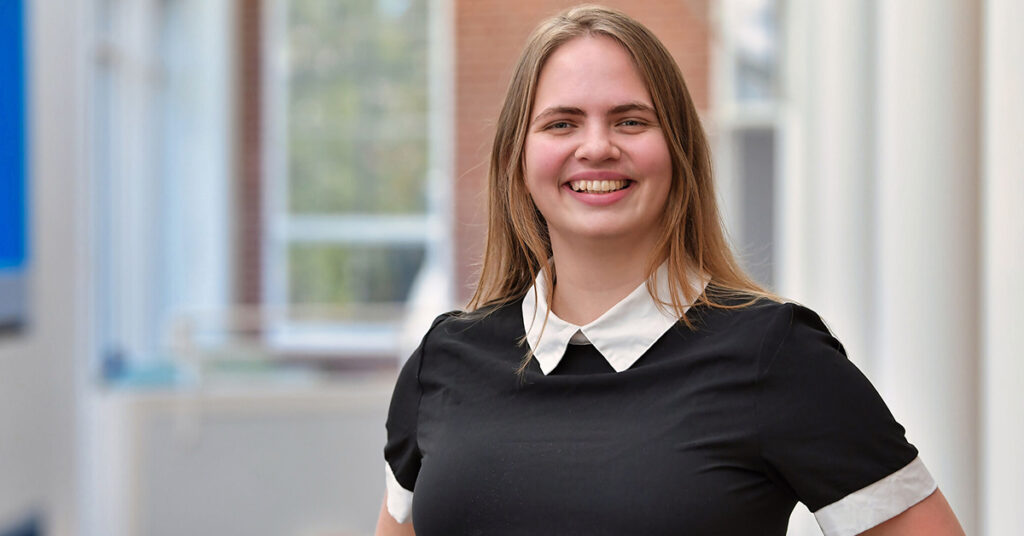 AmeriCorps VISTA works to support academic success and leadership development
Mae Flibotte '22 knows what it's like to navigate higher education as a first-generation low-income student.
The recent graduate experienced firsthand the many challenges such students face in managing college with fewer resources and support structures. These issues were particularly amplified during COVID–19.
"I could see ways in which the situation could be better and that there were gaps in the services being offered to first-generation low-income students. I wanted to get involved to close those gaps so that fewer people fall through the cracks," said Flibotte, who uses the pronoun they.
Now, as the First-Generation Low-Income Student Success AmeriCorps VISTA within Wheaton's Center for Social Justice and Community Impact, Flibotte is getting that opportunity to meaningfully impact these students.
The AmeriCorps VISTA program, a national service initiative designed to alleviate poverty, provides a paid, one- to two-year position for individuals seeking to build capacity in organizations fostering change.
Flibotte serves as the primary engagement coordinator for first-generation low-income students. The role entails the coordination of institutional policies and initiatives and the creation of educational training, workshops, programs and supplemental materials on issues relating to educational access and socioeconomic inequalities.
Flibotte, who double majored in anthropology and international relations, brings a variety of campus experiences to the role. The alum's previous positions include lead resident advisor for Residential Life and Safe Zone facilitator for the college's LGBTQ+ Engagement program. Also, as a student, Flibotte served on the First-Generation and Low-Income Task Force.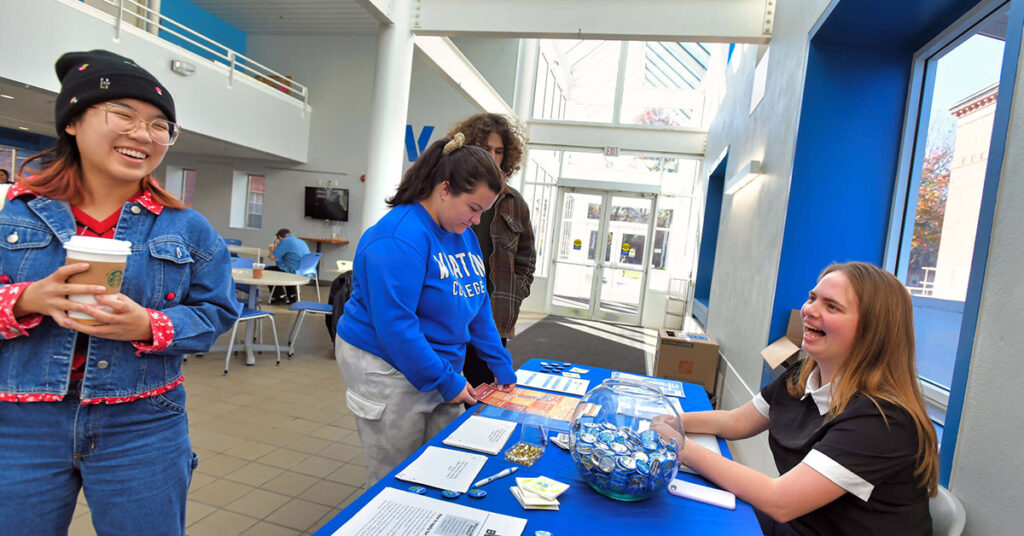 "I have appreciated as a student, and now staff member, that all voices are heard and every opinion is taken into consideration," said Flibotte, who added that the experience helped set the stage for the VISTA role.
Since taking on the position this fall, Flibotte has gotten off to a productive start. The AmeriCorps VISTA led First-Gen Week in November, an opportunity for first-generation and low-income students to access resources and build community together.
Flibotte and other students shared information at tables in Balfour-Hood; and a party with pizza, games and conversation closed out the week. "We wanted it to be like a celebration. We were excited when we had more than 50 students attend."
Flibotte also launched and now advises a first-gen student collaborative, which helped get the word out about the celebration and other programs geared toward them. The group meets biweekly and has representatives from the First Generation House (residential theme house); MUSES (club that provides students in STEM with peer mentoring); Brave, Bold and First Living Learning Community (intentional floor for first-generation students); and the Ohm Initiative (theme house for more inclusive community within STEM field).
"We've been meeting all semester and it's great. The collaborative is a forum for students to be able to tell each other what their clubs or theme houses are doing and connect with one another. It's also an opportunity for students to gain more leadership experience, like representing a group," Flibotte said.
Another recent initiative that Flibotte has led is the Swipe Out Hunger program, which allows students to donate their guest swipes (guest passes to the dining halls). Last fall, students donated 233 meal swipes, of which 168 have already been allocated.
"It's really designed to help low-income commuter students who would otherwise not be able to eat on campus because they can't afford it," Flibotte said.
This initiative complements other efforts to combat food insecurity like the food pantry in the basement of Cole Memorial Chapel.
"With these programs, we're trying to reach as many students as possible," Flibotte said.