The Center for Social Justice & Community Impact is dedicated to providing programs and opportunities that promote and celebrate the LGBTQ+ experience. From Safe Zone trainings and student clubs and organizations to Lavender Graduation, we strive to make our campus an inclusive space for all students.
Were you active in your high school's Gay-Straight Alliance? Were you an advocate for LGBTQ+ rights through a local non-profit? Are you looking to explore your LGBTQ+ identity? Or do you want to learn more about what it means to be an ally and advocate for your LGBTQ+ peers? Look no further. We will work with you and for you to help you discover your next steps.
On this page:
---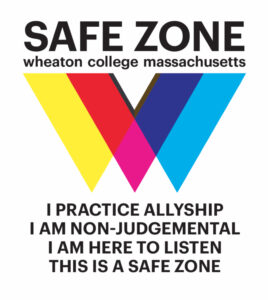 Safe Zone
Safe Zone is Wheaton's campus-wide program designed to visibly identify students, staff, and faculty who support the LGBTQ population, have an understanding of the issues facing them, and an awareness of the various resources available through the LGBTQ+ Network.
Mission
Through education, programming, and activism, it is the mission of the Safe Zone program to strive to heighten campus awareness of lesbian, gay, bisexual, transgender, intersex, questioning, queer, and ally (LGBTQ+) concerns and foster a campus of inclusion, affirmation, equality, and respect for all LGBTQ+ students, faculty, staff, and administrators of Wheaton College.
History
Wheaton's Safe Zone program began in 2004 through the Office of Student Life when Area Coordinator Paul Hughes brought the idea of a lesbian, gay bisexual, transgender, queer/questioning (LGBTQ) training to Wheaton. Senior Resident Assistant Shakira Cruz '06 adapted the training from New York University with a small committee of staff, faculty and students whom gathered to help implement it.
Currently, the Safe Zone program is managed by Mike Pratt, who serves as the LGBTQ+ Engagement Coordinator out of The Center for Social Justice and Community Impact. Pratt, alongside a group of dedicated student and staff advocates, has formally trained hundreds of Wheaton community members through open workshops and requested trainings.
If you, or someone you know, is interested in getting Safe Zone trained (or trained as a facilitator), please contact Mike Pratt at pratt_mike@wheatoncollege.edu for more information.
On social media
Safe Zone workshops
Safe Zone trainings are workshops that educate participants on how to be more inclusive of the LGBTQ+ community.
Ally 101
An introduction to LGBTQ+ concepts, concerns, and theories, Ally 101 seeks to empower participants to cultivate allyship through a mix of dialogue and lecture. Challenge preconceived notions on sexuality, review basic definitions, understand the coming out process, learn paths to being an ally, and discover resources.
Transgender 101*
Trans 101 builds off the concepts raised in Ally 101 regarding trans and non-binary identities, delving deeper into concepts, concerns, and theories relevant to the trans community. Challenge preconceived notions on gender, review basic definitions, understand the transition process, learn paths to being an ally, and discover resources.
Race & Ethnicity & LGBTQ+*
Offers the opportunity to dig deeper into the intersection of race, ethnicity, gender, and sexual orientation, empowering participants to better understand cultural spaces and how they can better support their queer POC peers. Come and learn about race/ethnicity and how this identity intersects with gender and sexuality. Learn about the history, unique challenges and language within the LGBTQ+ community as it relates to different racial and ethnic groups.
At the end of every training, participants sign an agreement and join a roster of campus and community members who have pledged to be an ally.  Every participant receives a placard that indicates which training they've completed that they can hang outside of their rooms or offices.
*Participants must have completed Ally 101 Training before attending this workshop.
Student Clubs & Organizations
Alliance
Alliance is dedicated to offering a safe space for people of any sexuality and gender identity to come and discuss LGBTQIA+ issues and celebrate our diversity.
Safe Haus
Safe Haus house is an open resource for members of the LGBTQA+ community to either come and talk or just relax and hang out.
Sexuality, Gender and Inclusion Board (SGIB)
The Sexuality, Gender and Inclusion Board is a new SGA Board dedicated to the wellbeing and amplification of queer individuals and their voices at Wheaton through the perpetuation of inclusive policy, advocacy, and accountability.
Queer and Trans People of Color (QTPOC)
The Queer and Trans People of Color organization establishes a medium in which LGBTQIA+ and students of color on th Wheaton College campus can mobilize politically, interact socially, and educate each other about t he intersection of race, gender, sex and sexuality as a focus.
Lavender Graduation
Lavender Graduation is a cultural celebration and formally-recognized commencement activity that celebrates LGBTQ+ students for their achievements and contributions to the wider Wheaton community.
All graduating students who participate will receive a rainbow tassel to wear with their academic regalia during commencement and will be invited to join the LGBTQ+ Alumni group.
History
Lavender Graduation was created in 1995 by Ronnie Sanlo, who currently serves as the direcor of the UCLA Lesbian Gay Bisexual Transgender Center. Sanlo was prompted to create a space to celebrate queer academic excellence after she came out and subsequently lost custody of her children and was barred from attending their graduations. This experience made her consider the hardships that LGBTQ+ students may face during their time in higher education; specifically, that their accomplishments would be undercut or under-celebrated by their peers and families. Sanlo then set out to create a commencement-style event that would highlight achievement in the face of systemic oppression, and allow queer students to feel truly seen for perhaps the first time. The first Lavender Graduation ceremony was celebrated in 1995 at the University of Michigan and featured three graduates. In the years that have followed, Lavender Graduations have popped up at colleges and universities across the country, with thousands of graduates celebrated annually.
The Ceremony
The ceremony will consist of underclass year students honoring each graduating senior for their accomplishments and present the graduate with a rainbow tassel.
Dress Code
This is a semi-formal event, therefore please dress in appropriate attire. There are not strict dress codes; however, be thoughtful about what semi-formal means to you.