Creating Possibility initiative surpasses $50 million goal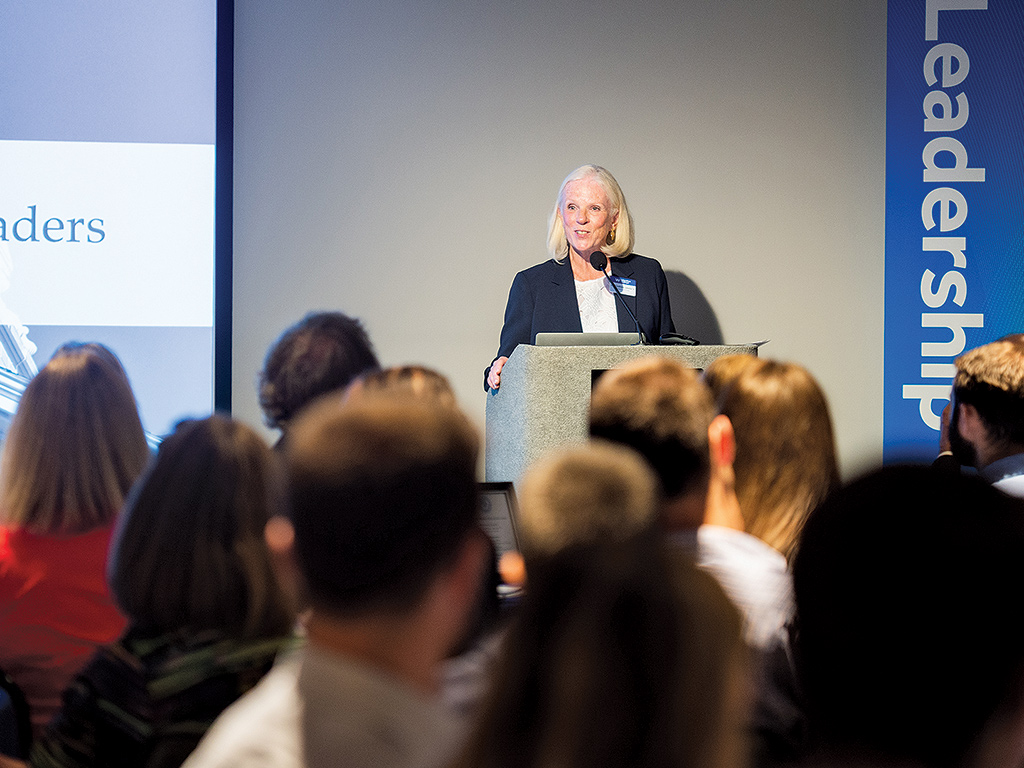 Never before has the mission of Wheaton been as critical as it is right now during a global pandemic. And the college community has demonstrated its belief in that mission through its recent historic philanthropic support.
Not only did the community of alumni, family and friends help the college reach the $50 million goal of the three-year Creating Possibility initiative, it also pushed the effort over the top for a total of $52.3 million.
"The Creating Possibility initiative was launched in July 2017 to generate funding for the core institutional priorities—the people, programs and places—that define Wheaton College's distinctive liberal arts experience," said Merritt Crowley, vice president of advancement. "Achieving higher levels of giving to the Wheaton Fund and enhancing the culture of philanthropy also have been important goals," she added.
With the Strategic Plan in mind, the funding focuses on investing in the recruitment and retention of world-class faculty; supporting students through scholarships and internships; and enhancing curricular and co-curricular programs in experiential learning, leadership and social entrepreneurship.
"The community has done what it always does—it has come together to make our goals a reality," Crowley said. "People support the institutions that have played a role in making them who they are. Wheaton alumni value the experiences they had at the college and they are inspired to support that experience for future generations by giving their time, talent and treasure to the college. Parents and friends in our community support Wheaton for the same reasons."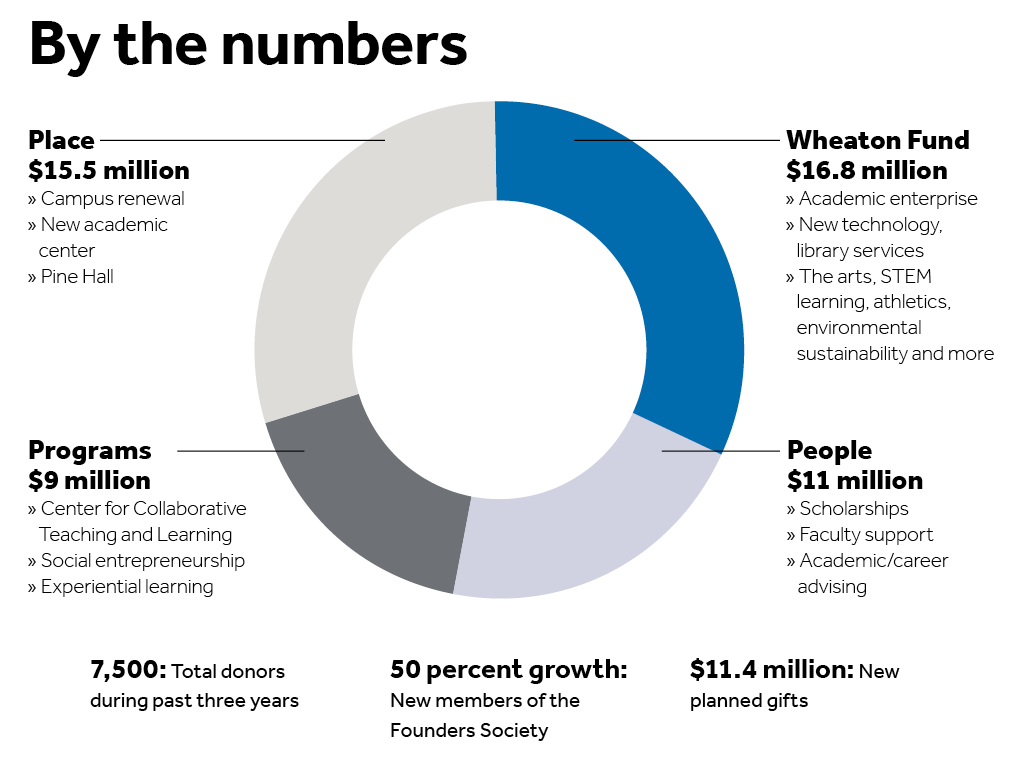 A major boost to the initiative came during the final weeks of the fundraising year. In May, the Board of Trustees launched the $500,000 Trustee Challenge for the Wheaton Fund. In response, more than 1,200 alumni, family and friends made gifts, totaling $1.3 million—releasing $500,000 in matching funds pledged by members of the board.
"This remarkable show of support is a testament to the strength of our community. Wheaton Fund gifts support virtually every aspect of our academic mission, including financial aid, internships, the library, STEM programs, the arts and more," said President Dennis M. Hanno. "This is the largest three-year fundraising result in the history of the college—at a time when it was hardest to achieve."
Lisa and Mohammad Sajedi, the parents of Francesca Sajedi '21, said it was important for them to support the initiative to give back for all the opportunities their daughter has received.
"My husband, Mohammad, and I raised our two daughters to become global citizens, and philanthropy fits into that big picture—to give time and money to others. We volunteer and support Wheaton because we want to do our part to make sure every student has the same opportunities that our daughter has had," said Lisa Sajedi, who this year, along with her husband, served as co-chair on Wheaton's new Parents Leadership Council.
One of Francesca Sajedi's opportunities was an internship this summer at Amgen. She also has had the chance to do field research work on mixed species of flocks of birds in Ecuador with Assistant Professor of Biology Jessie Knowlton, with the support from a Mars Faculty/Student Research Grant and the Clemence Family Endowed Fund for Faculty and Student Research.
"This research put my major, bioinformatics, into full effect because I was studying biology using the computer science and statistical background I have gained from my academic coursework," Francesca Sajedi said. "I am also a Hispanic studies minor, and the trip gave me the opportunity to experience the culture and use my Spanish skills, since some of the other researchers only spoke Spanish. I got to learn about the rich history of Ecuador and how it has become what it is today."
Makiyah Moody '00, a former Wheaton trustee and member of the Alumni Association Board of Directors, established the Adé Ayo Moody Memorial Ujima Wheaton Fund Scholarship to honor and celebrate the creative and inspiring life of her late brother.
"My time at Wheaton created many possibilities for me," said Moody, a senior manager with La Piana Consulting, where she helps to guide nonprofits and foundations on how to accomplish their missions more effectively. "I was transformed by my international escapades in Lima, Peru, as a Diana Davis Spencer Fellow and my junior year abroad in Spain. It's a big world and often we are limited by imaginary borders. Wheaton helped me realize that the world and my potential are indeed limitless."
Molly Galler '06, who recently served on the Alumni Association Board of Directors, echoes that sentiment. Galler established a five-year Wheaton Fund internship that supported Rebekah Lajoie '21, an economics major and member of the softball team who interned for the Collegiate League of the Palm Beaches, a developmental summer baseball league headquartered in Jupiter, Fla.
"The career coaching and internship opportunities I was afforded during my four years at Wheaton completely altered the course of my life," said Galler, a vice president at LaunchSquad, a public relations and creative communications agency. "I gained practical work experience, honed in on my strengths and graduated with a highly competitive resume. The decision to fund an internship for a current Wheaton student was an easy one. I want to unlock real opportunities for members of the Wheaton community, the same way previous generations of alumni did for me."
A lot has been accomplished in the three years since the Creating Possibility initiative began. To name a few: The Center for Collaborative Teaching and Learning was launched; the new endowed professorship Diana Davis Spencer '60 Chair of Social Entrepreneurship was established; and plans were developed to reimagine the science and Filene Center building for a new academic center.