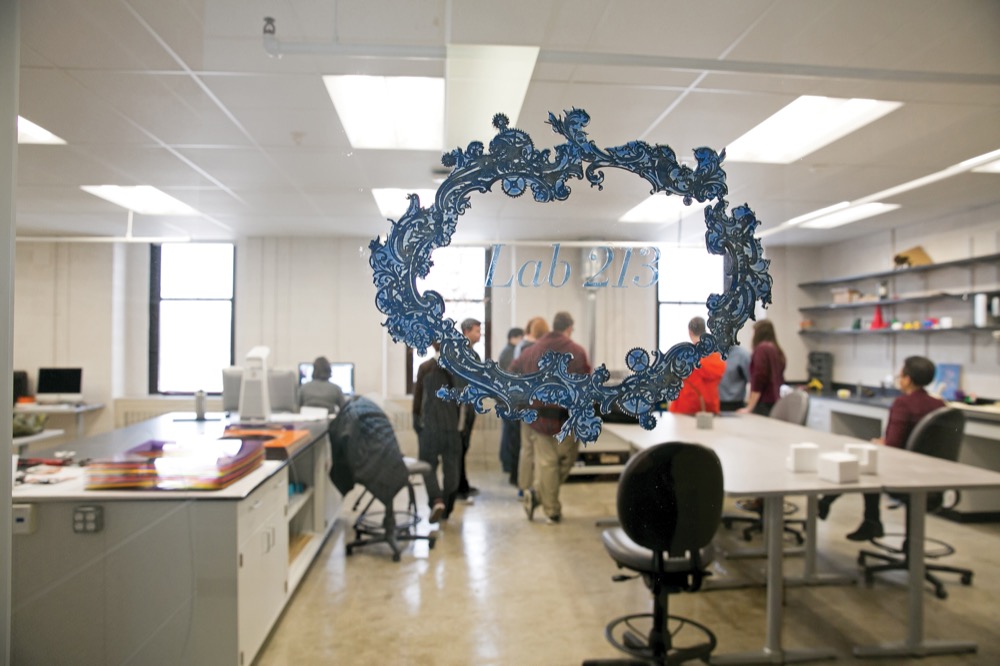 Wheaton has a new space for making.
Lab 213, located on the second floor of the Science Center, officially opened this semester (though it has been in use since last summer) and is the new "hub of making" on campus, according to Associate Professor of Physics Jason Goodman, who is helping to run the lab.
The new maker space expands on efforts that began in the Wheaton Autonomous Learning Lab, commonly known as WHALE Lab, to provide tools and a place for students to develop and collaborate on a wide range of projects, from hand-built drones to musical instruments.
The former WHALE Lab, which was run by Associate Professor of Computer Science Tom Armstrong, is reverting back to a computer science research lab.
"The WHALE Lab was really an office setting, where students could work with computers and digital video and 3D printers and design, but there wasn't space available for 'dirty construction' or for bigger jobs, for working with power tools and expanding the scale of what's possible," Goodman says. "This space really expands the range of capabilities."
Lab 213 features a number of high-tech tools for building, including two Makerbot 3D printers, a 120-watt Epilog laser cutter and engraver (which was moved here from the sculpture studio in the Mars Arts building), a 3D scanner and a knitting machine, plus hand tools and electronics. Across the hall are power tools and shop machines such as a lathe for metalworking and the newest piece of equipment: a ShopBot five-axis, computer-controlled milling machine.
"It's basically a robot that carves," Assistant Professor of Art Kelly Goff says of the milling machine. "You can put different shaped bits into a fast-spinning spindle, and it moves around and can sculpt or carve out pretty much any shape out of soft wood or foam."
Goff is also helping to run the lab (though he will be in Bhutan for the spring semester) and is a big proponent of the maker movement at Wheaton.
"How often have you met a person of retirement age who says, 'I always wished I'd made …' or 'I have an idea for an invention'? People have an innate need to make things," Goff says.
This fall, he challenged students in his Sculpture I class to do a "passion project," for which they could create anything they wanted using two or more techniques they had learned during the semester.
"Probably half the class used this space [Lab 213]," Goff says. "They thought of this as a secondary resource to realize those projects, which were not specifically dictated by the curriculum. With the open nature of the assignment, they immediately gravitated toward using newer technologies."
Bringing technology and art together is the idea behind Wheaton's InterMedia Arts Group Innovation Network (IMAGINE), a campus-wide interdisciplinary collective that got its start about two years ago thanks to a major grant from a private foundation. This year, Goff and Goodman are co-managing IMAGINE with additional support in the spring from Assistant Professor of Filmmaking Patrick Johnson.
Many of the projects that have made use of Wheaton's maker spaces are supported by IMAGINE, in the form of faculty-student special interest groups, or SIGs. The initial grant that helped form IMAGINE also purchased some of the equipment being used in spaces like Lab 213—including a new programmable AVL jacquard loom, set to arrive any day now.
Also coming soon is a new professional-grade Stratasys 3D printer, which prints in a higher resolution and at a faster pace than the two printers currently in the lab.
Beyond its high-tech toys, Lab 213 provides something else that is key to campus makers: room for growing big ideas.
A corner of the room features comfortable chairs, a large flat-screen TV and (soon) a white board, where students can gather to work out projects or just hang out.
"Comfy chairs are a really important part of it, because people want to be here," Goff says. "Ideas bounce around in a room like this. They bounce around and they grow and people form spontaneous teams, where an idea percolates and you realize that among the group there is the expertise to accomplish something."
Lab 213 has open hours weekly when students can come make use of the equipment and learn how to use it, with the help of student assistants like Katie Merin '17.
Merin, a double major in computer science and mathematics, has made frequent use of Wheaton's maker equipment, from 3D printing luggage tags to using the laser cutter for part of a Halloween costume. She also used Lab 213 to create an art piece for Goff's Sculpture I class this fall.
This spring, she is developing a wooden puzzle, which involves writing computer code and using the laser cutter's etching feature.
Merin says she hopes more members of the Wheaton community learn about and make use of Lab 213 and all it has to offer.
"The maker spaces are a great resource for Wheaton students, to be creative and explore the intersection between arts and technology," she says.
Maker space projects vary greatly in size, field and scope. Last year a student used maker equipment to build an underwater drone for her senior project. The remotely controlled submarine is 95 percent finished, and Goodman hopes another student will step in to get it up and running.
Professor of Physics and Astronomy Dipankar Maitra is working with a student to develop a digital planetarium projector, making many of the parts they need with the lab's 3D printers, Goodman said.
Biochemistry major Joe Sapiente '17 has used maker equipment to create heavy, cell-cast acrylic modifications to an aquarium at Wheaton's Animal Care Facility, for a research project he's doing with Professor of Biology Betsey Dexter Dyer. He says Lab 213 provides an essential space for the Wheaton community to collaborate.
"It is, in effect, a start toward a campus think tank," Sapiente says.
Wheaton's expansion of maker spaces also includes the opening of two other key facilities. Meneely 201, which is known as the Humanities Arts and Technology Creative Hub, or HATCH, is a sort of "ubersmart classroom," with virtual reality gear and other media technology. The second space, located in Watson 138, is a working "fiber space," where people can come to knit, weave on the new digital loom and use computers to design patterns and textiles, Goff says.