Alumna's coffee shop fuels opportunities for former foster care youth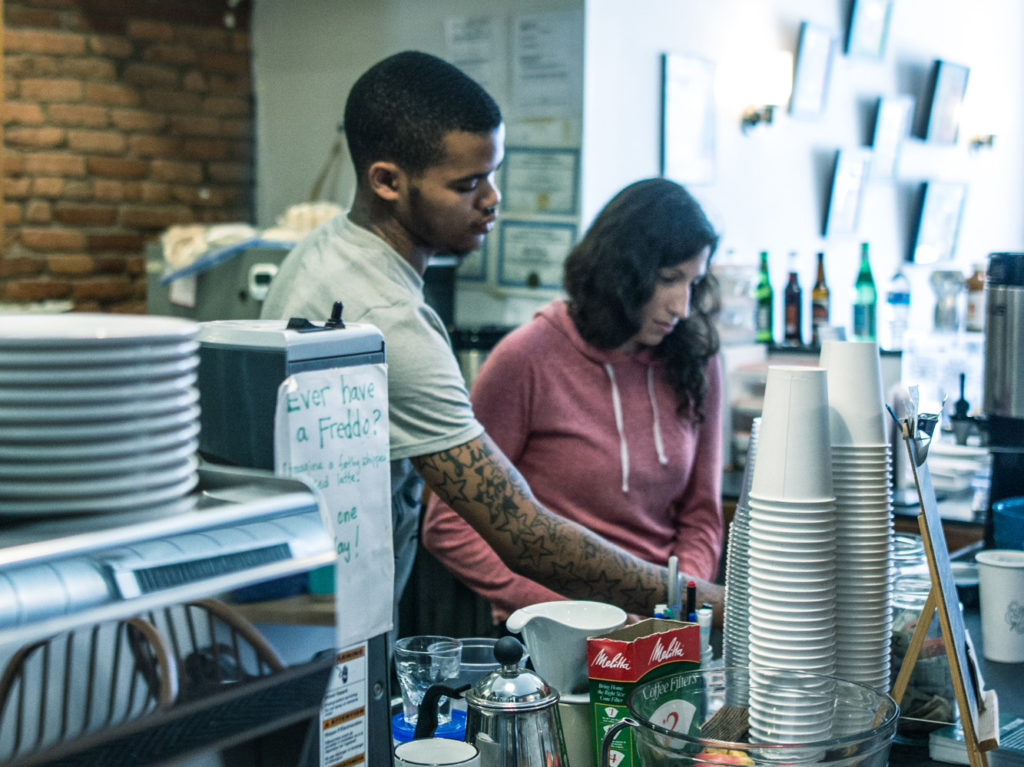 Transitioning into adulthood is difficult, but for youth aging out of foster care, the challenges can seem insurmountable.
When these individuals leave the system at age 18, they no longer are eligible for support services, and often have no family, job or mentors to guide them on their path to self-sufficiency. About 40 percent of former foster care youth experience homelessness, and one out of three will live in poverty.
"No one at that age is ready to handle everything on their own," said Lisa Miccolis '06.
Miccolis, a social entrepreneur, is the founder and executive director of The Monkey & The Elephant—a Philadelphia-based coffee shop that trains former foster youth to serve as baristas while equipping them with the tools they need to navigate the demands of adulthood.
Miccolis, who majored in psychology, has previous experience working with youth: she worked with YouthBuild—which provides training and counseling to high school dropouts—as part of a course with John Grady, professor emeritus of sociology. After college, she worked at the Philadelphia office of YouthBuild as an AmeriCorps technology instructor.
Miccolis also explored a career in photography, traveled extensively and worked at various coffee shops. In South Africa, she met a 16-year-old Zimbabwean who lost his refugee status and was forced to return to his native country. The trip back was dangerous, so Miccolis developed a pass code when communicating from afar to make sure he was OK. They would mention their favorite animals: the monkey (Lisa) and the elephant (the boy) to confirm he was safe.
The experience culminated into a "aha" moment for Miccolis, who had a sudden inspiration to use her coffee background to help youth facing steep odds like her Zimbabwean friend in her home city of Philadelphia. Her idea: open up a café where young people aging out of foster care can gain work experience and much-needed support.
After doing a few pop-up coffee shops around the city, she moved into a brick-and-mortar location, and raised the funding and coordinated volunteer labor to open the café in 2014.
"It's so warm and inviting. It functions like a regular coffee shop; a lot of customers don't know about the mission. It's a fine balance. We don't want participants to feel like they are on a stage, and we want people to realize what the experience means for a young person," she said.
Over the years, more than a dozen people have worked paid shifts at the coffee shop while developing communication skills, discipline and ability to hold down a job. Following the experience, all of them have found jobs elsewhere, including one as a supervisor at another coffee shop.
One participant, Jackie, describes the benefits of the experience: "[The program] has helped me learn to talk to other people and how to communicate better. It also taught me how to be a good person all around and helped me become an even better employee."
For Miccolis, her focus is continuing to help former foster youth—one individual at a time.
"We focus on small impact, but with a lot of depth. We are trying to focus on building a really strong foundation to grow from," she said.