Last summer when Professor Patrick Johnson was filming his latest movie he became fascinated with what crew member Zevi Rubin '16 had to offer: a quad-copter.
The unmanned aerial roto-craft (also known as a drone) built by Rubin is equipped with a camera that has a first-person view and is capable of live streaming. Rubin was able to capture valuable aerial photography for the movie.
"I was blown away with the capabilities of and the technology behind his quad-copter, and thus a mini-obsession with the drone was born," said Johnson, assistant professor of filmmaking.
That obsession led him to organize a Drone Camp that will take place at Wheaton College on Saturday, November 22, in the Holman Room of Mary Lyon Hall, from 1 to 4 p.m. There will be a panel discussion from 1 to 2:30 p.m., and drone flying lessons from 2:30 to 4 p.m. The camp is being funded entirely through the newly established InterMedia Arts Group Innovation Network (IMAGINE), which promotes new approaches to teaching and learning in the arts and new media. This event is the first in a series sponsored by IMAGINE.
"My passion for drones has really been fueled by the prominence of them in the news and national dialogue," said Johnson. "It seems like every day you hear about another use or issue surrounding drones. They represent this amazing nexus point of business, international politics, privacy, ethics, technology, design and art. It's an incredible opportunity for learning."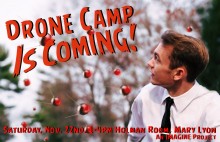 The conference-style event will address practical, theoretical and ethical issues surrounding drones. The panel discussion will include Matt Gingo, assistant professor of psychology; Josh Stenger, associate professor of film studies and English and the Hannah Goldberg Chair in Teaching Innovation; Mike Sawyer, visiting instructor of political science, and Rubin, who is majoring in computer science. Each panelist will deliver a 10-minute talk that will examine drones from the perspective of their discipline. Johnson will moderate and will facilitate a broader discussion and question-and-answer session involving the audience.
From 2:30 to 4 p.m., audience members will have an opportunity to learn how to fly quad-copters through a series of challenges and compete in a drone obstacle course for prizes.
Johnson put together the event working with a small team, including: his art colleagues; Stenger; Touba Ghadessi, associate professor of art history and co-founder of the Wheaton Institute for the Interdisciplinary Humanities; Tom Armstrong, associate professor of computer science; and Jessica Kuszaj, arts events manager. (Stenger and Ghadessi are IMAGINE project managers.)
"A study suggests that drones could generate more than 100,000 jobs and $82 billion dollars in the next decade. Wheaton students need to know about this technology. They may not all be building and flying quad-copters, but their fields (all fields, really) will be impacted by the technology. So they need to know how to adapt and proceed in the changing business and technological landscape."
Rubin, who started making drones three years ago and currently has seven, has led the way on campus, using Wheaton's WHALE lab to help create his drones. So much so that Johnson recruited him to teach drone building in his "Production II" class. Since last summer, he has been working with the Film Department to build drones and training students to pilot them for film projects. He's also working with the Norton and Bristol County fire departments on a project using the drones, which he will discuss at Drone Camp.
"I am always excited to spread awareness about UAVs [unmanned aerial vehicles] and some of their uses and I'm excited to work with the college to start developing new uses for the technology," Rubin said.
"There are many privacy concerns regarding drones and some of their uses, and it is easy for people to overlook the limitations, and good uses of drones. I am aiming to show and talk about some of the serious benefits and game-changing uses of the technology that many industries desperately need."
Johnson applauds the passion that Zevi brings to sharing what he has learned. "He is a great example of how Wheaton College will move mountains to facilitate student learning and specialized projects. If it weren't for Zevi, there certainly wouldn't be a Drone Camp. So the project owes him a huge debt of gratitude."
(Video trailer for Drone Camp produced by Ian Opaluch '17; poster designed by Michael Kristy '18.)