Entrepreneurship Club encourages startup ideas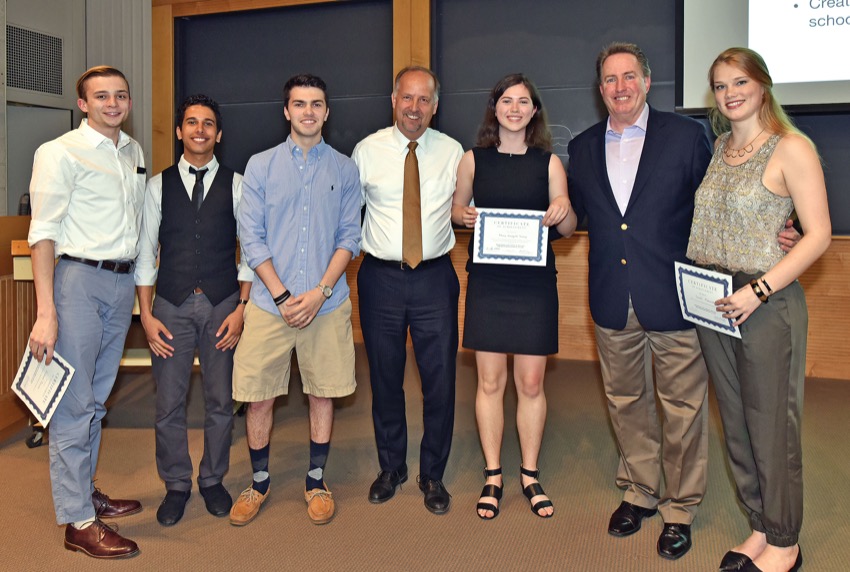 Every successful entrepreneur knows that the best business begins with focusing on a problem that needs to be solved. For Wheaton sophomore Michael Sadowsky and his classmates, solving a problem not only has led them to create their own business but also to found a new club that aims to help other students start businesses that make a difference on campus and beyond.
The new Entrepreneurship Club held its first big event, the Social Entrepreneurship Business Pitch Competition, in April. All competitors were encouraged to propose ventures that address a significant social problem.
Mary Margret Yancey '18, a sociology and business and management major who sings with The Blend, won first place with her pitch for an a cappella festival aimed at raising money for local arts and music programs. Sarah Alexander '16, a member of the women's volleyball team, won second for Impressions, an app that will educate people on how to dress for the business world. Richard Davies '17, a member of the men's swimming and diving team, also won second for his Inspired by You, which aims to encourage social change through art produced by Wheaton students, with proceeds going to charitable causes.
Yancey received a $1,000 grant from the Global Center for Social Entrepreneurship Network Foundation (GCSEN) to help with legal and operational setup and launch costs. The second place winners each received $200. The winners also got an opportunity to receive advice from Mike Caslin, the CEO of the New York-based GCSEN Foundation and one of the judges for the competition.
The contest was just one of many initiatives the Entrepreneurship Club hopes to launch on campus. The aim is to enhance the college experience by encouraging a startup culture on campus, said Sadowsky, club president.
The idea for the club developed after business partners Sadowsky, Omar Al-Mogahed '18, Benjamin Robinson '18, Khaled Sharafaddin '16 and Caleb Wastler '17 ran into problems while working to start their own business, EZBook LLC, during the past year. EZBook, which officially launches in August, is an app that serves as a platform for students to sell and buy textbooks.
"I was disappointed at how much money we would pay for a textbook, and how much money we would get in return when selling it back to the bookstore. I thought there must be another way to do it. Students should have the ability to sell their books directly to their college peers rather than bookstores. That's where the idea of EZBook came from," Sadowsky said.
"It took us six months to form an LLC," he said. "That is way to long. If we had someone to help us through this process, we would have reached the same point in two months. This is why I started the Entrepreneurship Club—to share with others on campus what I learned from my journey with EZBook."
The experience has forced the partners to become great multi-taskers and is great preparation for the future, Sadowsky said. Already, they have pitched their business at MassChallenge to alumnae/i and Wheaton trustees, and have been featured in a Sun Chronicle (Attleboro, Mass.) news article.
"I feel like we are just getting started," he said. "I think the business pitch event went great. I am so excited about what the future holds. Our club is going to positively affect Wheaton in a unique way. At the end of the day, we are problem-solvers."