You provide an immediate and powerful impact when you give to the Wheaton Fund. Your participation enhances the value of Wheaton's distinctive liberal arts education. When making your gift through the Wheaton Fund you support Anoushka Agrawal '20.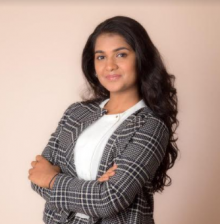 Building a Community
Anoushka has brought Mumbai, India to the small campus of Wheaton College. She brought a celebration of Diwali to Mary Lyon Hall. She made colorful paper lanterns, spread flower petals, and filled the air with fragrant smells of incense and traditional Indian food. She also led a dance for all of the guests.
Being away from home for the first time can be challenging, but Anoushka is thriving because Wheaton's inclusive atmosphere encourages all students to participate in cultural activities. Anoushka is very proud of her culture and heritage, and willing to share them with anyone with an open heart and mind. She has conducted lectures on world music, and the global popularity of Odissi, a traditional Indian dance style, and Bollywood.
As a psychology major, Anoushka also spends time at the Elisabeth Amen Nursery School, which is affiliated with Wheaton College's Psychology Department and has been a site for childhood research for students since 1931. Anoushka enjoys the opportunity to work with children, which she would have been unable to do in India. The time Anoushka spends there is rewarding, both educationally and spiritually. She has discovered a new-found passion for child development. With the valuable hands-on experience she has gained at the nursery school, she is learning about the many opportunities for her in the field of psychology. Anoushka is discovering her own path for the future.
Support Anoushka and the Wheaton community with your gift through the 2018-2019 Wheaton Fund.
Anoushka Agrawal '20
Majors: Economics and Psychology
Work study: The Elisabeth Amen Nursery School
Club: Global Leadership Development with President Hanno