Contribute to the Student Relief Fund today!
Invest Today. Inspire Tomorrow.
The Wheaton Fund is about right now. When you demonstrate your support through the Wheaton Fund, you ensure a wide variety of student learning experiences, both in and out of the classroom. You make it possible for our faculty to advance their teaching and research.
The Wheaton Fund strives to provide a number of opportunities throughout the year for all members of our community to support our mission at every level. The more we all work together. The greater the impact on our student's Wheaton experience. The goal of these giving opportunities is to raise awareness and to focus attention on the importance of annual participation. Gifts of participation have an amplifying effect when everyone joins in, and donor participation rates are one of the metrics used in the annual higher-ed rankings to measure overall community engagement.
Thanks to your participation, the Wheaton Fund is realizing record-levels of giving. Much of this success is owed to our community's commitment to its core institutional values. These values inform our academic priorities and our fundraising concentrates solely on developing support for those priorities. Your continued support translates into support for students from every walk of life, for innovative faculty research projects, and for campus initiatives that are both essential and inspiring.
Wheaton's community is vital to the success of the college's annual fundraising efforts. The Wheaton Fund remains a top fundraising priority for the college because a $5 million Wheaton Fund—sustained year after year—would provide the equivalent spending power of a $100 million endowment every year. Your annual participation helps provide the college with a critically important, reliable source of income that will help the college meet the annual costs of supporting essential activities and services.
Thank you for being a part of it all at Wheaton, and thank you for considering a contribution to Wheaton College through the 2019-2020 Wheaton Fund.
COVID-19 Update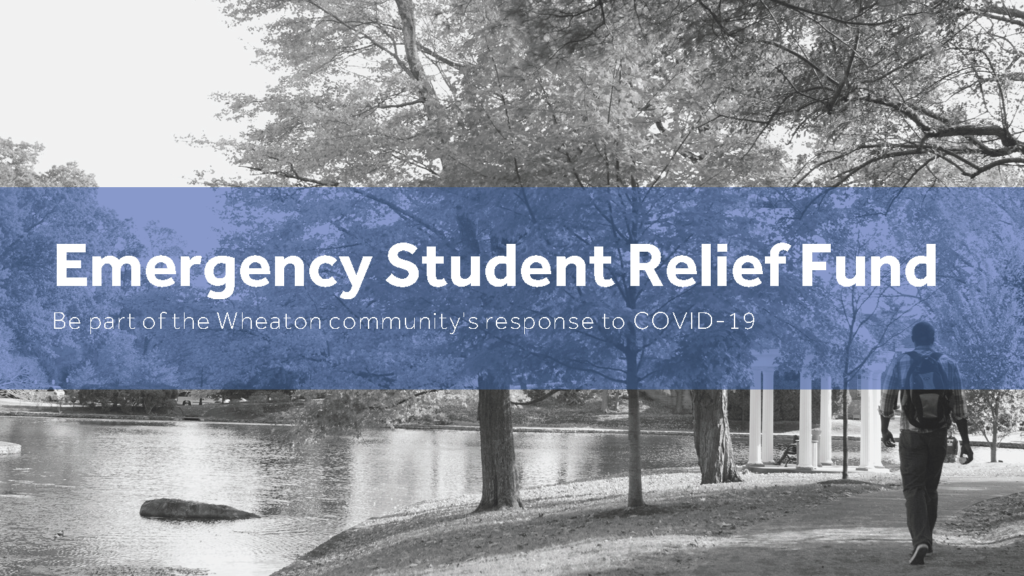 Student Relief Fund
Dear Wheaton Supporters,
True to Wheaton's culture, there has been an outpouring of support from community members as students transition from campus housing and begin remote learning. Wheaton certainly knows that our community is not alone in facing the current and coming challenges. Lives continue to be upended across the country and around the world.
At this pivotal juncture in time, our community has to stay strong and care for each other as we adjust to this new reality. Together we will overcome this challenge, and we will continue to support each other in any way that we can.
One immediate way you can help Wheaton students during this unprecedented time is by contributing to the Student Relief Fund through the Wheaton Fund. The Student Relief Fund will be used to support students impacted by the recent life-altering changes on campus due to the COVID-19 outbreak. Contributions will allow the college to continue to aid our students in a myriad of ways as they navigate the numerous challenges and transitions ahead.
Ways to Support the Student Relief Fund:
Text Wheaton Relief to 56512 to get started.
One-time Donation
A philanthropic contribution will help cover the costs of essential activities and services that are now being modified to fit our new reality. Funds are immediately put to use to support those in need.
Make an Immediate Impact
Set-up Monthly Donations
By setting up monthly recurring donations, you will ensure that the college has a reliable source of income that will continue to benefit students and faculty during this tumultuous time.
Provide on-going Support
Other Ways to Contribute
Visit our Ways to Give web page to review and choose the way of giving that will be the most convenient for you to support the Student Relief Fund at this time.
Learn More
Your Impact
You can direct your gift toward what you care about, whether that's supporting:
Area of Greatest Need
Invest in tomorrow's leaders
You help students develop critical reading and thinking skills, presentation expertise, and an aptitude for research with your gift through the Wheaton Fund.
Arts & Cultural Learning
Support creative expression
With your contribution through the Wheaton Fund you support both students and faculty in their artistic endeavors—from theatre and dance to visual arts and music.
Athletics
Build character
Wheaton's athletics programs help shape well-rounded students who excel both on the field and in the classroom.
Experiential Learning
Provide life-changing opportunities
You further enable students to explore their interests and to apply what they learn through a myriad of hands-on opportunities.
Wheaton Fund donors play a big part in opening the doors for a broad range of students to attend Wheaton.
Science, Technology & Library Resources
Inspire innovation
Wheaton Fund donors play a vital part in getting state-of-the-art technology, laboratory materials and library resources into the hands of students.
Strengthening Ties to Community
Build ties with both our local and extended community
With your Wheaton Fund gift, you support college programs that promote social responsibility, including community service—locally and across the globe.
Sustainability
Maintain our beautiful campus
Wheaton Fund donors are dedicated to preserving, maintaining and improving this special place our students call home: our campus buildings and grounds–all with an eye towards sustainability.
Invest Today. Inspire Tomorrow.
That they may have life, and may have it abundantly.
Areas to Support
You can direct your Wheaton Fund gift to an area of interest to you.
Your Impact
Give Today
You will provide immediate resources to today's students with your Wheaton Fund gift.
Give Now
Student Spotlight
You are invited to meet some of the students who benefit from your generosity.
Read more
2019—2020 Wheaton Fund
July 1, 2019 through June 30, 2020
28%
Alumni Participation Goal