You provide an immediate and powerful impact when you give to the Wheaton Fund. Your participation enhances the value of Wheaton's distinctive liberal arts education. When making your gift through the Wheaton Fund you support students like Charlotte Middleton '18.
Inspiring artistic endeavors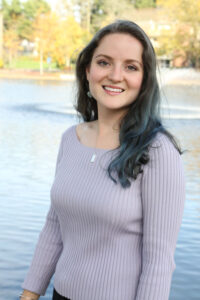 Charlotte Middleton was born into a family of artists in a small town in Maine. She found herself right at home in the welcoming community of Wheaton College. Charlotte was unsure of the career path she wanted to take but the liberal arts education combined with the experiential learning opportunities helped her to discover her calling to be a studio artist.
Charlotte works tirelessly in the studio; she feels exhausted, yet so alive. There is no denying her passion for creating art. The time she spent studying abroad in Italy, which was made possible through the collective support of Wheaton Fund donors, further solidified her desire to become a professional artist. The collaboration with professors during a studio internship made Charlotte realize that she is indeed on a path to a secure future as an artist.
Before coming to Wheaton, Charlotte enjoyed working in ceramics. When Cowduck, a beloved duck and unofficial mascot on campus with an uncanny resemblance to a Holstein, died, Charlotte's art professor looked to her to bring the former Peacock Pond resident back to life. Wheaton commissioned Charlotte to create a bronze sculpture of the duck. Today, Charlotte's statue sits on a rock in the middle of the pond as a lasting tribute to both Cowduck and a young artist on her path to discovery.
Support Charlotte and other students in the discovery of their passions by making your gift to the 2018-2019 Wheaton Fund. 
Charlotte Middleton '18
Majors: Studio Art and Education
Internship: Artist Assistant to Professor Kelly Goff
Club: Wheatones Executive Board Member
Experiential Learning: Commissioned sculpture
Research: Photoshop, 5-axis CNC machine, laser cutter
Study Abroad: Italy
Goals: Graduate school