You provide an immediate and powerful impact when you give to the Wheaton Fund. Your participation enhances the value of Wheaton's distinctive liberal arts education. When making your gift through the Wheaton Fund you support Arielle Klopsis '18.
Continuing a legacy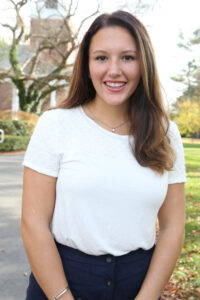 Arielle wanted to have her own college journey, and for that reason, Wheaton was not her first choice. You see, Arielle's mother went to Wheaton and that has always been an integral part of her mother's life. However, when Arielle attended "Welcome to Wheaton Day," she discovered why Wheaton was so important to her mother. Wheaton offered countless opportunities for Arielle to create her own unique college experience.
From her first semester at Wheaton, Arielle soared! Her goal was to be a Fulbright Scholar, and she has been striving for that goal every day, seizing every opportunity Wheaton College has to offer. Arielle is a double major in neuroscience and Hispanic studies, a varsity tennis team member, a student council executive, and a class gift chair. She also interned at the NYU Center for Neural Science and studied abroad in Spain.
Arielle said the best thing that Wheaton had to offer was opportunities. She could make her time at Wheaton into the college experience she wanted it to be. The small, tight-knit community allowed Arielle to take advantage of all the opportunities Wheaton had to offer without feeling overwhelmed. She was able to foster connections between peers, faculty, and students. Arielle is making the most of her own college journey because, as she said, "Why not make it the best?"
Today, you can provide opportunities to Arielle and other students with your gift through the Wheaton Fund. 
Arielle Klopsis '18
Majors: Neuroscience and Hispanic Studies
Study abroad: Granada, Spain
Experiential Learning: NYU Center for Neural Science
Clubs and organizations: Wheaton Athletic Mentors (WAMs), Student Government Association, Senior Class Gift Chair
Athletics: Tennis
Goals: Fulbright Scholar and Ph. D. in Neuroscience