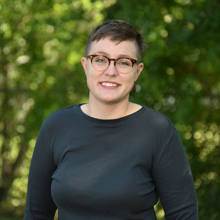 Sarah Coakley, RN BSN (she/her/hers or they/them/theirs)
Associate Director of College Health Administration
 A graduate of the Connell School of Nursing at Boston College, Sarah joined the Wheaton community in August of 2021. As the Associate Director of College Health Administration, they serve as the liaison between Norton Medical Center and the Wheaton College community. Sarah believes that preventative health care in a patient-centered setting as well as everyday wellness practices are an integral component to overall health. Sarah's passion lies in providing accessible services to young adults, and providing support to those who may struggle to navigate the complex world of healthcare today. She hopes to engage with students by providing education, resources, and support to the diverse population of Wheaton College.  In their spare time, Sarah enjoys reading, baking, and spending time with friends.