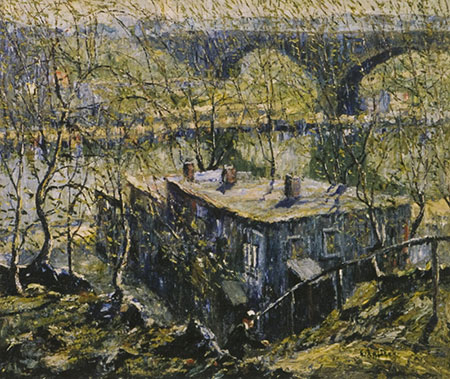 Object ID: 80.001
Creator: Ernest Lawson
Title: The Harlem River (Rivershacks)
Date: 1908
Culture: American
Dimensions: 21 x 24.5″
Materials: Oil on canvas
Credit: Gift of Dr. and Mrs. Harry L. Kozol (Ruth Massel, Class of 1925)
Provenance: 1908, painted by Ernest Lawson in early spring; before 1979, acquired by Dr. and Mrs. Harry L. (Ruth Massell) Kozol; before 15 December 1979, restored by Clayton Curtis in Saugus, MA, and relined by Betty Jones at the Fogg Art Museum; Friday, 21 December, 2917 donated to Wheaton.
-Provenance research by Audrey Spina, Class of 2017Ernest Lawson's The Harlem River (or Rivershacks) exemplifies the break from the prominent style of American Impressionism that gained popularity in the late nineteenth century. In 1908, Lawson (1873-1939) exhibited his work at the Macbeth Galleries in New York, alongside Robert Henri (1865-1929), William Glackens (1870-1938), George Luks (1867-1933), John Sloan (1871-1951), and other artists who called themselves The Eight. These artists were drawn together by their shared sense of creativity and their innovative representations of modern urban life. Through their focus on a more raw interpretation of their surroundings, The Eight differentiated themselves from American Impressionists whose work was characterized by loose brushwork and vivid color schemes. Due to their new, grittier approach to urban subjects, The Eight was dubbed the "Ashcan School".
Lawson lived in upper Manhattan's sparsely settled Washington Heights alongside the Harlem River. From 1908-1915, he frequently painted views of the river and its bridges; these works form his Harlem River series to which this painting belongs. Harlem River (Rivershacks) was given to the college by Dr. and Mrs. Harry L. Kozol. The Kozol family has a strong connection to Wheaton: Ruth Massell Kozol was a member of the Class of 1925 and their daughter Barbara Kozol Schwab is a member of the Class of 1954. Donations made by Dr. and Mrs. Kozol and their son, the award-winning author and educator Jonathan Kozol, greatly diversified and strengthened the Collection. Paintings and prints comprise the majority of their gifts, including works by Le Corbusier, Clayton L. Curtis, Joan Miro, Henry Moore, and Georges Rouault, but Dr. and Mrs. Kozol also donated a Chinese funerary sculpture of a Tiger. Dr. Kozol (1906-2008) was a nationally renowned neurologist who examined criminal defendants and whose work helped establish the emerging fields of forensic psychiatry and neuropsychiatry. Mrs. Kozol (1903-2006) spent her career as social worker specializing in victims' rights. She often worked abroad, primarily in Rome, Italy with the United Nations Social Defense Research Institute.