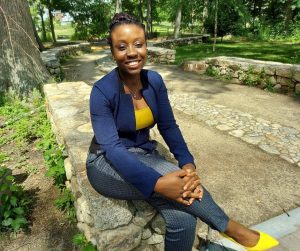 Mireille Claryce Medard '14
Member-at Large
Alumni Board of Directors
Professional Background:
Senior Software Engineer, Berkshire Hathaway Specialty Insurance (BHSI) August, 2021 to present
Senior Software Engineer, DRUM Associates, Boston, MA, January, 2021 – August, 2021
Wheaton Honors, Activities and Experiences:
Preceptor
Academic Background:
Bachelor of Arts, Wheaton College, 2014, Major: Computer Science, Minor: Business and Management
Why I'm Serving on the Alumni Board of Directors:
The Wheaton campus was the first place I ever lived in the U.S. The faculty, staff and students became my family away from home. This community provided me with the tools to succeed professionally, and to thrive as a person. I am joining the Alumni Board of Directors to make sure the support that I received continues to be available for everyone, especially people like me. I would like for this already great community to become even more inclusive and equitable.
Wheaton Influence in My Life:
Wheaton opened the possibility of a career in tech for me. The great computer science department and faculty, especially my advisor Professor LeBlanc, helped prepare me well for what is needed in the market. When I watched Perseverance Rover land on Mars, February, 2021, it reminded me of Astronomy class with Professor Tim Barker, which gave me the right foundation to develop my curiosity about space into a deeper interest. Classes such as Economics of Race and Racism, Economics of Sports, Corporate Finance and Macroeconomics provided me with a framework to understand the world around me, and how policies from the past affect the present. They also leave a lot of room to think critically and creatively about solutions that are socially just and equitable. I find myself referring to articles and books discussed in Professor Russel Williams' class often.
Fun Fact:
I enjoy learning about different cultures through dance. My sister introduced me to Latin dances such as Salsa, Meringue and Cha-cha, it was a fun thing we did on weekends. At United World College, I learned Belly Dancing and Bollywood Dance from my classmates and performed them in our annual showcase. Then, West African Dance class at Wheaton with Professor Julie Searles and Seydou Coulibaly. Followed by Māori culture class while studying abroad at the University of Auckland, New Zealand. In that class I learned about Māori history, their language, traditional songs and a few Haka. I also enjoy sharing my Haitian culture with others through food, music and of course dance.