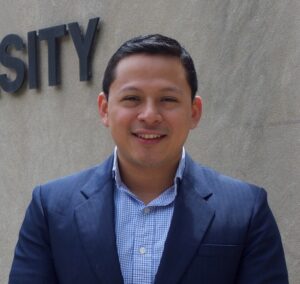 Jorge de Leon Miranda '14
Member-at-Large
Alumni Board of Directors
Professional Background:
Knowledge Coordinator – Innovation for Citizen Services Division, Inter-American Development Bank (IADB), 2019 – present
Research Analyst, Middle East and Central Asia Department, International Monetary Fund (IMF)
Consultant, Governance LAC, World Bank, 2017 – 2019
Consultant, Office of Strategic Planning and Development Effectiveness, Inter-American Development Band (IADB), 2015 – 2016
Consultant, National Competitiveness Program, Ministry of Economy of Guatemala, 2014
Academic Background:
Georgetown University, Certificate in Data Science, June 2020
Johns Hopkins University School of Advanced International Studies, Master of Arts in International Economics and Finance, June 2017
B.A., Major: Economics, 2014
Why I Am Serving on the Alumni Board of Directors:
Wheaton College offered many resources that allowed me to explore my academic passions and build my career prospects as an international student in the US. I am acutely aware of how these resources influenced my life. For that reason, I am strongly motivated to contribute to the Wheaton community by making sure that the opportunities I received continue to be available for everyone.
Wheaton Influences in My Life:
The multidisciplinary nature of Wheaton's in-class and out-of-class education changed the way I see the world and approach problems today. Wheaton offered a set of ideal opportunities to build long standing friendships, multidisciplinary academic perspectives on real world problems, and career prospects through internships and grant opportunities. These experiences still shape my personal and professional endeavors today.
Fun Fact:
I love traveling, cooking and – most importantly – eating. I learned how to combine all these while cooking with friends at the UWC Davis International House during my time at Wheaton.