Nursing
Bachelor of Science in Nursing (BSN)
The Wheaton College Bachelor of Science in Nursing (BSN) is a four-year nursing degree program dedicated to preparing future nurses to take on the modern-day challenges of patient-centered care. Our nursing graduates will be prepared to begin their careers as clinical practitioners, tackling the interconnected issues of health equity, gender and race-based disparities in health care, and global threats to health. Wheaton College has been granted Initial Approval status through the Massachusetts Board of Registration in Nursing for the operation of its Baccalaureate Degree Registered Nurse Program.
What are our goals for nursing degree graduates?
The bachelor of science in nursing program at Wheaton seeks to prepare students for clinical practice as nurses at the intersection of community health and social justice. We seek to graduate professional nurses who will be:
Leaders in all health care delivery, locally and globally
Ready to meet the changing health care needs of patients and families within the continuum of care
Skilled practitioners with a deep understanding of social justice, equity and global connectedness
How do you gain admission to the nursing program?
Students interested in enrolling for Fall 2023 should apply via the CommonApp by November 15, 2022. Admission decisions will be delivered in December 2022. Due to the program's limited capacity, qualified students who apply after November 15 may be offered admission pending availability, via the waitlist. Visit the nursing application requirements page for more details. Clinical experiences are expected to begin in Spring 2025.
Health care done well is social justice.
Concentrations and Elective Pathways
Wheaton nursing students will have opportunities to develop concentrations, also known as elective pathways, through the Wheaton curriculum and to travel either abroad or domestically. Elective Pathways include but are not limited to:
Health JUSTICE
Health care done well is social justice.
This concentration emphasizes the roles that nurses play in promoting social justice by focusing on the needs of traditionally underserved populations and reflecting on how the issues of diversity, inclusion and social power impact the delivery of equitable care.
Global HEALTH
Public health challenges do not stop at a country's borders.
This concentration introduces students to health care management, accounting and intervention issues to improve health across the globe. Students in this concentration will learn how to deliver health care in a way that transcends the boundaries of state and country, tackling illnesses that may be beyond the capacity of individual countries to address.

Health Care ADMINISTRATION
Today's nursing students are tomorrow's healthcare leaders.
This concentration introduces students to the practice of healthcare systems and management. Students in this concentration will learn about the complex economic and organizational structure of the health care system and study best practices in business management, leadership and entrepreneurship.
Medical HUMANITIES
Treating patients means treating people.
Successful patient care therefore requires having insight into the diversity of their lived experiences. By focusing on medical humanities, students will gain a perspective that will provide a solid foundation for practicing more empathetic and effective nursing.
Nursing Program Courses
Introduction to Professional Nursing
Introduction to the Biological Sciences
Chemical Principles
Global Health/Nursing
Nutrition
Anatomy & Physiology I
Microbiology
Global Health Elective/Language
Foundational Concepts of Professional Nursing Practice & Health Assessment (classroom and clinical)
Anatomy & Physiology II
Introduction to Psychology
Population Health: Medical Surgery I (classroom and clinical)
Integrated Concept of Pharmacology and Pathophysiology
Lifespan Psychology
Population Health: Maternity (classroom and clinical)
Medical Ethics
Population Health: Pediatric (classroom and clinical
Statistics
Population Health: Psych (classroom and clinical)
Population Health: Medical Surgery II (classroom and clinical)
Population Health: Community Health (classroom and clinical)
Research in Nursing and Health
Population Health: Advanced Medical Surgery III (classroom and clinical)
Synthesis
Professional Nursing/Global Health Senior Seminar
Nursing Capstone (clinical)
Simulation Center and Labs
Wheaton College has a state-of-the-art clinical simulation center that will help develop and improve students' clinical skills and critical thinking ability. Clinical simulation is an important part of nursing education. Simulation bridges the gap between classroom instruction and clinical experiences by providing a moderated learning experience where students can practice skills and learn new procedures in a safe environment.
In the simulation lab, students will be able to practice complex procedures and take care of patients with diagnoses students are not able to care for in clinical settings. Using a combination of low- and high-tech fidelity lifelike mannequins, students will perform routine care (head-to-toe assessments, monitor vital signs) and nursing interventions, carry out physicians' orders, administer medications and evaluate patient responses. These simulated activities will require students to synthesize and apply knowledge gained from courses and/or clinical experiences.
What will you learn in Wheaton College's nursing degree program?
The first nursing course ("Introduction to Professional Nursing") is taught in the first semester and the remainder of the first year of study will include global health, biology, nutrition and chemistry. Because the nursing degree program will have a focus on community health, the required first-year experience course will focus on community health.
Starting in the second year of the program liberal arts, humanities, and the sciences will be interspersed with required nursing courses. Clinical experiences will commence in the second semester of the second year. As specified in the Wheaton curriculum, 32 course credits are required for the degree (each course is equivalent to one credit). Wheaton requires 32 course credits for degree conferral with 16 of these outside of the discipline. In this program, 14 course credits are in the discipline of nursing. Eighteen course credits will be taken outside of the nursing major, including course offerings in biology, chemistry, English, psychology, statistics and global/public health. One of the two electives offered in the spring of the junior year will position students for a global or domestic travel opportunity focused on social justice and vulnerable populations.
Students may choose to pursue a minor or one of Wheaton's honor programs.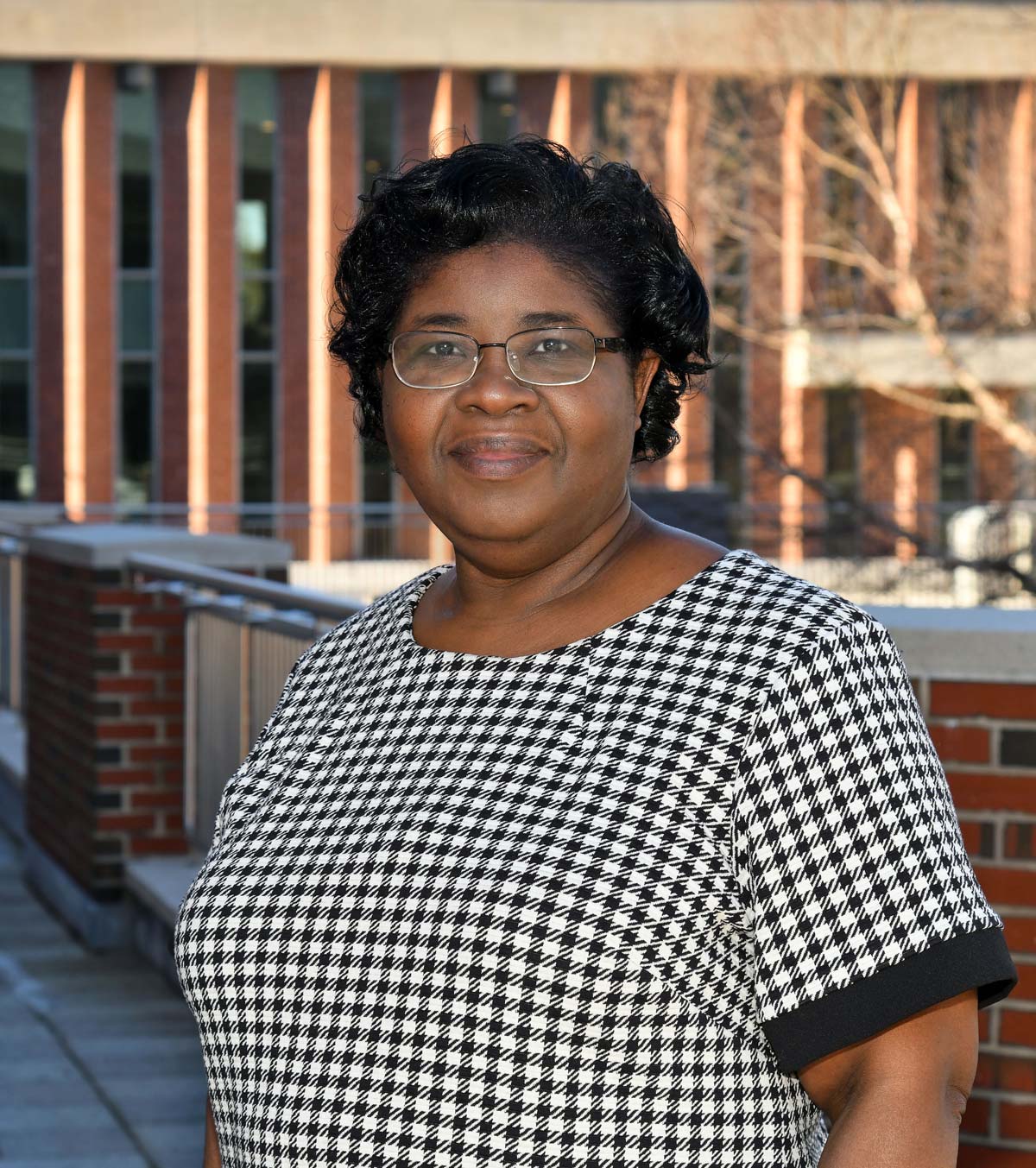 Colette Dieujuste, Ph.D., RN
Dean of Nursing
Colette Dieujuste was most recently a professor at Simmons University School of Nursing. Dieujuste received her B.S. in nursing from Columbia Union College, her MSN from Boston College, and her Ph.D. in nursing from the University of Massachusetts Medical School. She has taught across the undergraduate curriculum at Simmons College in a number of courses. She is an expert in curriculum design and evaluation.
Alumni in Nursing
Wheaton College graduates who pursue careers in nursing hold a variety of positions, from clinical practice to education and management.
Registered Nurse
Dayton Children's Hospital
Durham, CT
Emergency Nurse Practitioner
UMass Memorial Medical Center
Worcester, MA
Surgical Intensive Care Nurse
Massachusetts General Hospital
Boston, MA
Nurse Midwife
BronxCare Health System
New York, NY
Pediatric Nurse Practitioner
Mill River Pediatrics
Cambridge, MA
Nurse Practitioner
Harvard Vanguard Medical Associates
Brookline, MA
Nurse Manager
Dana-Farber Cancer Institute
Manville, RI
Family Nurse Practitioner
AAP Asthma & Allergy Physicians, LLC
Brockton, MA
Registered Nurse
Planned Parenthood League of Massachusetts
Boston, MA
Family Nurse Practitioner
Millennium Physician Group
Venice, FL
Operating Room Nurse
Brigham and Women's Hospital
Boston, MA
Pediatric Intensive Care Nurse
Yale-New Haven Hospital
New Haven, CT
Nurse Manager at Beverly Hospital and Affiliate Associate Professor of Nursing Practice at Northeastern University
Danvers, MA
Nurse Manager
Community Health Center
Meriden, CT
Nurse Practitioner
Cedars-Sinai Medical Group
Los Angeles, CA
Nurse Auditor
Baptist Health South Florida/Miami Cancer Institute
Miami, FL
Wellness Center Administrator
Middlesex School
North Billerica, MA