Visual Archives
Members of the Sociology Department are creating visual archives for use in course lectures, student presentations, and research, on an ongoing basis. These archives include images from department members' field research, archival research, and other sources. In courses that incorporate displays of digital images in the classroom, these images are made available through these archives to students in these courses who wish to review visual materials displayed in class. Please note that proprietary concerns require that these archives be password protected.
Gender Advertisements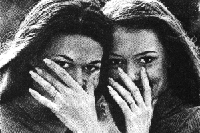 The GA archive represents the conceptual structure of Erving Goffman's path-breaking study on the social meanings encoded in how men and women are displayed in various kinds of photographs. Each entry in this archive includes all of Goffman's textual materials and one of the images associated with each of the 73 propositions that constitute his argument. The data base can be used to evaluate his argument, as well as for additional student research projects.
Urban Settlement Slide Show Archive
This archive was prepared to accompany a lecture in John Grady's Urban Sociology course (Sociology 255). The sequence of 24 slides document an evolution of settlement form beginning with campsites of nomadic foragers though a bird's eye view from the air of a modern European city in 1950. The representations include maps, photographs, and sketches. Images of Southampton, England have been chosen to represent urban development from early pre-Roman sites through the present.
From the Urban Settlement Slide Show Archive