Winter Fest brings community together
Special event on the Dimple featuring fun, food and flutes creates connection on campus
Ice sculptures, sweet treats, music and more made for a magical Monday as the Wheaton community and local neighbors enjoyed the first Winter Fest celebration on a campus aglow in luminaria and white lights.
President Michaele Whelan invited students, staff, faculty and their families as well as Norton and Mansfield residents to attend the inaugural event held on December 5, from 3:30 to 6 p.m.
The celebration, which was co-sponsored by the Office of the President and Arts at Wheaton, featured a student music performance, vendors selling handmade items, an opportunity to be in a snow globe photo, food trucks offering Thai food and fries, as well as hot cocoa, apple cider doughnuts and other treats from Dining Services. See gallery below.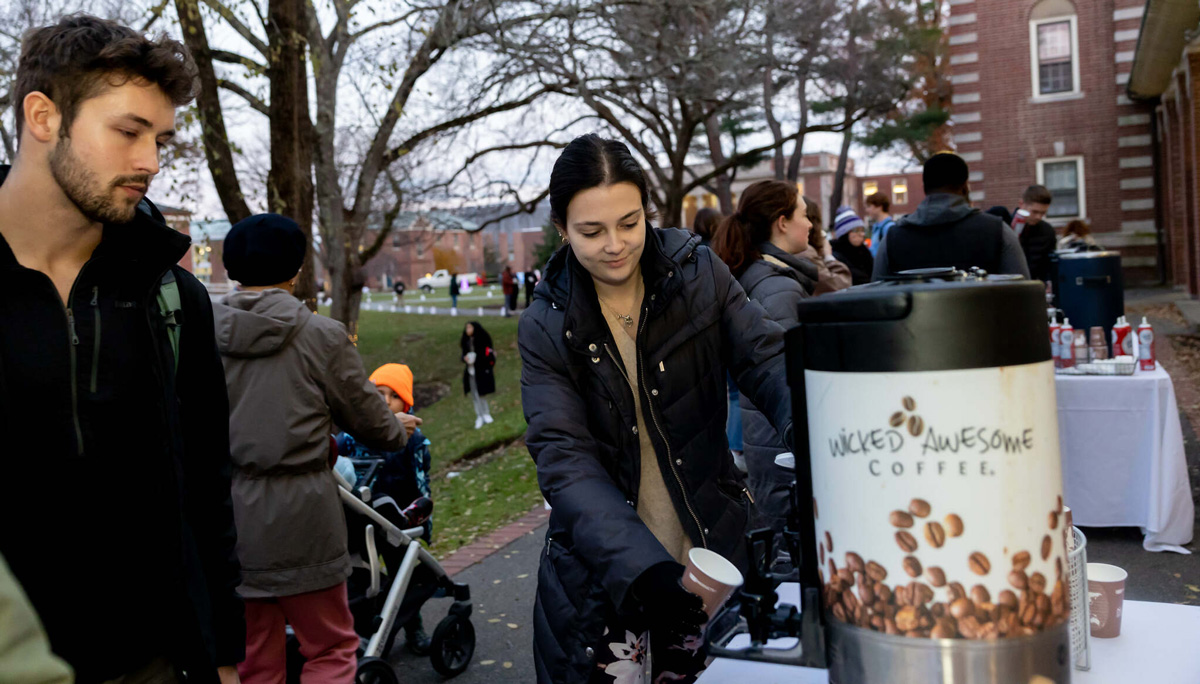 Whelan said she wanted to start the event as a new way to create connection. Winter Fest was one in a series of Tradition and Transformation events being held during the 2022–23 academic year celebrating the college today and its future.
"In my talks with staff last spring, many mentioned that after COVID–19, it was more important than ever to mark the beginning of the school year, the end of the fall semester and the end of the spring term," said Whelan. "Celebrating milestones as a community brings everyone together. After the intensity of the semester, it's important to pause, reflect on all that has been accomplished, and to enjoy each other and the beauty of the Dimple."
"I also heard from people in Norton who wonder about our campus as they drive by, and we wanted to invite them in to share the light, music and food," she added.
The magic-making began around 11 a.m. Monday with the sounds of chisels and electric chainsaws cutting through 300-pound blocks of ice as a dozen student artists began creating ice sculptures.
The students, who were invited to participate by Associate Professor of Visual Art Kelly Goff, continued carving for hours throughout the day in front of the library until the spectacular and colorful lighting of the sculptures around 4 p.m.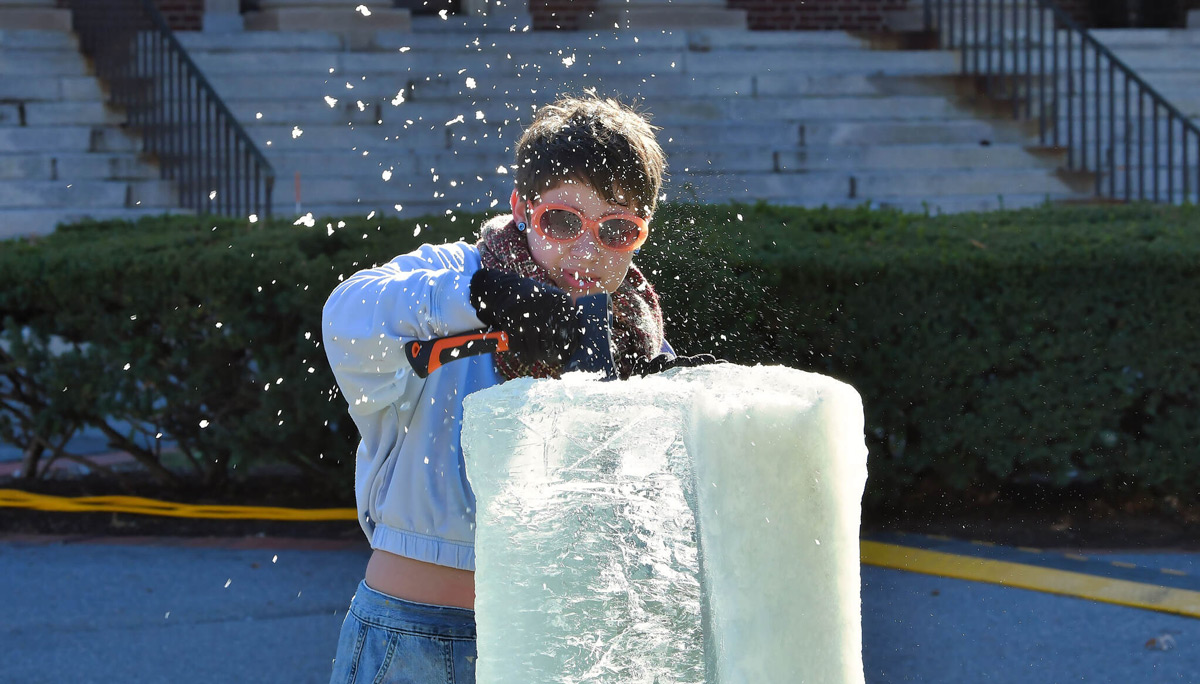 "After Kelly asked me to be a part of the ice sculpture carving, I drew up a handful of sketches of different ideas," said Sophia Kahn '23, a visual art major, who originally had decided to make a sculpture of an amethyst but changed her mind when she saw the elongated nature of the ice and, instead, made a lyre, a string instrument.
"The sculpture classes I've taken here have prepared me most for this. I'm excited to work in a new medium; though I've done subtractive sculpture before, I've never worked with ice," she said.
Matthew Cahill '23, a visual art major, let his imagination guide him as he chipped away at an abstract piece throughout the day.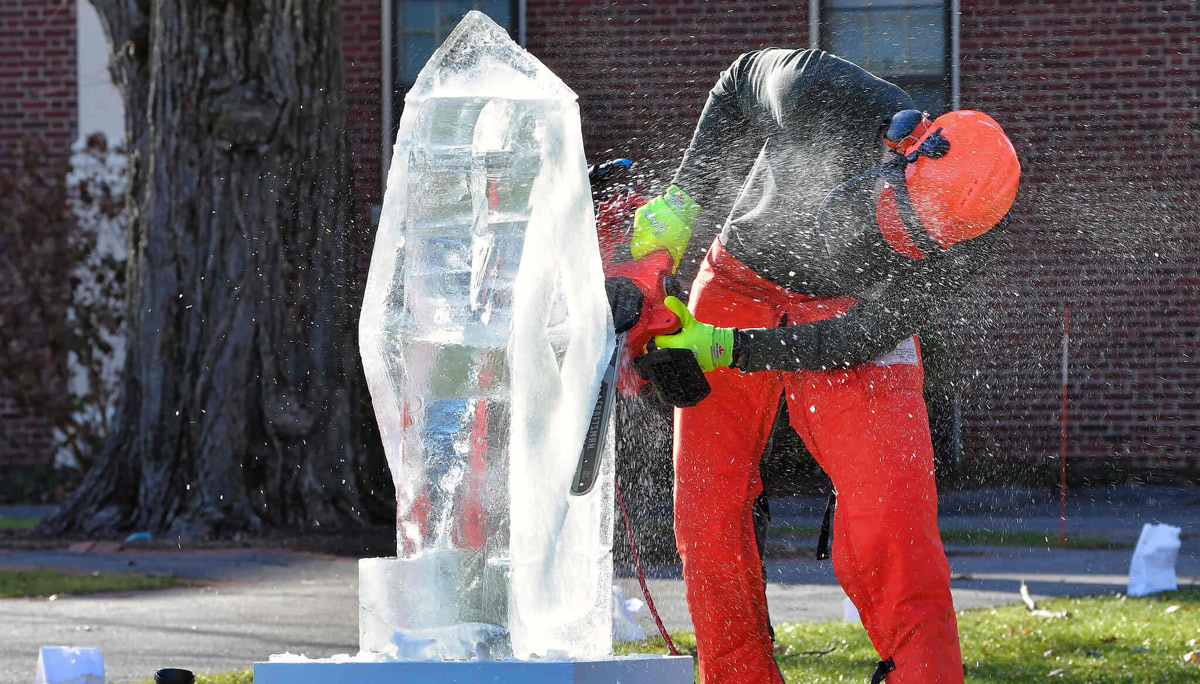 "Most people have an idea of what they want to do, but I'm just kind of figuring it out as I go," said Cahill, who was dressed head-to-toe in protective gear and briefly stopped his chainsaw to ponder his design.
On a mild evening, snowflake lights and a snow machine came in handy to set a winter scene. Craft vendors stationed inside of Emerson Dining Hall selling items added to the festivities.
Inside of Balfour-Hood, the college also provided an opportunity to help others with a collection drive for hats, mittens and scarves for the Norton Cupboard of Kindness, and non-perishable food items for the Wheaton food pantry.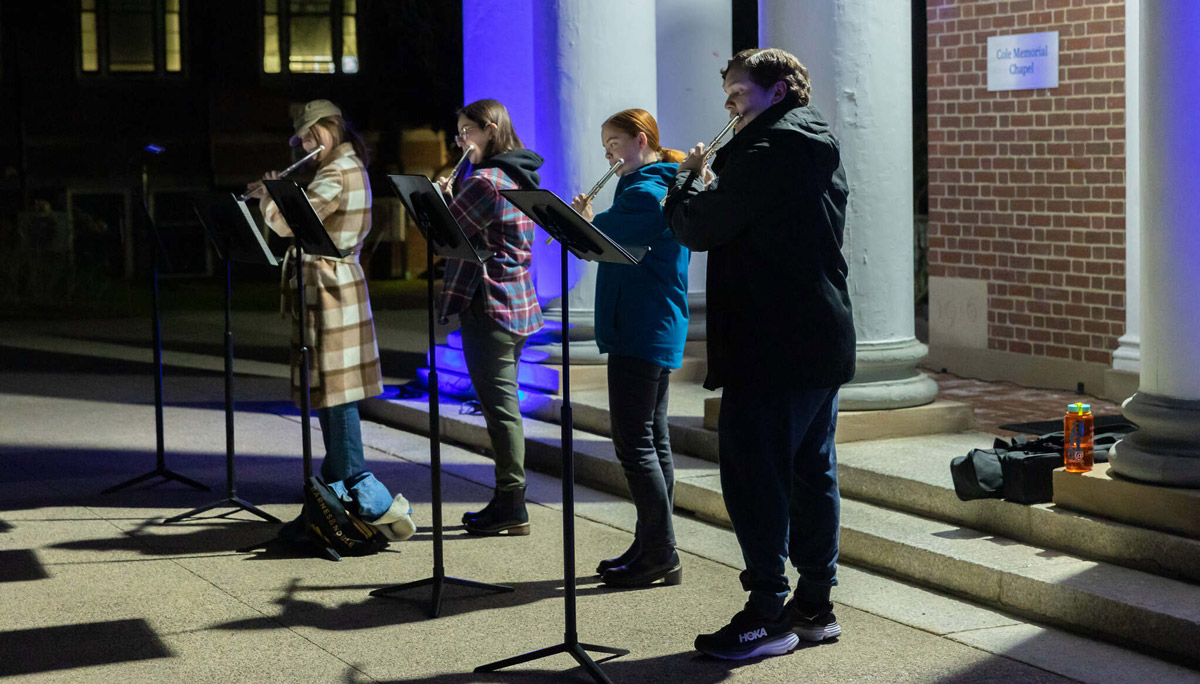 At 5 p.m., members of the Flute Choir performed in front of Cole Memorial Chapel. The group provides low-pressure opportunities to play a variety of repertoire—from classical to pop music.
"The Flute Choir is very excited to be a part of the festivities of this year's Winter Fest, and we are especially excited to share our music and celebrate the holidays and end of semester," said Madison Luongo '24, an English major and co-president of the Flute Choir with Sadie Drouin '23.
President Whelan said she thanks all of the volunteers who contributed to making the event a success.