Wheaton wins $200,000 grant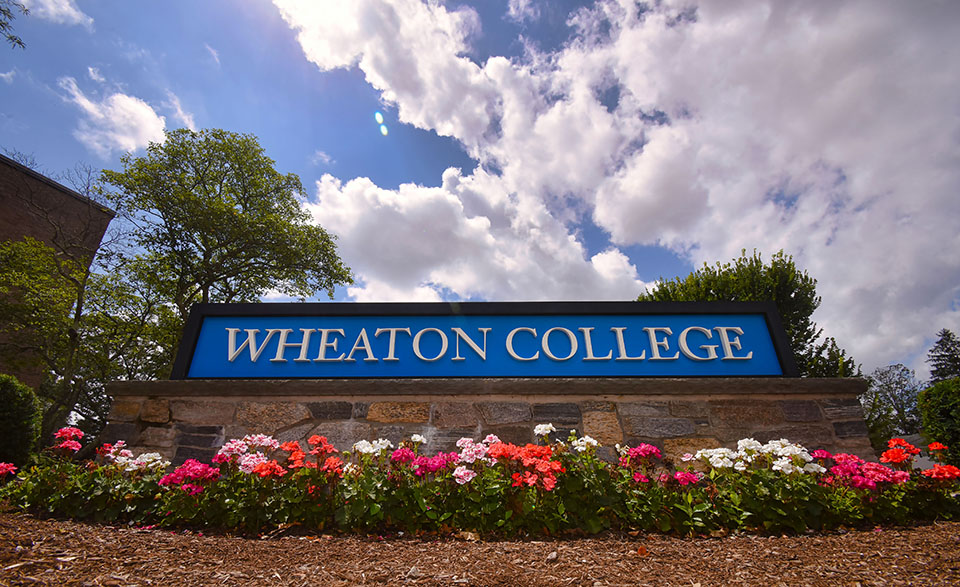 Davis Educational Foundation award endorses new Compass curriculum
The Davis Educational Foundation has awarded Wheaton College a three-year $200,000 grant to strengthen the implementation of the Compass curriculum, which launched this fall for the Class of 2024.
The Davis Educational Foundation, established in 1985, supports the undergraduate programs of public and private, regionally accredited, baccalaureate degree granting colleges and universities throughout New England, according to the organization's website. Elisabeth K. Davis and Stanton W. Davis co-founded the foundation after his retirement as chairman of Shaw's Supermarkets, Inc.
"The highly competitive award recognizes curricular innovation and development and is a significant external validation of the work that has engaged the entire Wheaton community in creating the Compass curriculum," said Provost Renée T. White.
The Compass curriculum combines the liberal arts education offered at Wheaton with preparation for life after college, expanding Wheaton's core principles of diversity and inclusion, social justice, global citizenship, experiential learning, collaborative community and intellectual curiosity. It also gives students the flexibility and guidance for directing their own educational path toward the future.
"I am really excited, over the moon, if I'm being really honest," White said. "The award is a clear endorsement of the hard work of faculty, staff and students—work that culminated in Compass. Any reimagining of curricula that involves substantial change while remaining attentive to the core mission and vision is a risk. It's a leap of faith that what we are doing will make sense to our students, that it will work for our students, and that it will be seen as an exciting forward-thinking program to others not connected to Wheaton. The Davis Educational Foundation award is validation, but more importantly, it is a significant investment in people—the students, faculty and staff."
In a letter to Wheaton President Dennis M. Hanno announcing the grant for the college's proposal, titled "Implementing a New Core Curriculum: Combining Tradition with Preparation for the Future," Edward MacKay, foundation board of trustees chair, wrote, "We support the concept of students taking more responsibility for their education and recognize the concomitant importance of close mentoring and advising."
Key features of Compass include professional mentoring and comprehensive, coordinated advising over four years.
"I'm thrilled that the Davis Foundation has chosen to fund the Compass curriculum. This grant will allow us to invest in transforming existing courses and creating new classes that will expand student opportunities for experiential and interdisciplinary learning," said Professor of Sociology Karen McCormack, Compass Curriculum Implementation Team co-chair and now Compass curriculum coordinator.
"Intentional planning and choice are at the heart of this curriculum, and the grant will help us to broaden the choices available to students and to invest in the advising necessary to guide students as they reflect on what they are learning and develop their path through Wheaton and beyond," McCormack said.
The Davis Educational Foundation grant will support multiple components of Compass, including programs for Mentored Academic Pathway (MAP) Day and curriculum-related events.
"Wheaton is honored to receive this important and significant funding from the Davis Educational Foundation to support the implementation of Compass," said Merritt Crowley, vice president of college advancement. "This generous grant will help Wheaton encourage our students to take more responsibility for their education while ensuring that the college can provide the appropriate levels of mentoring and advising that will result in greater student success and outcomes."
In addition to all of the work that went into developing Compass, Hanno, White and Crowley point out that the success of the grant proposal is due to a large-scale collaborative effort that involved faculty as well as staff.
"This has been a many-month-long labor of love to get the draft of the proposal to where we wanted it," White said.
The provost gave shoutouts in particular to the staff in corporate and foundation relations, including Patricia DeMarco, director; Jane Murphy, assistant director; Suzanne Gaspar, grant coordinator and writer; Touba Ghadessi, associate provost and professor of the history of art; and professors McCormack and Lindsay Flynn (Compass Curriculum Implementation Team co-chair).
White also acknowledged those who provided data and other support for the grant proposal, including Steven Viveiros, dean of advising and academic success; Sally Buckley, registrar and dean of academic systems; and Kimberly Puhala, director of institutional research and assessment.