Wheaton offers pathway to professional success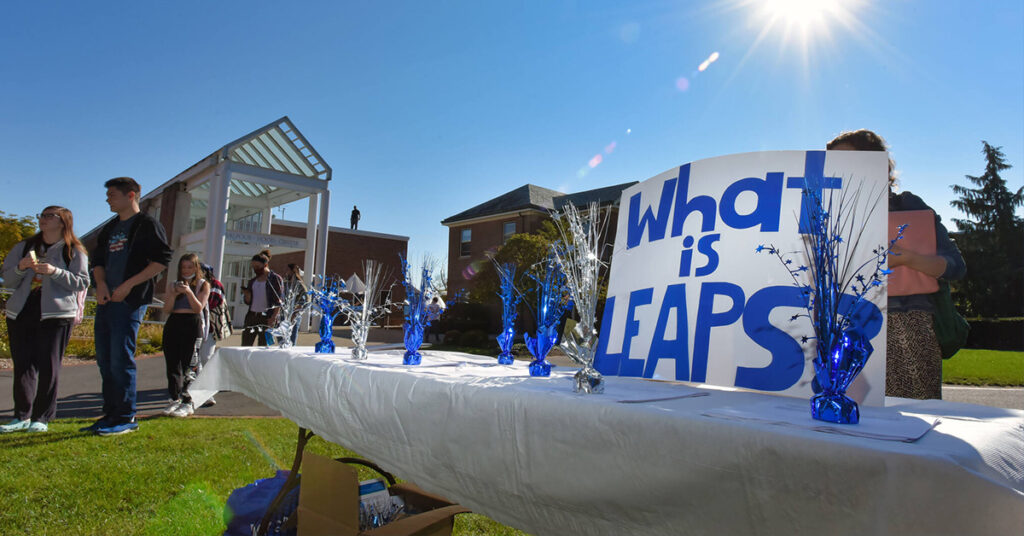 Compass curriculum program, LEAPS, helps bridge students to careers
Wheaton's Compass curriculum aims to help students make connections between knowledge and practice, so they are equipped to take on the careers of tomorrow.
Liberal Education and Professional Success (LEAPS), one optional component of Wheaton's Compass curriculum, provides a pathway to assist students in identifying and developing in-demand skills in various fields.
To date, Wheaton has approved LEAPS in the following areas: content marketing; criminal justice and criminal justice reform; design and fabrication; food industry: food science, business, language and culture; galleries, libraries, archives and museums; global fashion industry; social research; and teaching second languages. Students who sign up take courses and engage in experiential learning and enjoy mentorship from the college's greater community, including alumni.
Haley Luce '24, who signed up for the LEAPS in galleries, libraries, archives and museums, said she first learned about this opportunity through Associate Professor of Museum Studies and History of Art Leah Niederstadt and Dean of Library Services Megan Brooks.
"My professional goals lay in between museum work and academia in the field of classics, my major. Knowing that there is a middle ground that I can work on strengthening at Wheaton inspired me to sign up," Luce said.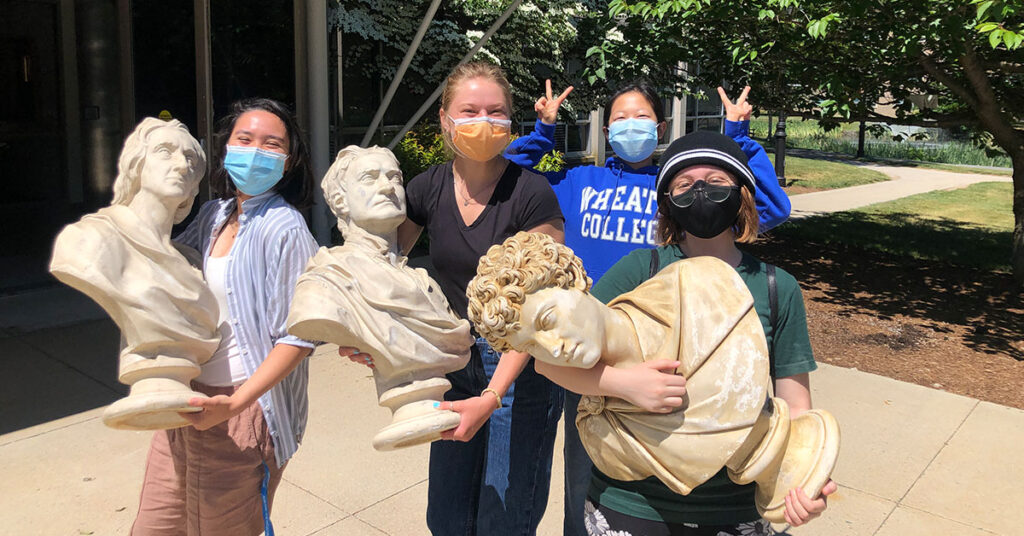 Over the summer, she took "Introduction to Museum Studies" with Niederstadt. For the LEAPS-required experiential component, she worked in the college's Permanent Collection, which holds more than 8,000 objects. Among other tasks, including rolling textiles and rehousing medieval stained glass, she traced the ownership history of ancient Greek ceramics, determining that they originally were given to Wheaton in 1931 by the Metropolitan Museum of Art. The museum had a surplus of pottery that was donated by the Greek government in 1930 following an excavation in Athens, Greece.
"Stories like this fascinate me, and the chance to be able to uncover them myself is something that I find truly irreplaceable from my time here at Wheaton. Professor Niederstadt, the professors of the Classics Department, and the library staff have been the most supportive academic resources I have ever had," Luce said.
Sarah Flynn '24, an English major, also signed up for a LEAPS in galleries, libraries, archives and museums to better help her achieve her career goals.
"I plan on getting my master's degree in library science after college, so this program was a way for me to explore my passion at Wheaton. I also already work at Wallace library as a student supervisor and would have taken the 'Intro to Libraries and Archives' class anyway, so this sounded like the perfect program for me," Flynn said.
Kayla Heideman '24, a psychology major who signed up for the social research LEAPS, gained her real-world experience through a summer internship at Rhode Island Hospital.
"With the new Compass curriculum at Wheaton, I told myself that I would take advantage of various professional development opportunities, which is highly encouraged and supported. This is yet another way that I have made fantastic connections with admirable folk in psychology, and every step like this that I take is progress toward exploring my interests and skill building," Heideman said.
Mentorship to students is a key part of a LEAPS program. Greta Phillips '09, an English Second Language (ESL) teacher with more than 10 years of experience at Newton Public Schools, said she was thrilled to find such a unique way to give back to Wheaton and stay connected. As the program builds, she hopes to serve as a resource for students. Earlier this year, she discussed her career and experience with students in an education course over Zoom.
"I know as a student I would have enjoyed being connected to alumni in a field of interest and hearing real experiences from past grads," said Phillips, who majored in Hispanic studies.
"The ESL career is a very fulfilling one. There are lots of opportunities working in public schools K–12 in many different ways, all of which make a big impact on students and their families. It is a teaching job that is ever-changing as students move in all the time at varying levels of English language development, as well as diverse linguistic, cultural and educational backgrounds. An ESL career also provides wonderful opportunities to be able to find jobs all over the world."