Wheaton launches new bachelor of science in nursing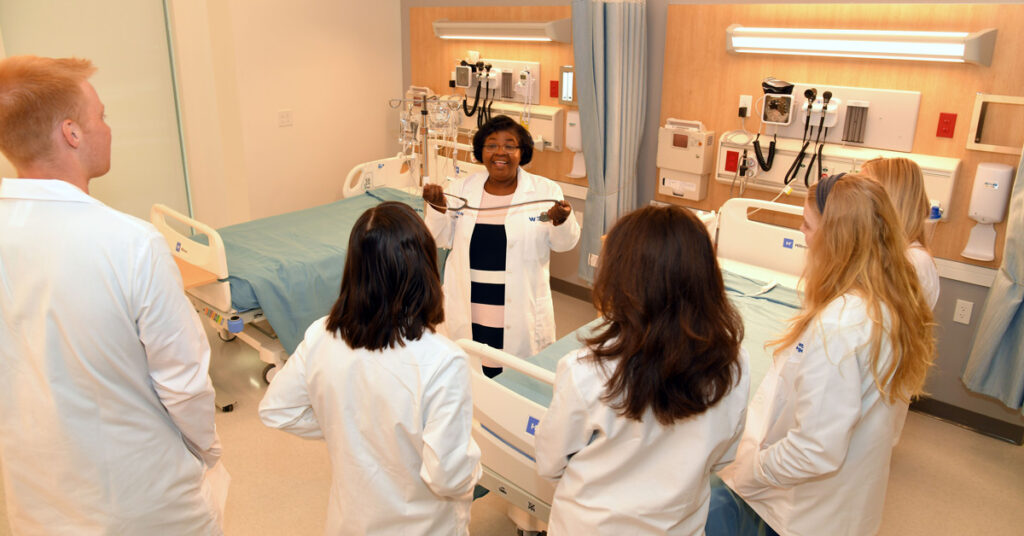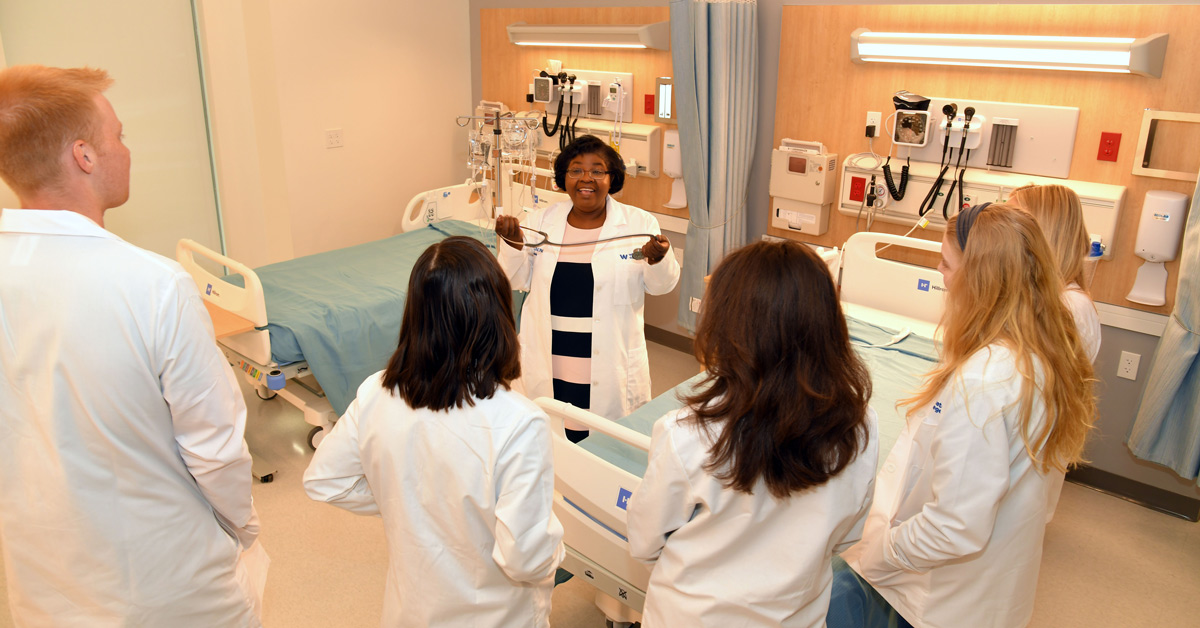 Interdisciplinary program aims to create compassionate clinicians and leaders committed to health care equity
Wheaton College has launched a new four-year bachelor of science in nursing degree program that aspires to fill the increasing demand for nurses and address widespread inequities in health care.
In keeping with Wheaton's historical commitment to social justice and desire to better meet the needs of underserved populations locally and globally, the new program will provide students with a collaborative, interdisciplinary liberal arts education that emphasizes the strength of diversity, equity and inclusion in health care, and equips them to become problem-solving leaders.
"Wheaton's program is dedicated to preparing future nurses to take on the modern-day challenges of patient-centered care across practices, cultures and different settings," said Colette Dieujuste, Wheaton's inaugural dean of nursing who led the development of the program, curriculum and learning spaces.
"Everyone deserves equal health care services; when we can provide health care in an equitable way, that is social justice," she said.
The program, which will have its first class of students in fall 2023, includes nursing and non-nursing courses, and students will be able to pursue an elective concentration in global health, health justice or health care administration. The concentrations will introduce students to health care management, statistics and intervention issues to improve care and gain perspective on the most empathetic and effective nursing.
Students also will develop clinical skills through hands-on practice as well as critical thinking around the larger sociocultural issues of delivering medical care. The nursing program is being added to the more than 100 academic programs at Wheaton.
"Wheaton's nursing program draws upon our curricular strengths in the sciences, and on existing courses in anthropology, economics, sociology, languages, and business and management," said Wheaton College President Michaele Whelan.
"With a focus on global health and health equity, our program will train nurses to be skilled practitioners with a deep understanding of social justice, and global health connections and threats. Understanding race and gender-based treatment disparities will enable Wheaton's nurses to change health care and meet the needs of all patients and their families," Whelan said.
Fulfilling a growing need
Long before the COVID-19 pandemic overwhelmed health professionals trying to keep up with safely caring for patients, demand for nurses was high, with indications that it would grow even more.
Employment of registered nurses is projected to increase 15 percent by 2026, much faster than the average for all occupations, according to research by Jeff Cutting, Wheaton associate vice president for enrollment and strategic analyst.
Growth will occur for a number of reasons, including an aging population; the need to not only care for patients but also educate and help people with chronic conditions; and demand for health care services to replace workers who will retire during the coming decade, Cutting's research shows.
Gay Packard Wilson '80 sees the need firsthand as a registered nurse at Good Samaritan Medical Center in Brockton, Mass., where she has served for 17 years, and, for the past two years, has been working on the COVID-19 unit.
"When I heard there might be a program at Wheaton, it was just so exciting because we're losing nurses. We need nurses. We need nurse practitioners. We can use nurse educators. It's just an amazing profession to go into," said Wilson, who majored in psychology at Wheaton.
"I am a nursing preceptor, training new grads and new hires to our floor. … The liberal arts education I received at Wheaton was just outstanding for everything that life has thrown at me. The psych degree, especially in nursing, is so important," she said. "There are many different personalities that you deal with at the bedside."
Other alumni nurses say their liberal arts education prepared them well.
Wilson originally pursued a career in teaching after graduation and then later entered a two-year associate's degree program to go into nursing.
Building upon Wheaton's foundation
Since its founding, Wheaton has sought to provide a liberal arts education that gives students the opportunity and flexibility to create the most abundant life, noted Provost Touba Ghadessi.
"Wheaton's nursing program not only upholds this core principle for our students, but it extends abundance to the diverse communities to whom our graduates will provide excellent and compassionate health care," Ghadessi said.
Solving big problems and acting on them is also key to Wheaton's mission, so the program fits in perfectly with that vision, said Dieujuste.
At Wheaton, she has been involved since the start in overseeing the philosophy and curriculum for the nursing program.
Dieujuste also has led the design of the new nursing suite that is located in the Diana Davis Spencer Discovery Center Dedicated to Free Speech and Innovation, where students will learn and receive clinical training in concert with off-campus experiential learning through community health partners.
The nursing program suite spans 8,800 square feet and includes seven offices, a workroom, a six-bed skill lab, several state-of-the-art simulation rooms, control rooms and debriefing rooms, where students will be able to go through clinical practice scenarios, using high-fidelity mannequins, to simulate clinical experience.
Faculty will review with students after the experience and that will help them to better develop their critical thinking and clinical decision-making skills, Dieujuste said.
Sitting at a table in one of the conference rooms during a recent interview, her face lit up as she recalled how she got interested in the nursing profession.
She first became enthralled with nursing while working as a volunteer in a Medford, Mass., hospital when she was in ninth grade. She enjoyed the interactions with patients but could hear her true calling when she was assigned to work in the nursery and got to hold babies.
"That was, like, wow. I felt like, 'I belong here,' and I just loved it. Since then I've been interested in the nursing field," said Dieujuste.
She followed her passion into the area of labor and delivery, and developed clinical expertise in perinatal and obstetrical nursing. She has more than 30 years of experience as a registered nurse and more than 20 years as a nurse educator.
"I'm excited about Wheaton's nursing program," she said. "Our rigorous curriculum with supportive faculty will help students develop the foundational knowledge needed to succeed as nurses, to be skillful clinicians and successfully serve locally and abroad."
Recently, a few members of Wheaton's Pre-Health Society (Nicole Toppses '23, Paige Tagg '23, Abby Gangl '23, Tyler Thornton '23 and Alexa Leary '24) got a tour of the nursing program suite from Dieujuste and shared in her excitement. The student organization, which has 120 members, serves as a resource for the academic, social and professional development of students pursuing careers in health care.
"As we walk through the nursing suite hallways in the Discovery Center, we see career opportunities," said Toppses '23, a biochemistry major and Pre-Health Society social media manager. "We see this program as an opportunity to also improve the education of Wheaton's other pre-health students and connect students to resources off campus as well."
Wheaton College has been granted initial approval status through the Massachusetts Board of Registration in Nursing for the operation of its baccalaureate degree in nursing program.