Wheaton hosts faculty of color symposium
Day-long event focuses on leadership, inclusion, networking
As part of its deep commitment to diversity and inclusion, Wheaton College on May 10, 2019, hosted the inaugural Faculty of Color Working Group Symposium, which brought together professionals from 20 colleges and universities for all-day networking, workshops and discussions focused on issues that many faculty of color encounter nationwide.
"Rarely do faculty of color find opportunities to discuss the specific and difficult positions they face as employees, employers, scholars and administrators frankly and without fear of repercussions," said Gabriela Torres, professor of anthropology at Wheaton and one of several symposium co-organizers.
"This symposium very intentionally provided this space. It allowed for more than 50 colleagues across all stages of academic life to come together and talk about how to teach in a more inclusive manner, how to mitigate pressures on their life-work balance, how to leverage institutional and community engagement and how to engage in both public and traditional scholarship in effective ways," she said.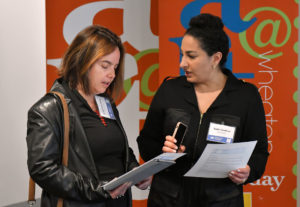 Torres and Touba Ghadessi, associate provost for academic administration and faculty affairs as well as a faculty member, have been co-organizing the symposium since December 2018 in collaboration with Melina Pappademos, associate professor and director of the Africana Studies Institute, and Cathy Schlund-Vials, professor of English and Asian American Studies, from the University of Connecticut Humanities Institute.
Wheaton is a founding member of the New England Humanities Center (NEHC). One of the groups working within the consortium is the Faculty of Color Working Group, which is an initiative meant to offer guidance, support, mentoring and community building for consortium affiliates throughout New England. This group received a Mellon grant to address systemic inequities faced by faculty of color in their professional and institutional lives.
"In order to open the dialogue more widely and engage more directly, we, at Wheaton, volunteered to host this inaugural symposium," Ghadessi said. "Repeatedly, we heard from our colleagues at other institutions that they had felt isolated, that they saw themselves as the exception rather than the norm, and with that view came a burden of proof that affected their professional and personal lives."
Ghadessi and Torres also noted the direct impact that supporting faculty has for student learning, in and out of the classroom:  "It is crucial for us to model for our students how we all need to engage in honest, sometimes challenging, but always respectful dialogue about the complex and multifaceted aspects of diversity and inclusivity," said Ghadessi.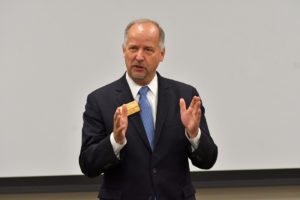 The symposium workshops, held in several spaces on the campus, began in Ellison Lecture Hall with opening remarks from the organizers, as well as from Wheaton President Dennis M. Hanno and Provost Renee T. White.
In the afternoon, White led the workshop "Defining Your Leadership Path(s)." Other workshop sessions addressed work-life balance, building community, writing books, tenure and promotion, and inclusive practices for teaching and learning.
Floyd Cheung, the father of a Wheaton student and a professor of English and American studies and director of the Sherrerd Center for Teaching and Learning at Smith College, led the interactive session "Inclusive Feedback Practices for Teaching and Learning."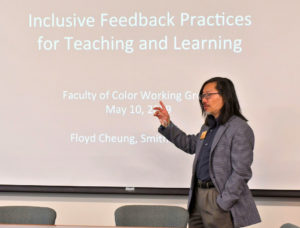 His presentation draws on his work as an educational developer: "I have learned that feedback to students ought to be fast, specific and kind," he said. " I also have learned that getting better and more frequent feedback from students about their learning and my teaching can improve the experience for everyone."
As a symposium participant, Cheung said, "The symposium was inspiring and practical. I also loved meeting colleagues from across the country."
Yvette Alex-Assensoh, professor of political science and vice president for equity and inclusion at the University of Oregon, said she wanted to attend the symposium specifically for the opportunity to engage with other faculty, particularly across disciplines.
"I also wanted to learn more about faculty persistence and why faculty remain loyal to institutions over time," Alex-Assensoh said. "Faculty members play an important role in student success. They create new knowledge, design the curriculum and engage with their professions and communities beyond campus in ways that improve our society. By allowing faculty members to take time away for the purpose of sharing and learning with like-minded others, it reinvigorates them in ways that enhance classroom and lifelong learning opportunities for students."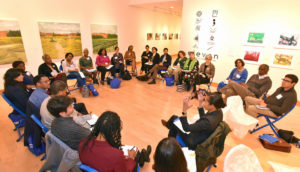 The symposium concluded with a reception in Haas Concourse that allowed participants to mingle and continue conversations while enjoying refreshments, drinks and each other's company.
Ghadessi and Torres said that they are overjoyed with the outcome of the event.
"We are grateful for the incredible intellectual generosity of the speakers, who not only shared their expertise in a fascinating way, but also worked diligently to create an environment that was supportive and authentic," Ghadessi said.
"For Wheaton, this symposium allowed us to place the college in a regional—if not national—leading position for diversity and inclusion discussions while showcasing our earnest commitment to effect change. Additionally, the community building and networking that occurred at this symposium is what many of us wish to see in the wider world—people coming together to strengthen social justice and fight inequity."
White said it was important for Wheaton to support and encourage this inaugural event. "As a founding institution in the NEHC we have the unique opportunity to help shape what may become defining characteristics of this consortium," White said. "Further, I felt that Wheaton's historical commitment to equity and access plus our current plans around this made it easy to support Touba and Gabriela's proposal. I really believe that Wheaton can and should be known as a liberal arts college that is at the forefront of creative and thoughtful programming focused on diversity. We can continue to be a place that does the work rather than just talks about it."