Wheaton forms Nursing Advisory Board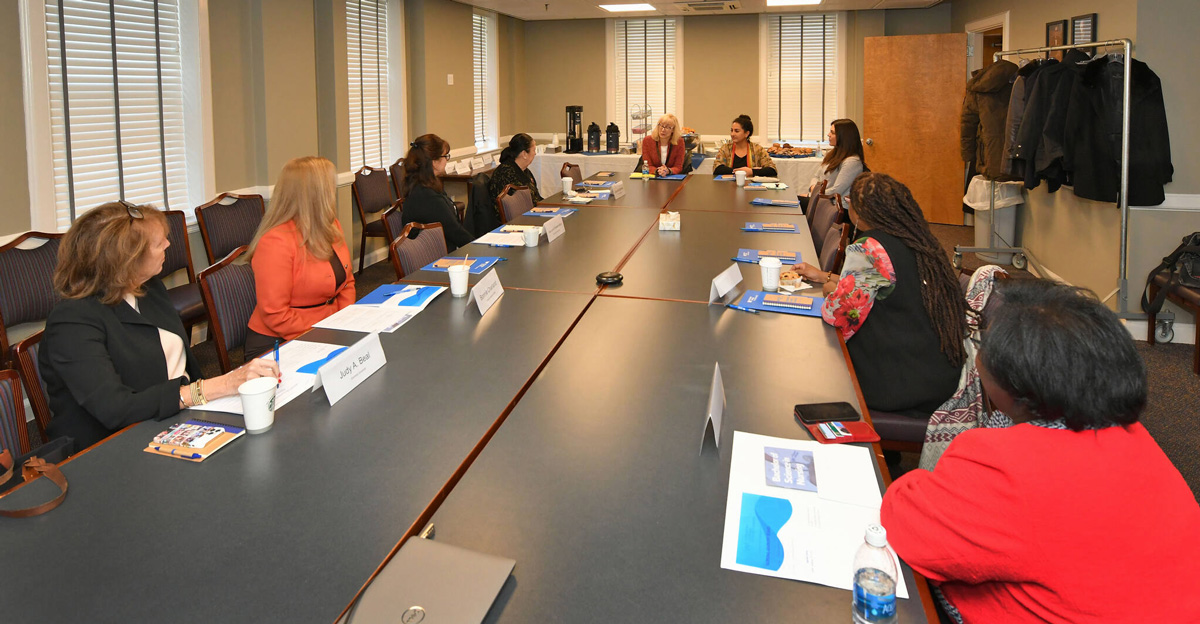 Health care leaders will provide professional guidance for new bachelor of science
In preparation for the first class of students who will be in Wheaton's new bachelor of science in nursing program, the college has created an advisory board of professionals who will provide invaluable guidance.
The 11-member Nursing Advisory Board is comprised of practicing nurses, administrators and leaders in the field from universities, hospitals and medical facilities that include Simmons University, VA Boston Healthcare System, Brigham and Women's Hospital, Boston Medical Center, South Shore Health, Southcoast Health, Sturdy Memorial Hospital, Massachusetts General Hospital and Good Samaritan Medical Center.
"The primary purpose of the Nursing Advisory Board will be to provide advice on new initiatives for the program," said Wheaton Dean of Nursing Colette Dieujuste. "Secondly, we seek their advice on building connections with the community, our faculty and our alums. As leaders, the Nursing Advisory Board can help us align our program with the nursing market to ensure students gain the skills employers want and need. With their assistance, we will develop a solid strategic plan for enhancing nursing at Wheaton."
The group will meet twice a year. The first meeting was held on campus on Nov. 15, 2022, in the Board of Trustees Conference Room in Emerson Dining. The next meeting will be in April.
Board members say they are excited to share their expertise. Read comments from some of the board members.
They are:
Judy Beal, dean and professor of nursing emerita, Simmons University
Bonnie Charland, associate director for quality management, VA Boston Healthcare System
LaDonna Christian, director of the Dotson Bridge and Mentoring Program, Simmons University
Sasha DuBois, nurse director, Brigham and Women's Hospital
Nancy Gaden, senior vice president/chief nursing officer, Boston Medical Center
Andrew Harding, chief nursing officer, South Shore Health
Ellen Nassberg, CEO/ health care consultant
Jacqueline Somerville, senior vice president/chief nursing officer, Southcoast Health
David Spoor, senior vice president for patient care services/chief nursing officer, Sturdy Memorial Hospital
Deborah Washington, DEI health and community partnerships manager, Massachusetts General Hospital
Gay Packard Wilson '80, registered nurse, Good Samaritan Medical Center
Dieujuste led the meeting and President Michaele Whelan, Provost Touba Ghadessi and Associate Professor of Biology Laura Ekstrom attended to welcome the group—most of whom were in person with a couple joining via Zoom.
Wheaton launched the new four-year bachelor of science in nursing degree program in the spring of 2022. The program aspires to fill the increasing demand for nurses and address widespread inequities in health care. It also will provide students with a collaborative, interdisciplinary liberal arts education that emphasizes the strength of diversity, equity and inclusion in health care.
Each member of the new advisory board brings years of experience and wisdom to the table.
Beal initially served as a consultant as Wheaton's program was being developed. She said she is honored to have been asked to be on the advisory board.
"As a nurse educator and leader in nursing education since 1978, I am confident that the curriculum and experiences that Wheaton, in general, and the nursing program, in particular, will offer students will be life-changing for them and for the discipline," Beal said. "This program is one of the most innovative in the country and holds great promise for changing how nursing care will be delivered and to whom worldwide."
Spoor has been a registered nurse since 1986 and is looking forward to sharing with Wheaton what he has learned in his many leadership roles.
"Health care is an honored profession. We need to look at health care and the work that we do in a servant manner," Spoor said. "As both a nurse and a leader in health care, we need to truly look inwardly at what we are doing and why, and focus on how we can support those who are closest to the bedside."
Nassberg said she hopes to bring industry expectations and needs to Wheaton as the nursing program evolves, so that students understand the current health care world and what it may be in the future.
"That will help them acquire the skills and experiences they will need to be successful for their careers, their patients and the greater health care community going forward," said Nassberg, a fellow of the American College of Healthcare Executives.
Charland described the first advisory board meeting as invigorating.
"Meeting face-to-face and networking with academic and clinical colleagues alone was a wonderful treat. Deliberating on the vision and mission of this program absolutely fed my nursing soul," Charland said. "We are all so exhausted post-pandemic, so, having the opportunity to envision a different type of nursing program was refreshing."
"As a nurse executive, I am very concerned about the staffing crisis. This past year I have been a mentor in Sigma's Global Leadership Mentoring Community and have been engaging with nursing leaders globally, which has opened my eyes to the global crisis and disparity. I could not agree more that, in order to take on the challenges of tomorrow, we will need to have a global vision of health and social justice," Charland said.
Dean Dieujuste points out that Wheaton's nursing program focuses on the importance of having both a global as well as local community impact, so the connections and collaborations that the advisory board provides are vital.
"I really enjoyed our first meeting and conversation and I'm looking forward to our partnership," she said.