Wheaton commitment to first-gen success recognized
National designation honors college's work advancing student outcomes
Wheaton College has been selected as a First-gen Forward institution, a national honor that recognizes its commitment to the success of first-generation college students.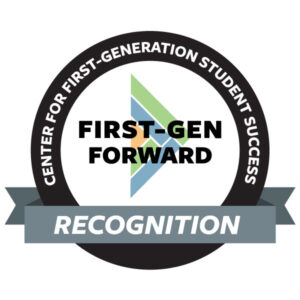 Shaya Gregory Poku, dean for equity, social justice and community impact at Wheaton, said the designation speaks to institutional values and reinforces the college's dedication to diversity and inclusion. She attributed winning the honor to collaborative work, including by the First-Gen and Low-Income Task Force and four AmeriCorps members serving with Campus Compact at Wheaton and, in particular, current member Elliott Botelho, who was instrumental in writing the application that won the designation.
"This national designation honors the tremendous work that has been accomplished by the task force and our AmeriCorps members to ensure that all Wheaton students are having a transformative liberal arts education," Poku said. "It also connects us with meaningful opportunities to learn from other peer institutions that take seriously this mission of addressing the way that income inequality affects student success and belonging."
The First-gen Forward designation comes from The Center for First-generation Student Success, an initiative of NASPA–Student Affairs Administrators in Higher Education and The Suder Foundation, which this week announced Wheaton as a 2021–22 First-gen Forward cohort.
Wheaton joins a list of 157 higher education institutions that have received the recognition for having "demonstrated a commitment to improving experiences and advancing outcomes of first-generation college students," according to the announcement. Selected institutions receive professional development, community-building experiences and a first look at the center's research and resources.
"The center is so pleased to welcome Wheaton College into the 2021-22 First-gen Forward cohort. Through the application process, it was evident that Wheaton is not only taking steps to serve first-generation students but is prepared to make a long-term commitment and employ strategies that foster an environment of success for this important population," said Sarah Whitley, assistant vice president at The Center for First-generation Student Success.
At Wheaton, approximately 20 percent of all students are the first in their families to attend college or come from low-income backgrounds.
In 2016, Wheaton formed the First-Gen and Low-Income Task Force to explore effective methods to dismantle barriers to success and fulfillment for these students.
A number of initiatives have been established to support first-gen and low-income students. The Center for Social Justice and Community Impact, for instance, works with the task force to develop programming for first-gen students and to offer an early arrival session—Brave, Bold and First. This event is held at the start of each academic year to provide students an opportunity to acclimate to campus. Additionally, a dedicated AmeriCorps member (Botelho) works in the center to create long-term support structures for these students.
In February, the task force and the Center for Social Justice and Community Impact collaboratively hosted a virtual event with many campus co-sponsors featuring Anthony Jack, a junior fellow and assistant professor of education at Harvard University, who presented the talk "Investing in Low-Income and First-Gen Students."
As a First-gen Forward Institution, interested faculty and staff members will be afforded multiple opportunities to engage with peer institutions that are also creating environments that improve the experiences and outcomes of students.
Selected institutions will send representatives to the First-gen Forward Workshop slated for early June and will participate in monthly phone calls, virtual professional development, goal-setting, blog development and annual reporting. After two successful years in the program, institutions are eligible to apply for the advisory leadership designation.