Wheaton announces honorary degree recipients
College will pay tribute to humanitarian, president emeritus and alumna artist at 187th Commencement
At the 187th Commencement ceremony on Saturday, May 21, Wheaton College will pay tribute to three individuals whose inspiring leadership, resilience and compassion have made an impact on the lives of many.
Honorary degrees will be presented to Deogratias "Deo" Niyizonkiza, the founder and CEO of Village Health Works and an advocate for those who are impoverished and in need of health care; Dennis M. Hanno, Wheaton president emeritus who led the college through unprecedented growth and challenge; and the late Momo Nagano, a Class of 1947 graduate who prevailed through adversity to become a textile artist, art administrator and cultural educator.
Niyizonkiza also will give the keynote address at Commencement. He has won many national and international awards, including the Otis Social Justice Award presented by Wheaton in 2014. His journey from surviving civil war in his native Burundi in East Africa to becoming a champion of those who are struggling is chronicled in the book Strength in What Remains by Pulitzer Prize-winning author Tracy Kidder.
This year, Wheaton's Commencement ceremony will be fully in person and take place at its traditional location in the Dimple on May 21, starting at 10:00 a.m. It also will be livestreamed. Reunion Weekend also will make an in-person return May 20 through 22, after being mainly virtual for the past two years because of the COVID-19 pandemic.
The college also will be hosting a special celebration for the Class of 2020, which missed out on a formal in-person Commencement in 2020 due to the pandemic. Members of the class are being invited back to campus for their two-year Reunion and to enjoy Senior Week activities and other Wheaton traditions from Friday, June 3, through Sunday, June 5.
The honorees
Deogratias "Deo" Niyizonkiza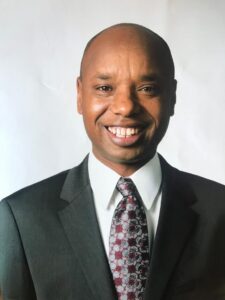 Niyizonkiza was born in rural Burundi, where he attended grade school and medical school. He left the country during the catastrophic war that lasted more than a decade and took the lives of hundreds of thousands of people and came to New York City.
Despite the hurdles he faced in the U.S., including homelessness, illness and low-paying work delivering groceries, he survived, thrived and eventually enrolled at Columbia University, where he received his bachelor's degree.
After graduating from Columbia, Niyizonkiza attended the Harvard School of Public Health, where he met Dr. Paul Farmer, who recently passed away. He started working at the medical nonprofit Partners In Health and Harvard Medical School, eventually leaving to continue his medical education at Dartmouth Medical School.
In 2005, Niyizonkiza traveled back to Burundi. There, in the remote village of Kigutu, he established Village Health Works. Thanks to land donated by the community, a small amount of seed money from American fellow medical students and supporters, a community of volunteers, and his leadership, a health center opened in December 2007.
Village Health Works now employs more than 700 people and serves more than 200,000 people, with the goal of removing barriers to human dignity and progress by creating a model health care system and providing education based on critical thinking.
Village Health Works has built a 150-bed teaching and research hospital, The Kigutu Hospital and Women's Health Pavilion, and a boarding school, the Kigutu International Academy. It also supports a public school for children from Pre-K through high school. Village Health Works has created a holistic approach that goes beyond health care and education and includes an economic development program, food security, and music and the arts.
A frequent lecturer on global health, Niyizonkiza has received many honors, including the Dalai Lama's Unsung Hero of Compassion Award in 2014; the Great Immigrants: The Pride of America award in 2016 from the Carnegie Corporation of New York; the Presidential Medal: Amitiés des Peuples; the 2013 People to People International's Eisenhower Medallion Award; the 2011 International Medal Award of St. John's University; and the 2010 Women's Refugee Commission's Voices of Courage Award.
Dennis M. Hanno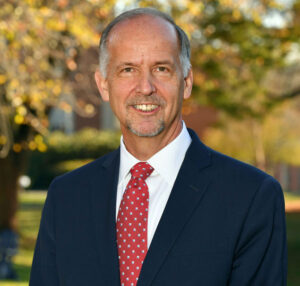 As Wheaton's eighth president from 2014 to 2021, Dennis M. Hanno made significant contributions to the institution, and inspired as well as created change that will benefit the college and students for generations to come.
Among his many accomplishments, he set experiential learning as a funded priority. The Washington Center for Internships and Academic Seminars and The National Society for Experiential Education recognized him for that commitment by naming him the 2021 recipient of the William M. Burke Presidential Award for Excellence in Experiential Education. The award recognizes leaders who have personally encouraged experiential education as essential to the undergraduate experience, and have established and expanded opportunities to learn through experience and promoted this beyond campus.
He oversaw significant capital improvements that enhanced the student experience with the construction of a new residence hall, the renovation of two dining halls and the transformation of the former science center into the Diana Davis Spencer Discovery Center Dedicated to Free Speech and Innovation, which opened at the start of the spring 2022 semester.
Hanno expanded the institution's national and international reach through partnerships locally, regionally and in Africa and India; and he established the institutional leadership and structure needed to advance diversity, equity and inclusion.
During his tenure, Wheaton also experienced unprecedented growth in student enrollment, developed the new Compass curriculum and successfully navigated the COVID-19 pandemic, which has been one of the toughest challenges in the college's history.
He strengthened local connections with neighbors and town officials by establishing a community council, hosting new public traditions such as the Symphony Under the Stars, engaging local officials through athletic competitions, and by participating in parades and speaking at functions.
He stepped down as president of Wheaton College at the end of 2021 to spend more time with his family while contemplating his next move to impact the future leaders of tomorrow.
Momo Nagano, Class of 1947 (posthumously)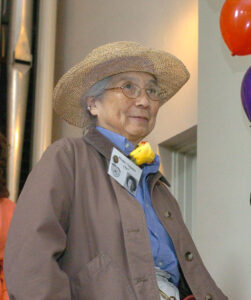 Momo Nagano, whose honorary degree will be bestowed posthumously, attended Wheaton and successfully earned her bachelor's degree in history under remarkable circumstances that did not crush her creative spirit.
The artist was a second-generation Japanese American whose family was among thousands sent to the Manzanar concentration camp in California during World War II in violation of their Constitutional rights. She was granted government permission to leave the camp to attend Wheaton during the academic year, but for three and a half years was required to return to Manzanar each summer to be re-incarcerated. At times, she was Wheaton's only student of color.
After graduating, she returned to Los Angeles and embarked on a career as a weaver, exhibiting artist, workshop leader and lecturer. She was a ceramist from 1962 to 1964 and later pursued weaving after being inspired by a library book she read about Navajo weaving.
As an artist and single mother, she worked from home and supplemented her schedule teaching weaving through private classes and then later at Immaculate Heart College. In 1981 she worked at the Doizaki Gallery in the Japanese American Cultural and Community Center, where her experience as an artist and her shared history as an American of Japanese ancestry enhanced the programming of the community center.
In 1999, she received a grant from the California Civil Liberties Public Education Program to weave a tapestry commemorating the Japanese American neighborhood in Los Angeles where she grew up, which was all but obliterated in 1942 when 120,000 Japanese Americans on the West coast of the U.S. were forcibly removed from their homes. Her work attracted the attention of then-California State Senator Adam Schiff, and was included in the California State Senate Contemporary California Art Collection.
Her tapestry "American Families," a commentary on the injustice of those denied their Constitutional rights during the war, was exhibited at the Japanese American National Museum and is now part of the museum's permanent collection. Nagano's large-scale weavings also are in corporate and private collections, and she was a featured artist in several books.
The irony of how she initially became interested in weaving was not lost on her. When a project for making camouflage nets for the war effort was set up at Manzanar, Nagano went to work there.
"Though the project did not last long, I found that I loved the process of weaving burlap strips through the netting," Nagano said in a 1994 article about her published in the Los Angeles Times. "Ironically, that may have influenced me to go into weaving seriously over 20 years later."
A single parent of four children, Nagano returned to Wheaton College in 2007 to receive an Alumni Achievement Award, which her family documented as part of a video, "Momo's Excellent Adventure," about her 60th Reunion.
Nagano died in 2010 in Los Angeles at age 84.
Her achievements inspire us to never let the impact of bigotry and hate stand in the way of living a joyful, creative, self-defined life.