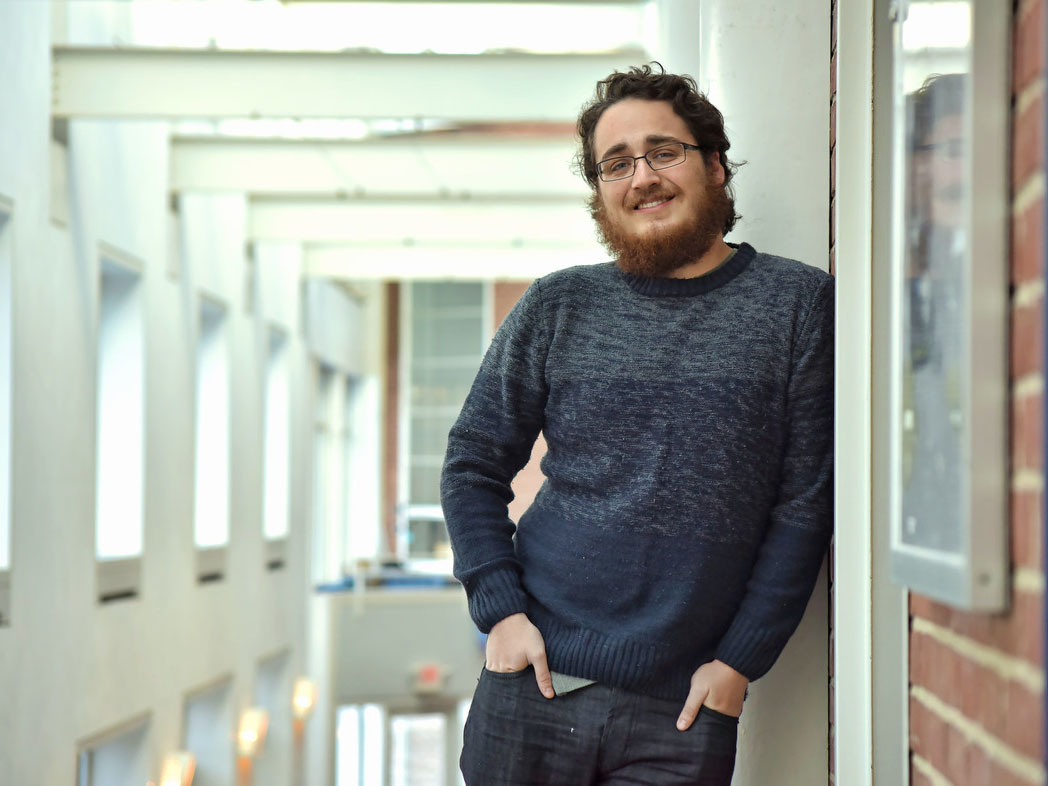 James Margotta '21 awarded Beinecke Scholarship to pursue archaeology career
James Margotta '21 first developed a fascination for the ancient Mediterranean world and for anthropology and archaeology when his mother read classical myths to him as a child.
"My curiosity and sense of wonder were sparked by the idea that these tales were once very real to people in the distant past but were now stories to my family and me," he said.
Margotta, an aspiring anthropological archeologist, is one step closer to exploring the kind of stories that used to excite him as a child. The junior has been awarded a Beinecke Scholarship to support his postgraduate education in anthropology and archaeology.
A program of the Sperry Fund, the Beinecke Scholarship provides assistance to highly motivated students pursuing graduate study in the arts, humanities and social sciences. Each scholar receives $4,000 immediately prior to entering graduate school and an additional $30,000 while attending the institution. Only 18 students nationwide received the scholarship in 2020.
Margotta's long-term goal is earning a doctoral degree in anthropology to become an academically-based anthropological archaeologist. He hopes his work will contribute to public discourse about cultural heritage, material culture and anthropological ethics.
"I want to study the archaeological past of the American Southwest and integrate what I can learn from the material culture with how knowledge of the past is constructed, interpreted and shared with both academic and public audiences. Having benefited greatly from teachers who became mentors, I hope to recreate these positive relationships with my own students in the classroom and in the field," Margotta, an anthropology major, wrote in his application.
Margotta said that Professor of Anthropology Bruce Owens and Associate Professor of Museum Studies Leah Niederstadt both have contributed to his growth as a scholar and student at Wheaton.
"Through courses such as 'People and Cultures of the Himalaya and Theory in Anthropology,' Professor Owens has helped me sharpen my writing and anthropological analysis skills, constantly providing me with myriad chances to improve myself and my abilities for an anthropological future," Margotta said. "Professor Niederstadt has continuously served as my other most important mentor, providing me with essential practical museum experience in the college's amazing Permanent Collection and always lending me much needed support in any capacity."
In her recommendation letter, Niederstadt highlighted Margotta's contributions as a curatorial intern within Wheaton's Permanent Collection. In that role, he helped process the paperwork for a donation of Native American objects, and then designed and wrote interpretive text for a mini-exhibition of the collection, which was installed in the Watson Center for Fine Arts. This experience spurred him to participate in a dig in summer 2019 at an archeological field school at Gila River Farm in Cliff, N.M., run jointly by Archeology Southwest and the University of Arizona, in partnership with the National Science Foundation.
"Bright, mature and thoughtful, James's potential is significant. His work ethic and keen intellect place him among the top students I have taught, and I am certain he will excel in his pursuit of a Ph.D. in anthropology and in his career as an anthropological archaeologist," Niederstadt wrote.
Margotta said his success in obtaining the Beinecke Award is rooted in his sharpened intellectual vision and curiosity.
"My Wheaton education and related experiences have all fit into my great passion for knowledge, and this award is another manifestation of the importance that this education has for me," he said. "This award is beyond important as it validates my current trajectory as an academic while also providing me with much needed funds to sustain myself through that education."