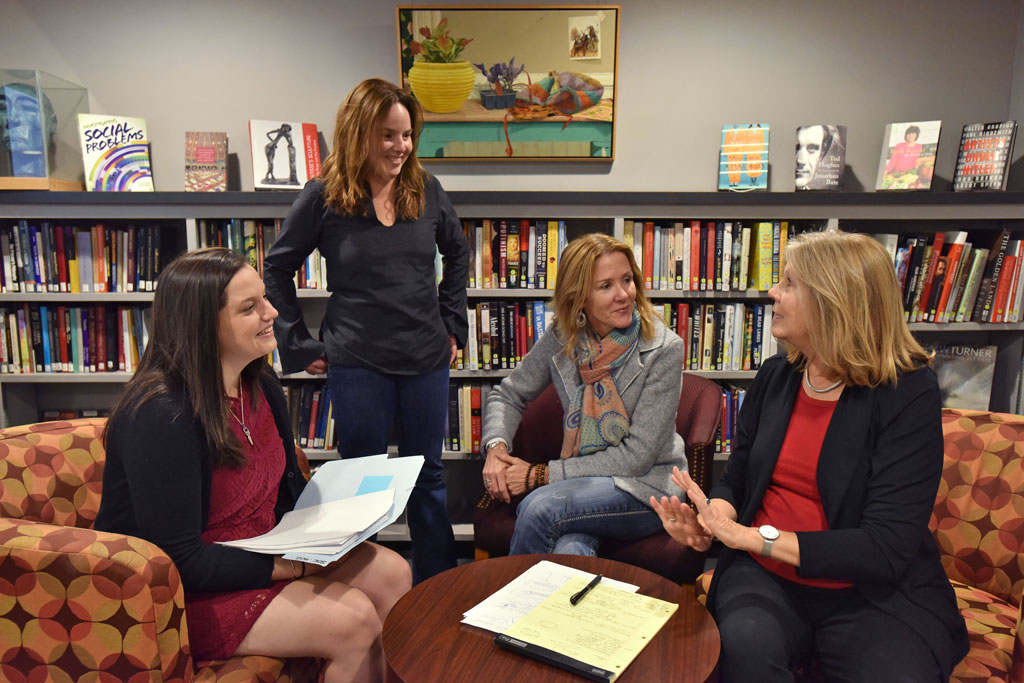 Writing a book might seem like a solitary venture, but several Wheaton professors have discovered that it's a perfect opportunity for student-faculty collaboration.
Associate Professor of Anthropology M. Gabriela Torres was working on a book with Professor of Sociology Kersti Yllo last year when she thought to ask one of her students, Jessica Kruger '17, to help prepare the manuscript for publication. A psychology major, Kruger had worked as a writing tutor but had no experience with book editing. But her writing impressed Torres, so she asked the then-sophomore if she was interested in a Wheaton Research Partnership (WRP), which provides funding for student-faculty projects.
"I love writing, so that part of it comes naturally to me, but I'd never done any editing or reference work. I had no clue what the Chicago Manual of Style was. That was all new," Kruger said.
But she caught on quickly and soon expanded her role beyond checking citations and formatting.
"It was awkward at first, because I wasn't sure I should be suggesting changes, so I'd email Professor Torres, saying 'Do you think this is right? Would this sound better?' Eventually, she told me to just fix it," Kruger said.
It was a new way of thinking about the student-faculty relationship.
"Especially through high school you're taught that your teachers are your teachers, and they're the ones grading you, but through the WRP process it's more like you're two academics as opposed to professor-student," Kruger said. "That's an interesting dynamic, and you start to realize that your thoughts and suggestions have meaning as well as the other way around."
Torres and Yllo found Kruger's contributions invaluable.
"Jessica has been incredible in both her meticulous attention to detail and awareness of the big project," Yllo said. "I have never seen an undergraduate with this level of skill in editing and working on a manuscript. She has been a real gift to us."
The book, Marital Rape: Consent, Marriage and Social Change in Global Context, is being published by Oxford University Press and is based on a conference that Torres and Yllo organized at Wheaton in May 2013 with a grant from the Wenner-Gren Foundation.
"The conference brought together anthropologists whose work has touched on violence in marriage with scholars who have been working on marital rape across the world, in the areas of public health, law and human rights," Torres said.
Students Carolyn Stancliff '16 and Rebekah Howland '15 took notes during conference discussions that contributed to the book writing process.
"Students are a great help to our research, especially when they are curious, energetic and committed," Yllo said. "And they get to do work that at bigger universities you'd hire graduate students to do."
The resulting book is the first anthropological study of marital rape from a cross-cultural perspective at a time when it is becoming increasingly criminalized, Yllo said. For many years, Yllo has been actively involved in efforts to shed light on and combat domestic violence, including marital rape, in both the United States and overseas.
"This book really tries to get us to think about notions of consent, notions of marriage and how our very Western-based assumptions may not transfer, and how we might create better public and public health policies if we look at how people understand these relationships and violence," Yllo said.
After finishing up the book this summer, Yllo and Torres were eager to share Kruger's talents. Professor of Hispanic Studies Mary Beth Tierney-Tello hired Kruger for a WRP based on their recommendation. Her book, which is being published by Bucknell University Press, looks at Peruvian narratives of childhood and how they relate to identity.
"Virtually every major writer in Peru has at least one novel that focuses on a child protagonist. I was interested in looking at what those narratives were doing, why they were so focused on children and what they had to say in a national context, politically and socially," she said.
Tierney-Tello had initially thought the WRP program didn't apply to her work, picturing a student at a microscope or in a lab. But her collaborations with Kruger and other students have changed that mindset.
"Writing seems like a very solitary enterprise. It doesn't seem like something I can share with a student and make it a viable research opportunity for them," she said. "This program has made me realize there are collaborative possibilities with my work. There are places where you need input from other people, and our students are very capable."
With a new confidence in her editing skills, Kruger dove into Tierney-Tello's book.
"From the very first chapter, she was suggesting things and saying, 'You need to look at this,' and 'I would suggest that,' making great suggestions," the professor said.
Though editing is not part of Kruger's career plan—she is interested in nursing and eventually earning an advanced degree in psychology or social work—she enjoys the work and would like to keep doing it in some capacity.
"There are a lot of opportunities that don't have to take the form of a full-time job or career, so I can see it fitting in in that way," she said. "If someone asked me to keep working on books, I would probably say yes."