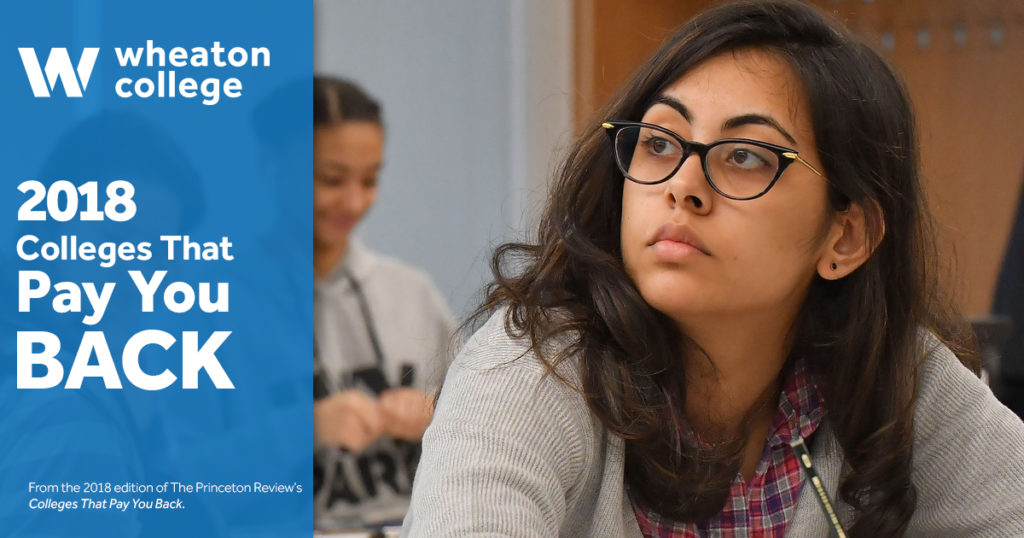 Wheaton has been named one of the nation's best values for its stellar academics, strong career preparation and affordability, in the 2018 edition of Colleges That Pay You Back: The 200 Schools That Give You the Best Bang for Your Tuition Buck.
The Princeton Review selected Wheaton and other schools on the list after analyzing data from more than 650 colleges, including student satisfaction surveys conducted by the company and surveys of school alumni conducted by the website PayScale.com through April 2017.
"What makes this listing so meaningful is that it reflects how our students feel about their Wheaton education and what they are able to do with that education before and after they graduate," President Dennis Hanno said. "Our annual study of student outcomes affirms what the Princeton Review report finds: 98 percent of our students find success—whether it be in a first job, graduate school or public service—within six months of graduation."
(The results of Wheaton's annual study of educational outcomes can be found on the college's website.)
The Princeton Review selected the schools included in the book by analyzing more than 40 data points to determine each institution's ROI (return on investment) rating. The data reflected everything from academics, cost and financial aid to graduation rates, student debt, alumni salaries and job satisfaction.
The book includes comments drawn from student survey responses, providing additional insight into the reasons for Wheaton's selection.
"As this undergrad boasts, 'The greatest strength of our school is the career services department, which has a high placement rate for both internships and full-time positions.' In fact, 'about 99 percent of students complete an internship during their time at Wheaton.' This is due to the Wheaton Edge program, which guarantees funding for an internship, research position, or other experiential learning opportunity for every student."
The book concludes its review of Wheaton with the following:
"Students can take advantage of one-on-one advising and receive fantastic guidance on resume writing and interview prep. Career services also sponsors several great programs and events. For example, students can attend 'Career Conversations,' which are informal round-table discussions with a variety of industry insiders. With events like this it's no wonder why Wheaton grads do so well!"
The Princeton Review's rating of Wheaton's value is the latest in a series of accolades the college has received in recent years. The college also has been recognized for two consecutive years as one the nation's top 50 liberal arts colleges by Times Higher Education and the Wall Street Journal, as one of U.S. News & World Report's 2018 Best National Liberal Arts Colleges and Best Value Schools, as well as a Top 50 school as ranked by high school counselors. It was also listed among The Princeton Review's 382 Best Colleges and Best Northeastern Colleges for 2018.