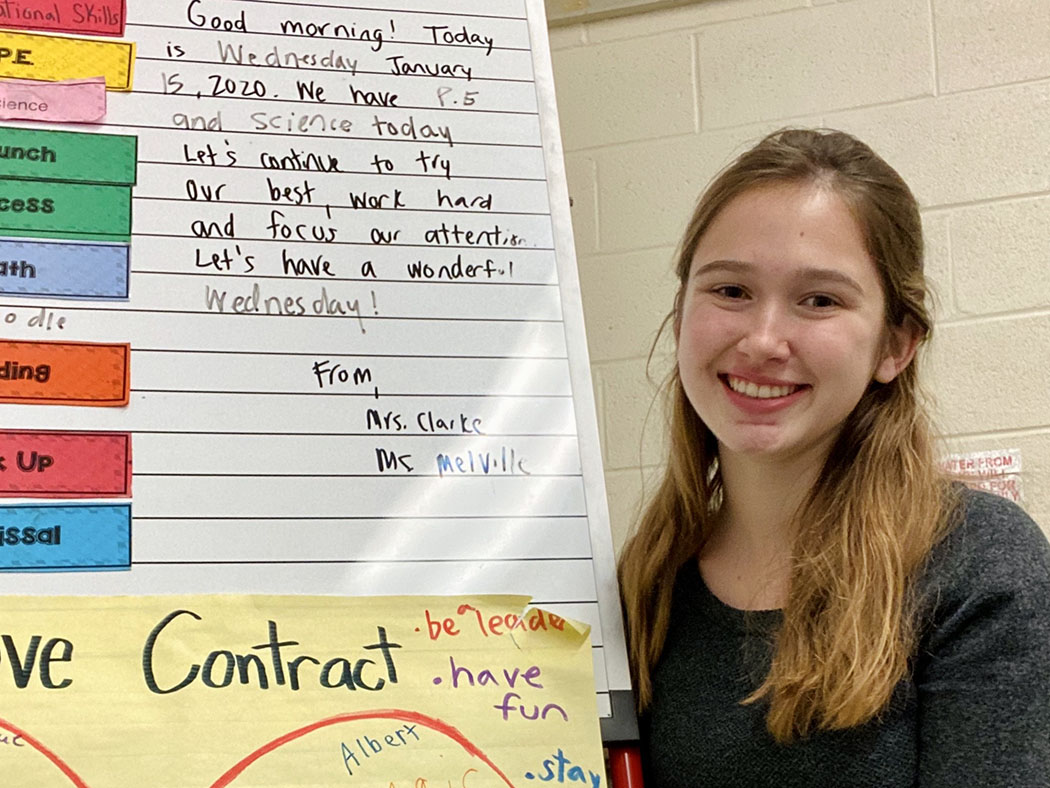 Elementary education majors Hannah Melville '22 and Lena Welch '22 spent two weeks in January working with students at Henry Grew Elementary School in Boston's Hyde Park neighborhood, as Boston Urban Teaching Fellows.
Melville, who is also majoring in psychology, worked with second graders, while Welch, a double major in women's and gender studies, supported a teacher in the first grade.
They were part of a group of Wheaton students who served as fellows this January (Asaada Craig '22 was placed in a Boston high school). The program, which is sponsored by the Consortium for Excellence in Teacher Education, of which Wheaton is a member, partners with the Boston Plan for Excellence to place liberal arts students with teacher mentors.
Melville said the hands-on classroom experience has been invaluable.
"I have gained so much insight from my host teacher about not only teaching in an urban setting but on classroom management and how to meet students' individual needs," she said. "I absolutely loved getting to know the students and being able to support them in the classroom."
The Wheaton sophomore is interested in pursuing a master's in special education, and eventually a degree in education policy.
"I would love to work with a diverse range of learners," she said. "Being a part of this program has inspired me to more seriously consider going into urban education."
Welch said she appreciated the opportunity to see firsthand how different types of students learn, including those for whom English is not their first language.
"I have learned many essential teaching skills throughout this internship, such as how to teach different types of learners with different academic and social backgrounds," she said.
Welch is interested in teaching in another country—following in the footsteps of her parents, who both taught overseas right after college.
"This internship was the first step of getting out of my comfort zone and learning how to teach in learning environments that are different than the ones I grew up in," she said.
Both students received support from a Porter Cleveland Fellowship.
>> See more winter 2020 internships