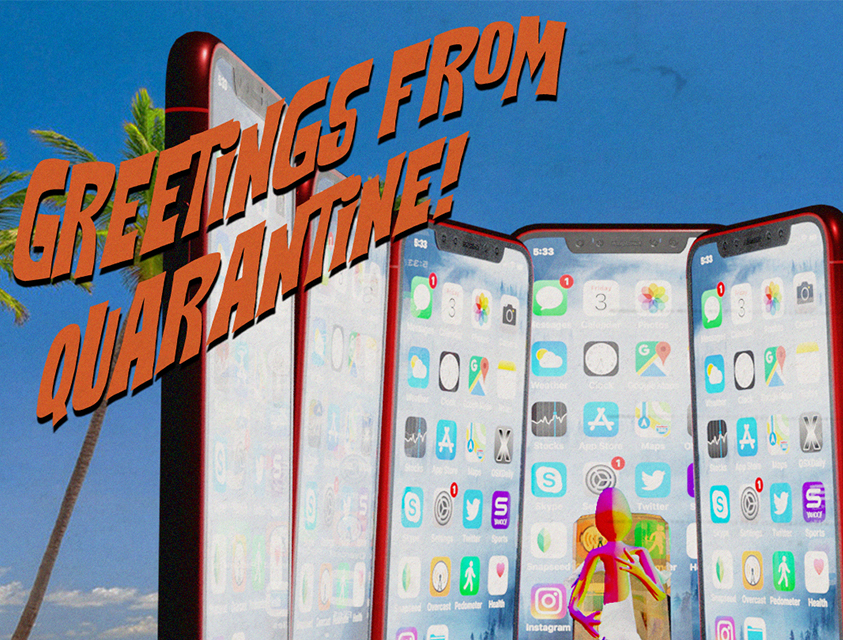 'Postcards from the Pandemic' addresses isolation through collective display of art
Everyone is experiencing the same global pandemic, but how each individual is encountering it greatly differs. A new exhibition, "Postcards from the Pandemic," which runs October 20 through November 24 in the Beard and Weil Galleries, seeks to capture those varied vantage points.
"The exhibition is an effort to combat the isolation this virus has forced on us. It is a chance to see, through the eyes of another, an expression of this experience. It is also an opportunity to come together when we still have to remain physically apart," said Elizabeth Hoy, director of Beard and Weil Galleries.
The call to artists for the exhibition was an open invitation to the entire Wheaton community and the general public. It provided a variety of opportunities for presenting small-scale work, including drawings, paintings, photography and writing.
"We have received a wide range of submissions. Some of the pieces are not 'art' in the traditional sense but a reflection on individuals' experiences made or collected specifically for this show," Hoy said. "For example, we received a collage of COVID-19 signage, a recipe from someone's grandmother who lived through the Spanish flu, and a photograph of the Korean War Veterans Memorial in D.C. stating 'Freedom Is Not Free.' I have also received drawings and paintings."
The submissions (258 so far) have come from all over the world from alumni, current students, faculty and staff. Students from history of art, film and new media, and First-Year Experience classes also are participating.
"An essential element of this exhibition is that all of the pieces will become part of the Wheaton College Permanent Collection after the exhibition is over," Hoy said. "It is not unprecedented for the college to collect work made in response to a historic event, but I believe it is the first time it is happening on this scale. The Permanent Collection has an anonymous piece made on campus, most likely by a student, on September 11, 2001, in response to the events of that day.
"It is crucial to have a record of this time in Wheaton's history and our history as a nation. The exhibition is a vehicle for us all to add a personal reflection to a larger whole and let the collective pieces speak to the complex reality we are living through. Hopefully, this archive will be a resource for generations to come."