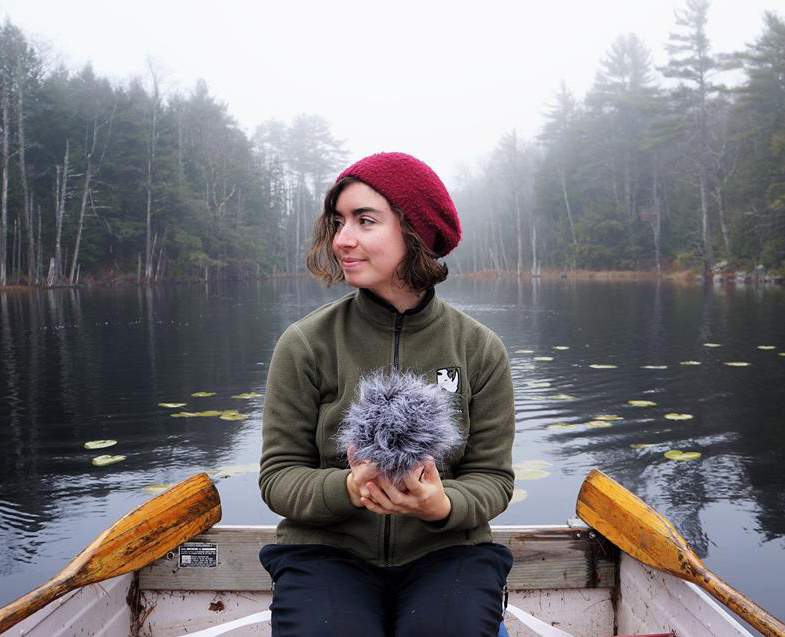 Biologist, poet sparks creativity through auditory prompts
As a wetlands biologist and a poet, Carolyn Decker '14 spends her days paying close attention to her surroundings and what they have to say. Now, she's using that finely tuned ability—gained at Wheaton and during her Watson Fellowship—to encourage others to tap into their own creative work.
She will be on campus during Fall Fest, October 21, from 2 to 3 p.m., as a panelist of national fellowship recipients to discuss how the fellowship experience impacts her career pursuits. The event, which will include other alums and current students, will be in the Holman Room in Mary Lyon Hall.
Decker, along with writer Lucas Pralle, is the co-founder of Endless Beautiful, a web-based creativity workshop and podcast that promotes writing and community arts using sounds that they collect and produce as inspiration.
She won a Thomas J. Watson Fellowship in 2014 to investigate the intersections of creative writing and nature conservation in various ecosystems and cultures as she traveled to Dominica, Botswana, Australia, Tuvalu and China.
"I expect that my experiences as a Watson Fellow will shape me for the rest of my life," said Decker, who majored in environmental science with a concentration in biology at Wheaton. "It influenced my understanding of so many aspects of life—the meaning of place, how to navigate failure and rework plans, how to advocate for myself, how to seize unexpected opportunities. And the fellowship experience absolutely seeps into my work as a biologist and as the co-creator of Endless Beautiful."
In fact, Decker met Pralle while traveling for the Watson, and they developed the idea for Endless Beautiful. In person and online, their workshop and podcast participants are encouraged to engage the creative process of their choice—writing, composing, drawing—while listening to 15-minute audio sessions and then reflect on their creations and share the results.
Endless Beautiful releases a new podcast every Monday with Decker and Pralle co-hosting. Guests create something alongside the hosts while an audio recording provides background; listeners can join in and create at home. At the end of the audio session, the hosts and guests share what has been created. The listening audience can submit their creations online.
"The project is really driven by the idea that we all have a creative capacity, and that it is vital to express our creativity," Decker said. "Often at our community workshops, a participant will begin by saying, 'I'm not creative.' But then they produce something immensely creative. Our goal is to help anyone unlock their creative spirit and produce an unexpected piece of art."
Since 2016 she has worked as a biologist at Natural Resource Services, an environmental consulting company in Rhode Island. Her duties include fieldwork tasks like wetland delineations and habitat assessments as well as writing the corresponding reports that clients use when applying for wetland permits at the town, state and federal levels.
"My education at Wheaton developed my sense of inquiry and my ability to express my ideas. That holds true for my work as a biologist and as a poet," said Decker. "Wheaton made me a better thinker, and that makes me a better artist and podcast host. Also being around so many different people at Wheaton and ideas—both on campus and abroad—taught me a lot about being a good listener, which is absolutely vital to all aspects of my life, both professionally and personally."
In addition to podcasts, Endless Beautiful, which refers to the immense possibilities the world has to offer, has presented several free workshops in Rhode Island. The most recent one on August 12 in Woonsocket, R.I., was funded by a grant from NeighborWorks Blackstone River Valley, which provides housing assistance and sponsors community events.
There are other events on the horizon, thanks in part to a recent grant they received from the Rhode Island State Council on the Arts to fund additional community workshops.
"We've invested a lot of time, energy and love into this project, and it is starting to snowball," said Decker, who is seeking nonprofit status. "We plan to take Endless Beautiful on tour in a few years and feature participants in cities all over America, and potentially abroad."
*Photo: Carolyn Decker '14 records sound on Hooper Brook Pond in South Berwick, Maine, using a Zoom H5 audio recorder covered in a fuzzy windscreen.