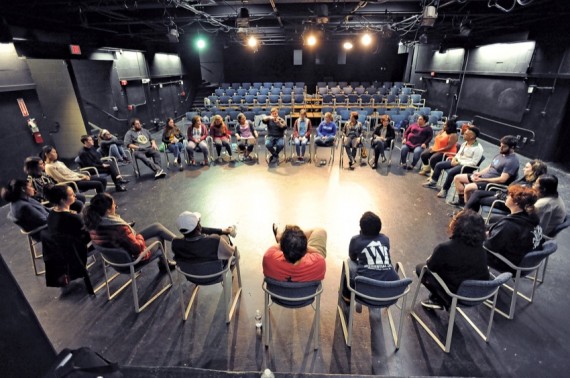 The moments were fleeting, but the impact lingered: 60-second flashes of dysfunctional families struggling with interracial relationships, racially charged misinterpretations leading to shots fired, and talk of building walls against imagined threats.
It all came to life on a minimalistic stage in Weber Theatre one rainy Saturday evening in October as members of the Wheaton community rotated through readings of one-minute plays created as part of Every 28 Hours: Our Response.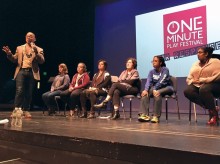 The production brought together Wheaton students, faculty and staff members to collaborate with the Trinity Repertory Company, the City of Providence, area colleges and community groups to create, present and perform in locally developed one-minute plays that address equality, inclusion and race.
Students who wrote and presented plays said the project offered an opportunity to engage in the process of listening, developing ideas, delving into important issues and putting coursework into practice for social change.
"Theater provides communities with a medium to talk about difficult topics that need to be talked about but often aren't. It provides a place for human beings to actually listen to each other and be present to what's going on," said Courtney Roque '17, a teaching assistant in the First-Year Seminar (FYS) "Theatre and Social Change," taught by Associate Professor of Theater Stephanie Daniels. The professor initiated Wheaton's involvement with Trinity Rep and asked her students to participate, as did Professor of English Charlotte Meehan. 
The collaboration was inspired by the nationwide theater initiative Every 28 Hours, which was co-created in 2015 by the One-Minute Play Festival and the Oregon Shakespeare Festival. The initiative was sparked by the outcry over the killing of Michael Brown, an African American, by a white police officer in Ferguson, Mo., in 2014. According to the creators, Every 28 Hours "focuses on the widely shared and contested statistic that every 28 hours in America, a black person is killed by the police, a vigilante or a security guard."
To prepare for Our Response, participants first attended a daylong workshop of intimate conversations about inclusion and equality. Dominic D'Andrea, creator of the One-Minute Play Festival, a grassroots theater company, and Joe Wilson Jr., resident artist at Trinity Rep, led the workshop.
What was said, heard and experienced provided ideas for creating "moments" that were combined to form the 60-minute production, which was sponsored by the Dale Rogers Marshall Visiting Artists Program Endowed Fund within the Evelyn Danzig Haas '39 Visiting Artists Program.
The creative process was a critical piece, said Connor Mathis '18, a double major in creative writing and American history. "It allowed me to really examine how I feel about this moment in America and what role I play in crafting the future of this country. I was also able to really get a sense for what people feel about this country, which helps me as a writer, an American, and as a young person looking for hope and change in an increasingly dismal and hate-filled world."
His one-minute play, Slow Bend, featured two people discussing how there is a slow bend of progress in the world, bringing every problem closer to resolution as each day passes. "It also touches on how participating in social movements can help accelerate the time it would take for these problems to be solved," he said.
MacKenzie Jones '20 noted the long-lasting impact of the short plays and the discussion with the audience afterward. "Each minute is like a snapshot, a quick flicker into someone's life that you can hold onto. You leave the theater wanting to share and grow, and that's powerful."
Students share thoughts about working on Every 28 Hours: Our Response
Putting on these plays is changing things because it creates an area for discussion that for many hasn't been there before. Also, for young playwrights like myself who grew up where theater was too expensive to attend or just not considered interesting enough to attend, this process creates an opportunity to experience it. I wrote a play called We Can, based on a true experience of a town hall meeting held at my at-risk high school. My play focuses on systematic oppression and racism in our educational system. I wanted to get involved because I want to strengthen the conversation about race and the experiences of people of color on campus.

—Larrisa Ramos '19
I had the opportunity to participate in the workshop, write a play, and present/act in both days of shows at Trinity Rep as well as in the shows at Wheaton. My play is titled Land of Cowards, and it's directly based on the conversations we had during the five-hour workshop with Dominic D'Andrea and Joe Wilson Jr. My play asks the question: What really are America's values? It is supposed to take place in a classroom setting, with students comparing what they were taught about America vs. what they are seeing happen in America through their everyday life. I played with the common American phrases such as 'land of the free, home of the brave,' as well as the Pledge of Allegiance, and contrasted them with my own opinions of America and the opinions of others in the workshop. My experience working on the Every 28 Hours plays was enlightening and moving. In the end, it wasn't about the final performance it was more about the conversations and relationships I made while working on this project. This work makes a difference because it sparks a conversation. I learned better listening skills. I learned how to open myself up and ask more questions, as well as how to empathize more.

—MacKenzie Jones '20
When it comes to change, performance art is a force to be reckoned with. There is a certain power that is shared live between audience members, actors, writers and directors during events like Every 28 Hours. This type of shared experience in the theater in turn is capable of generating discussion, even after a given performance has ended. I think that the discussion aspect is especially crucial to this event, because that is the part of our evenings that really fostered a sense of community and togetherness in the face of some of the most crushing truths of our society. It is my hope that everyone involved in the event will continue that discussion in other aspects of their lives, because that is what stimulates positive change. I wanted to get involved with this event, frankly, because I was encouraged to do so by my professor. However, once I began participating, I knew that this experience would be valuable for exposing my writing to a wider audience and exposing myself to the challenging realities of America today.

—Christina Smith '19
I'm very passionate about the Black Lives Matter movement, but haven't always known how to respectively get involved as a white female. This workshop provided a constructive place where talking about issues of race and equity weren't just suggested, but necessary. These conversations shouldn't be necessary just in contexts like the one we were a part of, but in everyday life as well, since these are issues that affect every person (regardless of race, ethnicity, gender, sex, religion, sexual orientation, ability, age or class). I learned ways to talk about race and the inequities that exist among different groups. I also gained a newfound respect for people on this campus I didn't know very well beforehand. Specifically with the workshop, in a span of a few hours, I heard various people of different backgrounds and experience discuss things I sometimes struggle with talking about with close friends.

—Courtney Rogue '17
Part of the process for me was grappling with the workshop we did at Wheaton. The workshop was very dense and brought up a lot of the deep-seated frustrations many Americans are having with the system (as we have seen during this election). I am a very optimistic person, and found it troubling to see how much anger there was at the country that I love so much and have great hope for. When it came to writing the play, I had to not only decide what I wanted my play to be about but also how to incorporate my love for America and my optimism for its future, while also acknowledging the problems we are facing.

—Connor Mathis '18