Senior secures Teach For America position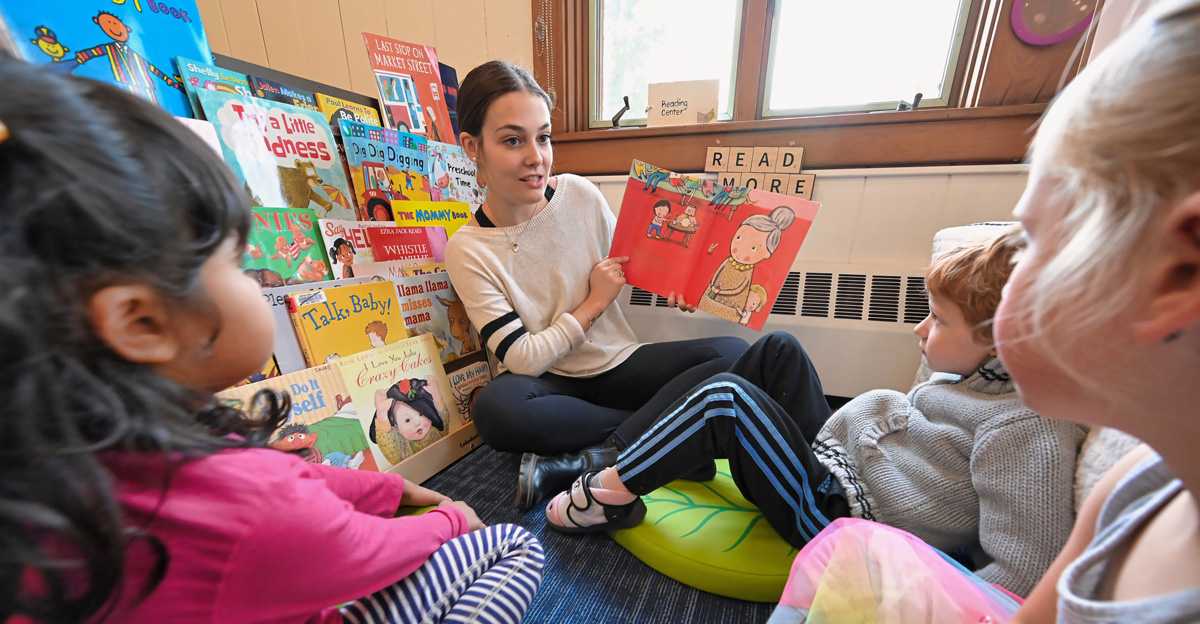 Eleanor Guerin '23 says hands-on experience at nursery school contributed to success
When she arrived at Wheaton as a first-year student, Eleanor "Ellie" Guerin '23 already had her life journey mapped out.
"I came in wanting to pursue a degree in psychology and knowing I wanted to work with children. I was dead set on going straight into graduate school upon completing my undergrad," she said. "Then I started working at the Elisabeth Amen Nursery School on our campus and absolutely fell in love. I found myself considering what it would be like to teach for a few years before continuing my education."
Now, because of that hands-on experience, she will have a chance to explore the idea. Guerin has been accepted into Teach For America. Although she doesn't yet know her specific assignment, Guerin will be teaching elementary school (possibly from kindergarten through sixth grade) with the flexibility to also teach English as a Second Language in Rhode Island.
Teach For America is a nonprofit that recruits a national corps of individuals who commit to teaching in low-income communities.
"I am beyond excited for this opportunity to join a collection of like-minded individuals devoted to educational equity, while simultaneously working hands-on to promote that equity as a classroom teacher," Guerin said.
"Ultimately, this opportunity will provide me with enhanced knowledge regarding child development in correlation to learning in a classroom setting. I will also be opening my eyes to populations in my home state that, otherwise, I would not have access to," she said.
"It will also provide me with an opportunity to really make a difference in students' lives and immerse myself in something bigger than myself," she said.
Guerin said she attributes acceptance into Teach For America "to each and every staff member at the Elisabeth Amen Nursery School and to each and every one of their students."
Since 2021, Guerin has worked at the nursery school. This fall, she was a teacher's assistant and observed children as part of her research capstone.
"Working with the children at the nursery school has added so much value into my life and I now cannot imagine a scenario where I am not teaching in some capacity. The staff members at the nursery school are all so special and have shown me a dedication to children's success like no other," she said.
Visiting Assistant Professor of Psychology Donna Demanarig, for whom she has worked as a teaching assistant for four semesters, also has been a constant lifeline of support. The professor introduced Guerin to a summer fellowship through the University of Portland in Oregon that focused on cultivating an antiracist curricula hub that faculty can access and implement.
"I am dedicated to the healthy progression and development of school children and I want to ensure that progression is as equitable as it can be. Psychology and education are closely connected and I enjoy using both perspectives," said Guerin.
She noted that the Teach For America experience will better prepare her for pursuing a Ph.D. in clinical psychology.
"I have always had an interest in how our brains work and how we, as humans, work. How do we learn? Why do we interact as we do? How can we make ourselves better? How can we help make others better? Psychology can help answer a lot of these questions, which drew me right to the discipline," she said. "Four years later, I am just as interested and grateful that my innate curiosity led me here. I look forward to my next steps and I am eager to start this journey."